Bad news from the tech sector and signs that unemployment is still rising sent ETFs generally lower in early trading.
According to the ETF Dashboard, gold ETFs are leading the charge this morning on renewed fears about the recovery and safe-haven seeking:
click to enlarge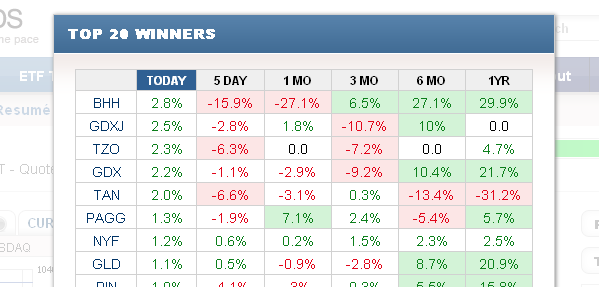 Cisco (CSCO) delivered a blow with its downbeat earnings report and otherwise cautious outlook for the tech sector, making it the worst performing category in the S&P 500 this morning. The company's CEO said that his company was seeing "mixed signals" on lighter-than-expected first-quarter sales. The news sent tech ETFs lower, including iShares S&P North American Technology-Multimedia Networking (IGN), which is down 3.5% this morning. Cisco is 7.7% of the fund.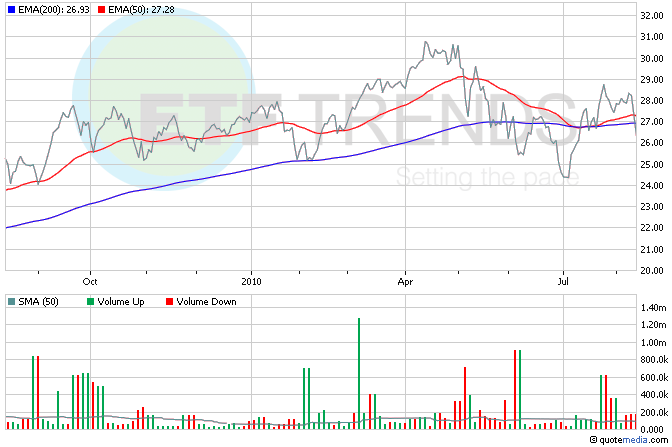 After riding high in recent weeks, euro ETFs have hit some stumbling blocks this morning, sinking to a three-week low against the U.S. dollar. Bad news like the unexpected jump in unemployed workers seeking benefits boosted the safe-haven appeal of currencies such as the greenback and the Japanese yen. CurrencyShares Euro Trust (FXE) is down 0.4% so far today; it's up 2% in the last month.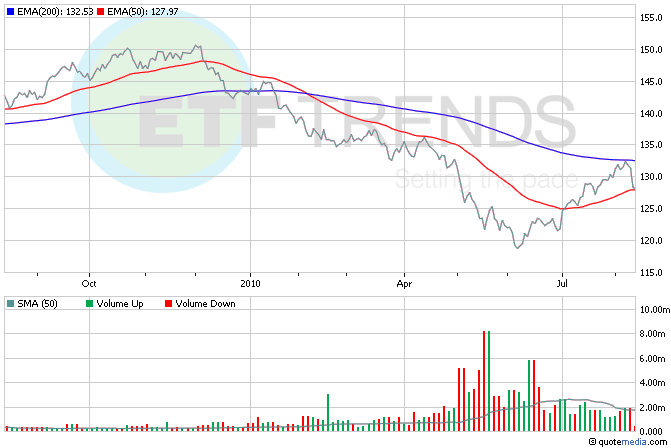 Consumer spending in July was tepid, at best. Excluding gas and autos, retail sales rose 0.1% from the prior month. If there's any good news in that, it's that sales rose 1% from a year earlier. Retail ETFs are trading slightly lower today; SPDR S&P Retail (XRT) is down just 0.1%. In the last three months, it's down 13.4%.

Read the disclaimer: Tom Lydon is a board member of Rydex|SGI.
Disclosure: None