Last night saw some bad news for one of the Utica shale players we follow, as well as own, but even in a bad release one can find opportunities to invest. Listening to portions of the conference call today we now that some of the 13,000 acres added by Gulfport Energy (NASDAQ:GPOR) are actually in West Virginia and they are following a strict program to lock up land; one that closely resembles how they got into the core of the Utica play. This can only be bullish for those with acreage heading in that direction, such as Antero Resources (NYSE:AR), and companies with large southern Utica land positions.
Looking at the general commodity markets, we may have some headwinds on the horizon as it appears that the ECB will raise rates in the near future and the pro-Russian opposition in eastern Ukraine appear to have their own agenda separate from Putin right now. The latest reports we have read have the referendum to break away from Ukraine still taking place this weekend, something that contradicts Putin's public wishes.
Chart of the Day:
The euro is moving sharply lower today after comments about how expensive the currency has become relative to those of other countries such as the US. This is quite true and the one year chart below shows just how strong that move has been. The economy in Europe has improved, but it seems quite possible that with rates as low as they are and the euro as high as it is that investors may have become too bullish on the region.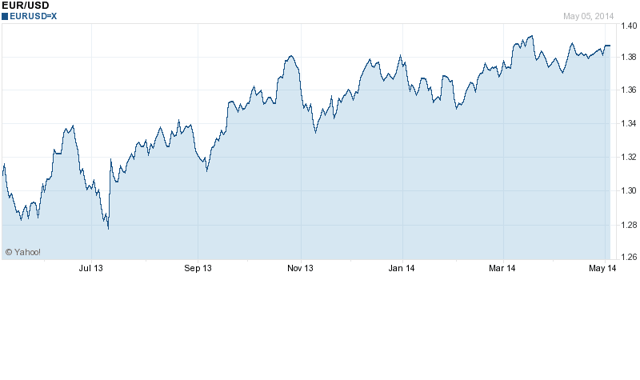 Click to enlarge
Source: Yahoo Finance
Commodity prices are as follows (at time of submission):
Gold: $1,288.20/ounce, down by $0.70/ounce
Silver: $19.175/ounce, down by $0.123/ounce
Oil: $100.13/barrel, down by $0.64/barrel
RBOB Gas: $2.897/gallon, down by $0.0212/gallon
Natural Gas: $4.601/MMbtu, down by $0.139/MMbtu
Copper: $3.0685/pound, up by $0.036/pound
Platinum: $1,434.80/ounce, UNCH by $0.00/ounce
Gulfport Disappoints...Badly
We do not get worked up about disappointments on quarterly results as it pertains to our E&P plays, but this is when it applies to the EPS and revenue figures. Trying to pinpoint those numbers on fast growing companies which hedge most, if not all, of their production is a fool's game. If the analysts get the numbers wrong, why punish the company? That makes no sense to us, however when a company misses on their production numbers, or lowers their production guidance, then we pay attention.
So it is very fair to say that Gulfport Energy got our full attention yesterday when they announced their results with a lowered production guidance range. The company lowered their FY 2014 production guidance to 37,000-42,000 boe/d versus their previous 50,000-60,000 boe/d. We are listening to the call right now, and after looking over the press release yesterday it seems the company decided to lower their figures as they look to follow the new CEO's plan to build a drilling inventory to make their operations more efficient.
Our call on April 22 to sell a portion of Gulfport shares in one's portfolio and to use the proceeds to purchase PDC Energy (NASDAQ:PDCE) and EV Energy Partners, LP (NASDAQ:EVEP) has turned out well for those who went that route. The call was based less on our fear of Gulfport disappointing and more on value in the market. Sometimes you get lucky when making moves such as these and this call is obviously one of those times.
This 5 day chart shows the significance of today's move. It erases most of the gains from the previous 52-weeks.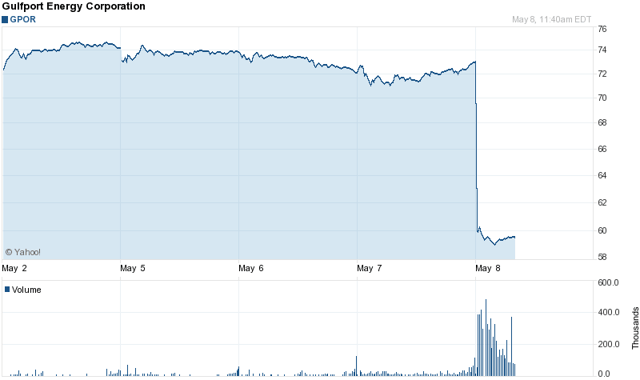 Click to enlarge
Source: Yahoo Finance
With this big sell-off resulting from the change in management's plan for development we will be looking to rotate back into Gulfport at some point in the future, but we believe there will be plenty of time to create new positions. We still think that PDC Energy and EV Energy Partners have the potential to outperform Gulfport moving forward and will keep what we have allocated to those names there. Any proceeds from the sale of other positions would qualify to be invested in Gulfport but right now we think buying more than 10% of the overall position one would like to establish would be a mistake. This is something that is going to take a quarter or two to set up and get functioning correctly before investors can claim victory, so readers should look to play the long game here if interested in increasing exposure once again.
Halcon Delivers
Readers know that we have been watching very closely another name in our portfolio because we put it on a short leash not too long ago. Since saying that Halcon Resources (NYSE:HK) was on its last straw, the company has seemed to turn a corner, both in its results and in the positive news flow that investors have enjoyed.
Since originally recommending this one to readers it has been a tough ride. With today's move the stock is now finally positive since that initial call.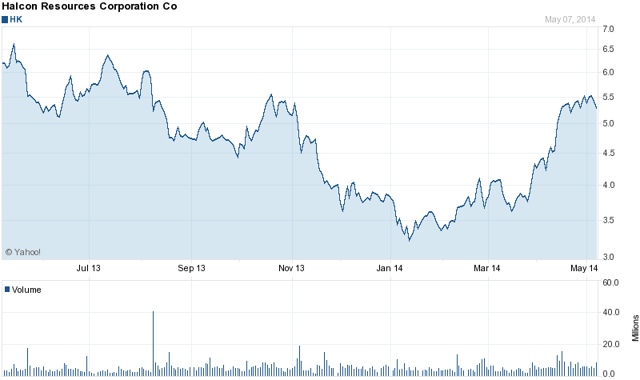 Click to enlarge
Source: Yahoo Finance
Halcon also announced results last night, beating both EPS and revenue figures. As we said before, these are two numbers that we do not place a lot of faith in quarter to quarter. The number that we do care about, production, did come in above the high end of the company's previous guidance which has us feeling much better about the stock moving forward. With the recent performance, both from an operating standpoint as well as in the market, we are letting Halcon Resources out of the dog house. We are not buyers again as we feel we have enough exposure right now, but we are certainly not sellers at this time.
Disclosure: I am long GPOR, PDCE, EVEP, HK. I wrote this article myself, and it expresses my own opinions. I am not receiving compensation for it (other than from Seeking Alpha). I have no business relationship with any company whose stock is mentioned in this article.