Here is the highlights of Global Ship Lease's (NYSE:GSL) Q2 2010 earnings call.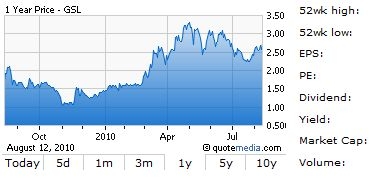 Operational - Not much to report other than it seems that they have made progress in reducing the ops expenses.
New Buildings - No progress on financing the two 4250 TEU ships being delivered in December 2010. This is what most of the Q&A was focused on. GSL is talking to banks informally and to alternative means of financing the ships. The new building and charter deals are made with an IRR of 8%. Ian said that there is interest in helping GSL, but he didn't provide more specifics than this.
LTV and Debt - Loan-to-Value is approaching more normalized ratios and GSL intends to repay an additional 60M USD in the next 12 months.
CMA CGM and ZIM - Is paying more promptly and is currently only 6 MUSD behind. It was mentioned that CMA CGM is profitable currently and that GSL had no insight on the various CMA CGM talks with various potential investors. ZIM restructured in 2009 and is now profitable.
Market Update - The amount of idle ships has been reduced from 12% to 2% from the beginning of the year and charter rates for 4250 TEU ships have increased from about 7000 USD to 24000 vs a historic average of 30000. Vessel values have increased about 75% since the beginning of the year. The market remains balanced for 2010. There is 27% of the current fleet on order and a large part is not yet financed.
Conclusion
All in all, a rather uneventful call. The key upcoming question will be whether GSL will secure financing for the two new buildings due in December 2010. In this author's opinion, it should be possible to do at 85% of the current value of about 112 MUSD, or 95.2 MUSD. That leaves GSL with a two year funding gap of 40 MUSD, in our calculations. We believe that should be possible to secure given the following year's very strong operational cash flows.
On the LTV calculation due in April 2011, we estimate that the current ship value is about 1-2% above loan covenant requirement. There are still 8 months to that so things can change, but we think the bank group will be cooperative; things have significantly improved since the last loan modification so why shouldn't they be, this time around?
We are willing to live with these risks as GSL is at least 100% undervalued relative to its discounted cash flow when using a discount rate of 10%.
At the time of writing the GSL is up 6.61%. That cannot really be explained by the content of the call, but perhaps yesterday's fall also cannot really be justified.
We also believe that CMA CGM will soon reach a deal for an equity injection and that they are currently trying to play the interested parties against each other in order to achieve the best possible deal for themselves. As long as container shipping fundamentals stay sound, it should be possible.
Disclosure: Author is long GSL