The Quarter
It's not taking long for Zulily ZU stock to sink to the lower values we highlighted just a day ago in our post Wall Street Journal calls out the Zulily business model. Our IV suggested a 25% decline to $35 and the stock is indicated to be getting close to it. (Down 17% aftermarket today after earnings to $38/share.)
The report was fine in line with expectations. Growth was strong and operating metrics all looked solid. (You can listen to a replay for the next 30 days at the ZU IR website.) I'm sure a transcript will be available soon as well.
For example: Active customers came in at 3.7M (versus 1.9M a year ago) with higher average transaction sizes. 83% of orders were repeats from existing customers. 5.5M orders were processed in the quarter. Management admits that backlogs are higher than normal due to heavy order volume which hurt gross margins. Revenues for the quarter were $237M. Order to ship time was over 13 days versus 11 days last quarter.
But the problem facing Zulily is indeed one of positioning. The point that the management team misses is that investors don't like to own "misunderstood" companies without a clear end game. So far Zulily hasn't put that out there.
The company is caught between some known consumer favorites and is pioneering something new. For example there are limited selection/fast delivery/low price models like Costco (NASDAQ:COST) or SierraTradingPost that work. There are also huge selection/fast delivery/low price which is the very successful Amazon model, especially with Prime which makes it a first source for lots of things.
So far Zulily has excelled at providing customers with well-curated frequently-updated and diverse selections of products at good prices - albeit with fairly lousy delivery (13 days and trending upward based on the results last quarter.) Two weeks isn't fatal but it means that you aren't going to buy things there that you need soon.
There are clearly some products that work in this format. Even though I'm not the target demographic for Zulily I did purchase a pair of shoes (brand and size I know) and a funky boardgame (Farm-opoly) on Zulily. I didn't care when they would arrive. Of course I also checked Amazon but Zulily had the product at the best price so I was fine with it.
But nobody quite knows what this consumer category is. "Discovery" is great but can that work in an Amazon (NASDAQ:AMZN) world? In the meantime Zulily has to continue to "invest" in both marketing and back-end infrastructure. But are those very investments just diluting value from the core capability which is engagement, customization, merchandising and sourcing?
Listening to management talk makes it clearer that Zulily should combine with another company to handle the things they are not good at and leverage the front-end skills and customer relationships that are unique. Our best targets to acquire Zulily would be QVC owned by Liberty Media (NASDAQ:LMCA) or even a Walmart (NYSE:WMT) which is beign much more aggressive now in competing with Amazon.
Intrinsic Valuation
In terms of valuation ZU was trading at a $6B market capitalization with just over $300M in cash. (As of this writing Google Finance showed the market capitalization as $12B which is wrong.) Revenues have been doubling every year and are estimated to top $1B in 2014. We put a quick intrinsic valuation together for ZU that suggests a $36 stock price in 2014 with an increase to $48 in 2015. At the moment the consensus price target is $56.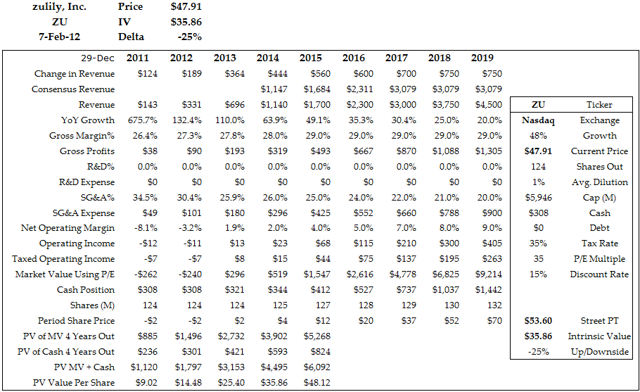 Like most rapidly growing companies at the beginning of profitability small changes in the assumptions driving the model can make a big difference in terms of stock price. Our IV model lines up pretty well with both consensus and company guidance. We chose a 35x multiple which reflects a sustainable medium-term growth rate.
Conclusion
By all indications Zulily is doing well but is facing some normal growing pains as they scale up. They are on course to more than triple revenue this year from the $330M they did in 2012. But the stock valuation is high enough that any resetting of expectations, which seem likely, at least on the margin side of the business, won't be received well by investors. All other things being equal we'd be far more interested in this stock closer to our 2014 IV of $36 or at least a major discount to the 2015 IV of $48.
Just because our IV estimate for this year is $35 doesn't mean the shares can go far below that. The P/S ratio remains very high and the shares won't be a "bargain" to most investors until they are below $20/share. No rush on this one.
Disclosure: I have no positions in any stocks mentioned, and no plans to initiate any positions within the next 72 hours. I wrote this article myself, and it expresses my own opinions. I am not receiving compensation for it (other than from Seeking Alpha). I have no business relationship with any company whose stock is mentioned in this article.