Bed Bath & Beyond (NASDAQ:BBBY) sells domestic and home goods through nearly 1500 retail locations in North America. The company was founded in 1971, and went public in 1992.
Positives
I am attracted to Bed Bath & Beyond for a few reasons:
1. Large, easy-to-understand enterprise
It doesn't get much simpler to understand than retail, and Bed Bath & Beyond, though it sells a variety of goods through various store brand concepts, sticks to products within the domestic and home categories. The company's 10-K is surprisingly short for a $12B company.
2. Extremely shareholder-friendly in capital-allocation policy
The company has returned 89% of cash flow to shareholders in the past two years via share repurchases, repurchased over $1B in each of the last 3 years, and cut its share count by 22% over the last 5 years.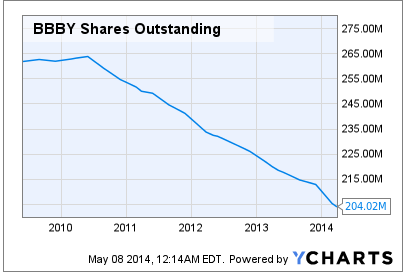 3. Consistently generates strong cash flows
This has allowed the company to fund several acquisitions, share repurchases, and organic capex without the use of debt (not including operating leases).
The debt line is not shown below, because the company hasn't taken on any debt.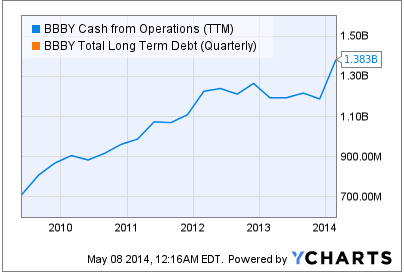 4. Significant net cash position
Besides having no debt, the company has cash and investments of $943M, for a net cash position that is 8% of the company's market cap.
5. Strong track record of growth
Growing total FCF and the aforementioned share repurchases have combined to deliver a 5-year FCF/share CAGR of 21%, and the FCF growth and repurchases should continue.
6. Customer bias
People I know shop at and think highly of the company's stores, especially Christmas Tree Shops, which seems to have a cult-like loyal customer base. It also should be a potential growth avenue for the company, as there are only 77 CTS stores currently.
7. Proven leadership
The company's CEO, Steven Temares, has been with the company for ~20 years throughout the solid performance, and the company is co-chaired by its two founders.
8. Reasonably valued
With an enterprise value of $11.5B and TTM maintenance free cash flow of $1.164B, BBBY trades at a low EV/FCF multiple of 9.9x. Anything under 10 for a growing company has my interest.
Negatives
For those reasons, the stock is on my watch list, and I would be comfortable owning a concentrated position at the right price, but I am not a buyer right now, because the company does face headwinds that have had a visible impact on financials, and the stock is not cheap enough to buy in the face of those headwinds.
My concerns are:
1. Fiercely competitive industry
While retail is easy to understand, it is also a dangerous area to invest in. Great companies can get destroyed by changing consumer trends and purchasing methods relatively quickly. Fixed costs lead to rapid operating deleverage, and debt masked as operating leases makes retailers less financially strong than one would initially think to withstand rough times. I've only lost money investing in retail in the past, and definitely have a bias against the sector.
2. Threat of Amazon (NASDAQ:AMZN) and e-commerce in general
Management has done a nice job investing to make the company omnichannel-capable. The website is easy to use, and in-store pickup is great, but BBBY has significantly higher margins than Amazon, and most of its products are small and feasible for online purchase.
3. Financial deterioration
Other headwinds have had a clear impact on the company's financials. Gross margin, operating margin, sales growth, comps, and EPS growth have all declined over the past 2 years, and that is expected to continue, though slowly.
4. Lower growth expectations
The company only expects EPS to grow mid-single digits in 2014. Adjusting 2013 growth for weather and 2012's 53rd week, etc., means further deceleration in earnings growth from 2013, and with the management expecting to repurchase >$1B shares again in 2014, the growth should only be attributable to lower share count. The operations are not improving, and it's not clear if and when they will beyond 2014.
Conclusion
There are a lot of reasons to like Bed Bath & Beyond, but also some serious reasons not to invest at this price. I feel that the stock is in a sort of limbo zone right now, where it is slightly undervalued such that the discount to fair value is not enough to attract new investors, while on the other side, it is not fully valued for current investors to be satisfied taking profits. If there's any conclusion to be made, it may be that the stock will remain in this range on relatively lower volume levels. I'd happily consider buying with another 10% decline or so.
Disclosure: I have no positions in any stocks mentioned, but may initiate a long position in BBBY over the next 72 hours. I wrote this article myself, and it expresses my own opinions. I am not receiving compensation for it (other than from Seeking Alpha). I have no business relationship with any company whose stock is mentioned in this article.