Natural gas production has increased considerably in the U.S. over the past few years due to new technology, namely fracking. This has unleashed a newfound abundance of natural gas, and therefore, the country is going through a boom in natural gas production. The trend is expected to accelerate in the coming years. Although the country still is a net importer of natural gas, this may reverse in the short to medium-term. At current production rates, the U.S. should have sufficient gas to meet domestic demand and will soon become a net exporter. Natural gas can be exported through a process converting it to Liquefied Natural Gas [LNG], and as U.S. natural gas prices are much cheaper compared to the rest of the world, the opportunity to sell natural gas to foreign countries is great.
Previously, I've recommended Cheniere Energy Partners (NYSEMKT:CQP) or Spectra Energy (NYSE:SE) as good plays on this theme. Another interesting alternative may be under-covered BG Group (OTCQX:BRGYY), one of the leading companies in the global LNG industry.
Company Overview
BG Group is a British multinational oil and gas company headquartered in Reading, United Kingdom. BG was part of the state-owned British Gas - privatized in 1986 - which went through two demergers. BG emerged from the second demerger in 1997, as the owner of Exploration & Production [E&P] and international gas and power assets. Currently, BG Group is a leading natural gas and oil company, with a strategy focused on connecting low-cost resources with high-growth gas markets. The company has a market capitalization of about $74 billion and trades in the U.S. in the over-the-counter market through its ADR program. Since 2012, one ADR represents one ordinary share.
It has operations in more than 20 countries across Africa, Asia, Australasia, Europe, North America and South America, employing around 5,500 people. Its two main businesses are exploration and LNG. It produces around 650,000 barrels of oil equivalent [boe] per day, and it has a major global LNG business, being the largest supplier of LNG to the United States. During the early 2000s, BG acquired LNG ship capacity and regas rights at the Lake Charles import terminal, enabling the company to build an independent LNG marketing business in the U.S. market. BG Group aims to be an internationally diversified exploration and production company, with specializations in gas and LNG. Its main competitors include other major oil & gas companies, such as Royal Dutch Shell (NYSE:RDS.A) or Chevron (NYSE:CVX).
BG Group is committed to deliver industry-leading growth and shareholder value. Its successful track record as an explorer is obvious in its superior organic reserve replacement ratio, well above industry averages over the past few years. The company has also high oil production growth prospects in Brazil. Additionally, Tanzania, Kenya, Uruguay and Honduras are key areas in the next couple of years where the company will invest significantly to drill more than 50 wells until 2015.
In 2013, BG had revenues of more than $19 billion, and its EBITDA was above $10 billion, representing a very high EBITDA margin of 52%. Its net profit was only $2.45 billion, a 45% drop from the previous year, due to $2.4 billion after-tax, non-cash impairments in Egypt and the U.S.
LNG Business
Global demand for energy resources is expected to grow over the medium to long-term, supported by improved global economic growth and new energy resources. A large part of this demand is expected to be met increasingly by gas, as governments seek ways to control carbon emissions and reduce overall pollution. Gas is therefore one of the main beneficiaries to replace traditional coal consumption. The company expects that global gas demand will grow at a CAGR of 2.4% to 2025, with LNG increasing its market share within the energy mix. LNG is expected to grow twice as fast as overall global gas demand, at close to 5% CAGR to 2025. BG thinks there is potential for global LNG demand by 2025 to be higher than current expectations, largely thanks to Asia.
This growth will come mainly from Asian countries, namely China and Japan, that should be the world's top two LNG importers by 2025, followed by South Korea and India. Across emerging economies, gas demand should continue to go up, as increased urbanization and projected income gains create new demand for heating, cooling, electricity and transportation. Although LNG supply is expected to increase in the long-term, it should not be enough to satisfy growing LNG demand. Thus, the market should tighten over the next decade, which should lead to relatively high gas prices over the long-term.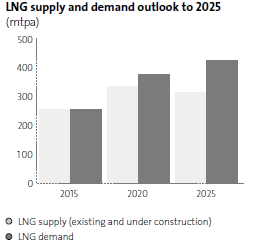 BG Group has a different LNG business model than usual, which is highly flexible with a diverse portfolio of supply and market positions. Traditionally, the LNG industry has been based on fixed point-to-point agreements. On the other hand, most of BG's sales contracts can be supplied from any of its LNG sources, meaning that it can achieve high levels of efficiency and ensure reliable gas supply for its customers. BG estimates that only 17% of the global LNG supply is flexible, and thus is able to be diverted to the higher-priced markets.
Its flexible portfolio, which is spread worldwide, enables its customers to commit to LNG purchases without depending on the schedule of a single project, being therefore a competitive advantage for BG over its competitors. This means that its customers aren't tied to any single LNG plant, giving the company opportunity to maximize the value of its asset portfolio. To make this different business model viable over the long-term, BG Group has one of the largest fleets of LNG vessels amounting to 25 owned and leased LNG vessels.
BG believes that these projected increases in LNG demand over the long-term will require substantial new LNG supply sources. Currently, the company has supply sourced from its own liquefaction plants in Egypt, Trinidad and Tobago, and from third-party supplies. The company has moved rapidly to take advantage of increasing natural gas production in the U.S., securing LNG export volumes from the Sabine Pass liquefaction project run by Cheniere Energy (NYSEMKT:LNG). Indeed, BG was the first company to sign an LNG sale and purchase agreement with Cheniere back in 2011. BG Group expects that U.S. gas prices and Asian LNG prices should remain differentiated for the foreseeable future, leading to high profits for the company when it will start to export LNG. Cheniere expects that its first terminal will start up operations in the second quarter of 2015, with BG Group as the only customer for this terminal (Train 1).
Short-term Setbacks
BG Group's key characteristics used to be well-above industry average production growth (6%-8% per year to 2010) and a flexible LNG portfolio. Its successful track record is well-known for having driven the company's re-rating over the previous decade and is also the main reason why it trades at a premium versus its peers. However, this has changed recently, as in recent years there has been no growth, as base production declined with problems in Egypt and the UK and before the Brazil and Australian growth areas start to contribute.
This has led to five volume/profit warnings since October 2012, leading to sharp drops in its share price. The last one was in the beginning of the year, leading to a sharp sell-off (-20%) as seen in the next graph. The stock has recovered most of its losses, but it is basically unchanged from two years ago at close to $22. More recently, its CEO has stepped down after just 15 months on job, which has led to speculation that BG Group can be a takeover target for a major oil company, like Chevron or Exxon Mobil (NYSE:XOM). In the short-term, the main negative factors hampering BG's stock price are Egypt and negative sentiment of investors towards it. Egypt is a large part of BG's portfolio, and risks remain due to political instability in the country. Moreover, having four warnings in a small period of time is clearly not ideal, and investors may be skeptical regarding BG's ability to deliver its long-term goals.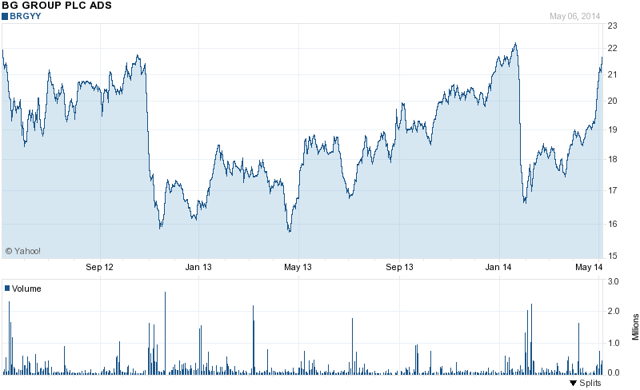 Click to enlarge
Medium-term Outlook
BG Group revised down its guidance for the next two years, something that was not well-received by investors. Its oil production should be about 600,000 boe in 2014, about 4% below 2013 production levels. This is mainly due to the difficult situation in Egypt, a decline in U.S. shale gas, and slower ramp-up in the U.K. BG's growth projects in Brazil and Australia are also scheduled to start later in the year, affecting the company's production growth. Nevertheless, for 2015, BG's guidance is for production to increase considerably, in a range of 710,000-750,000 boe. This means BG's revenues should go up significantly after 2015, and according to analyst estimates, the company should reach close to $30 billion in revenues by 2016. This is an increase of 55% from last year's revenues, showing how good BG's growth prospects are.
BG's strategy has shifted recently from the previous superior production growth to value creation, which means positive free cash flow. BG's capex is expected to peak in 2014 and is expected to fall to $8 billion-$10 billion in 2015 and 2016, meaning that BG should be free cash flow positive in 2015. Additionally, its balance sheet should improve over the next few years, as its growth projects come on line. Its balance sheet gearing ratio was only 25% at the end of 2013, a reasonable level that should improve as soon as new projects in Brazil and Australia start to generate cash flow.
Although BG Group's dividend yield is currently low and well below its industry average at around 1.5%, it has, however, good growth prospects over the long-term, as the company turns free cash flow positive and could enhance considerably its shareholder remuneration policy. Moreover, the company can also decide to sell assets and buy back stock with the proceeds, something that would send a clear signal that BG is focused on returning more cash to its shareholders.
Conclusion
BG Group has very good long-term growth prospects, as one of the world's leading LNG industry players, but also from its exploration operations. That explains why, despite its weak financial performance over the past few months, BG is still trading at close to 20x 2014 earnings. Although this may seem expensive, its earnings are expected to rise considerably over the next few years, so focusing on a single year does not represent BG's earnings power. Thus, despite being a risky play in the short-term, BG appears to offer value for long-term investors and is clearly a buy on dips.
Disclosure: I have no positions in any stocks mentioned, but may initiate a long position in BRGYY over the next 72 hours. I wrote this article myself, and it expresses my own opinions. I am not receiving compensation for it (other than from Seeking Alpha). I have no business relationship with any company whose stock is mentioned in this article.
Editor's Note: This article discusses one or more securities that do not trade on a major U.S. exchange. Please be aware of the risks associated with these stocks.