Introduction
Since our first report on the company was published April 22, 2014, shares of LiveDeal, Inc. (NASDAQ:LIVE) have dropped by 14 percent. This has happened despite the fact an unnamed third-party shareholder paid a large sum of money to tout the stock in brochures mailed through the country, nefarious penny-stock newsletters and even radio ads. The only conclusion we can draw from these promotional activities is that a large shareholder needs to create artificial demand for the stock so that shareholder can liquidate his or her position. While stock promotion technically is legal, it certainly is not an activity in which profitable, legitimate public companies engage. This development raised enough of a red flag that our team started digging more deeply. We looked into the backgrounds of the company's corporate executives and of the company itself. We also investigated the promotional activities and the company's recent acquisition of DealTicker.com, which in our opinion is cause for concern. We have contacted LiveDeal and Jon Isaac said "we have heard of the campaigns but I can confirm those are not company sponsored." We reiterate our sell rating on LIVE, with a price target of $2, and we ask that individual investors draw their own conclusions because LIVE eventually could fall to less than .01 per share.
Background
LiveDeal Inc. became a public entity after it was acquired by YP Corporation in June 2007. YP Corp. owns and operates YP.com. Besides having been the target of fraud allegations by StockLemon.com, YP Corp. entered into a settlement agreement with 34 state attorneys general related to deceptive business practices and its controversial marketing practices.
LiveDeal provides local customer-acquisition services for small businesses. Through its two primary, wholly owned subsidiaries (Velocity Marketing Concepts Inc. and Local Marketing Experts Inc.), LiveDeal offers an affordable way for businesses to extend their marketing reach to local, relevant customers through the Internet, with a focus on marketing solutions for mobile devices. On Sept. 19, 2013, LiveDeal announced the launch of LiveDeal.com, a unique, real-time "deal engine" connecting merchants with consumers. On May 6, 2014, LiveDeal announced the acquisition of DealTicker.com, an online platform company that offers discounted products and services in the U.S. and Canada.
Jon Isaac, President and CEO, has been a large stockholder of two pump-and-dump scams
Jon Isaac is the President and CEO at LIVE and head of Isaac Capital Group. On Dec. 12, 2011, Isaac Capital Group acquired a stake in LIVE. As reported in the company's latest 10-K, LIVE has issued convertible notes to Isaac Capital Group over the past few years, making Jon Isaac and Isaac Capital Group one of LiveDeal's largest stockholders. Over the past few years, Jon Isaac and Isaac Capital Group also have been large stockholders of two pump-and-dumps using similar convertible-note agreements, and LIVE could be next.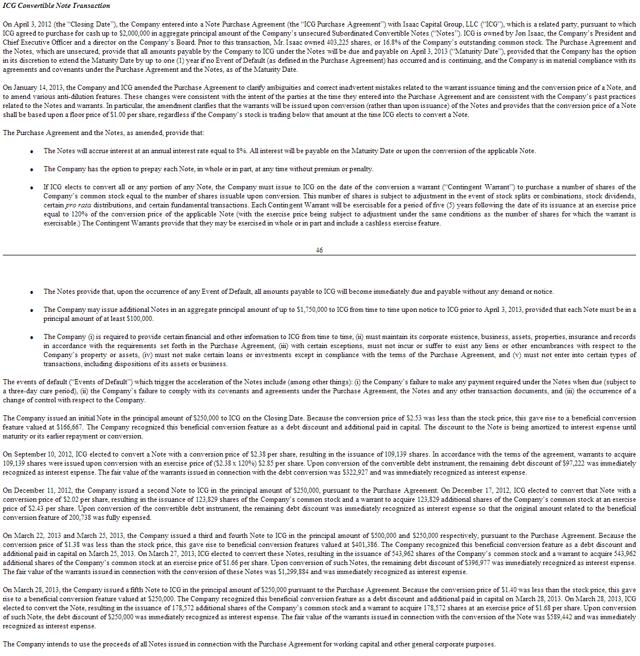 VelaTel Global Communications, Inc. (OTCPK:VELA), formerly known as China Tel Group (CHTL), is a pump-and-dump scheme in which convertible notes were issued to Isaac Capital Group, making it a large stockholder. VELA now trades at less than .01 per share.
Like LIVE, Seven Arts Entertainment Inc. (OTCQB:SAPX) was a promoted, Nasdaq-listed stock in which Jon Isaac was a large stockholder, and Isaac Capital Group also held convertible notes. SAPX recently was named on FBI.gov as a fraudulent film tax-credit scheme. SAPX now trades at less than .01 per share.
With both VELA and SAPX trading below .01 per share, we are concerned that LIVE could be next.
Tim Matula, senior vice president, has been involved in multiple pump-and-dump scams
Tim Matula is the senior vice president at LIVE and has been involved in multiple past pump-and-dump scams. He also is named as a defendant in a class-action lawsuit for violations of federal securities laws.


LIVE Mailers
Below is a copy of a promotional mailer that is being sent out on LIVE. The disclaimer states, "Franklin Media Group, Inc. expects to receive approximately $900,000 … from a third party shareholder."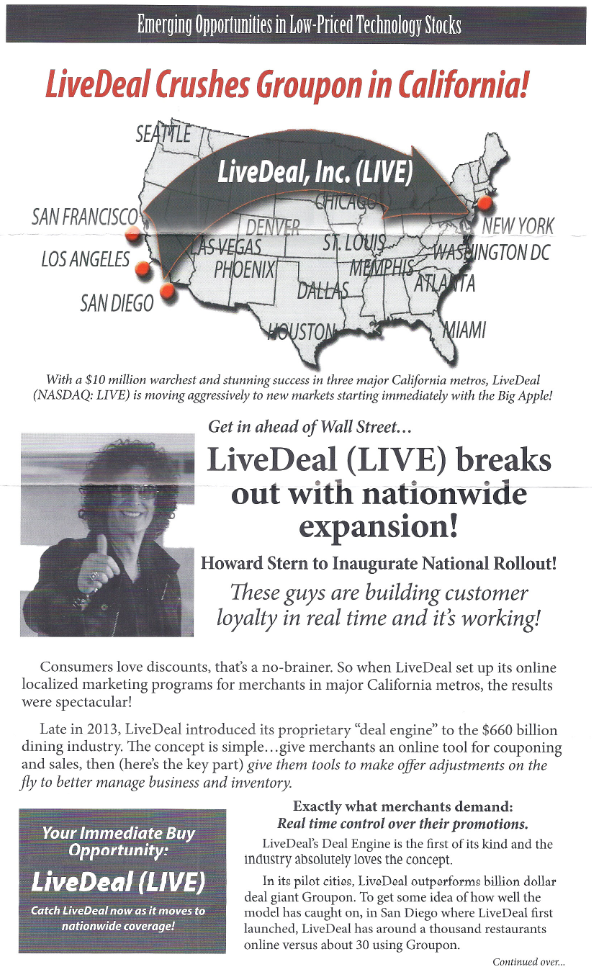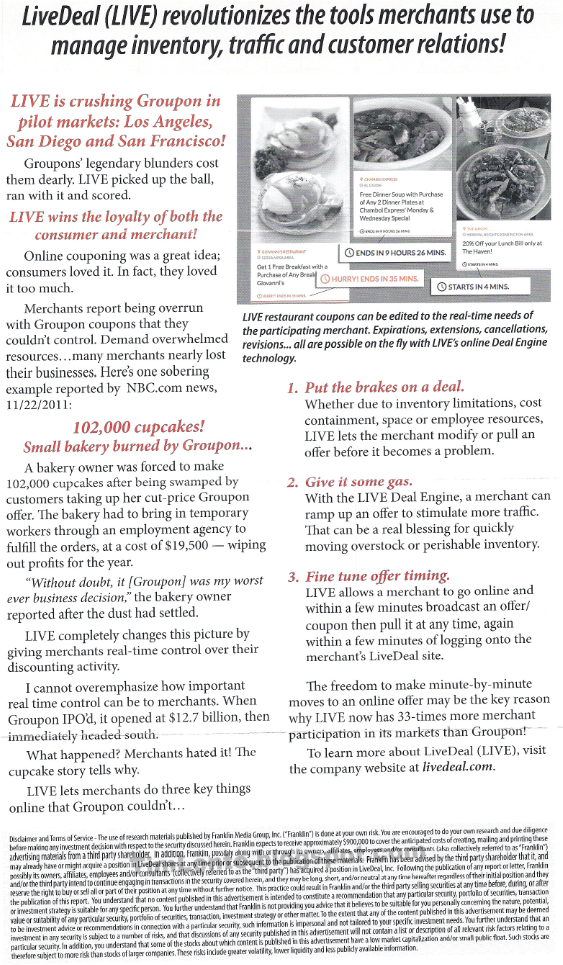 LIVE Emails
Below are the promotional emails we have received on LIVE.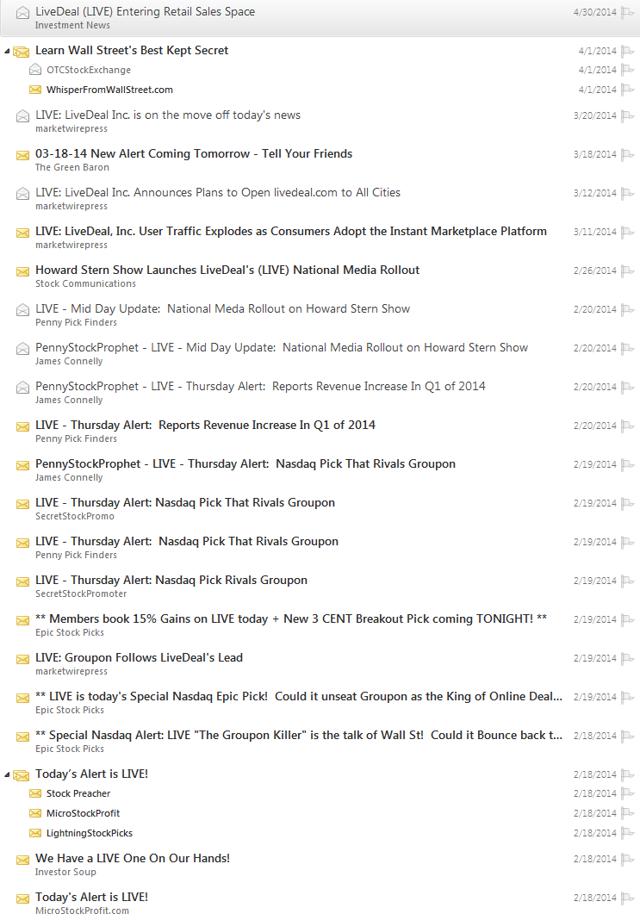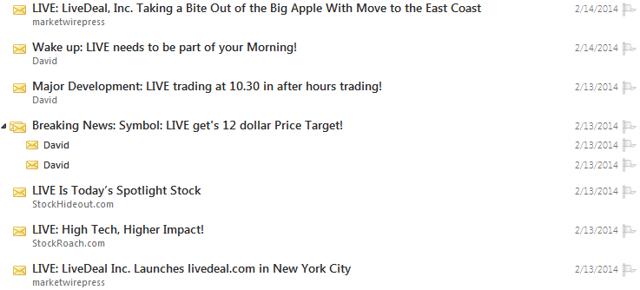 LIVE radio ads
Here is a transcript of the LIVE radio ad.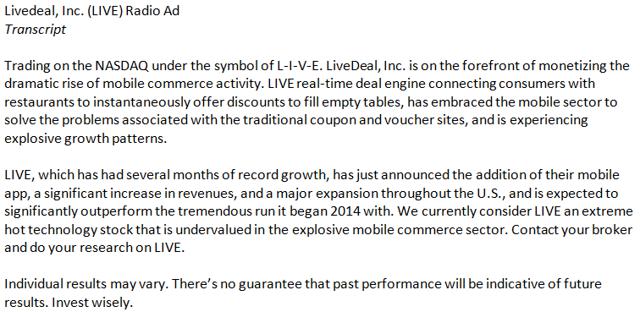 Acquisition of DealTicker.com
On May 6, 2014, LiveDeal announced the acquisition of DealTicker.com for CAN$260,000 in which "the company expects a significant percentage growth in revenues." DealTicker is an online platform company that offers discounted products and services in the U.S. and Canada. However, after looking into DealTicker.com, we believe this acquisition primarily was used to create more hype and excitement around LIVE. Below are some of the issues we found with the acquisition of DealTicker.com
LiveDeal.com is not a leading daily-deal and restaurant-coupon company
In our previous article, we compared LiveDeal.com to its peers and concluded that LiveDeal appears to be an unpopular website in the increasingly crowded daily-deals market.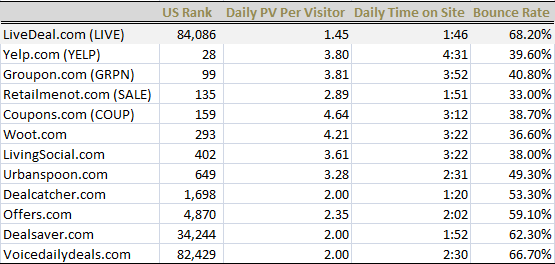 Like its website, LiveDeal's Android and Apple apps appear unpopular. According to Google, since April 1, 2014, LiveDeal has less than 500 Android app installs with only 41 reviews. According to Apple, LiveDeal has only 22 reviews since Apr. 22, 2014.
In a press release dated May 2, 2014, it was stated that "LiveDeal, Inc. shows explosive growth into 35 US cities" and "is now reaching consumers in the 10 largest population centers in the country including; New York City, Los Angeles, Chicago, Houston, Philadelphia, Phoenix, San Antonio, San Diego, Dallas and San Jose." But in those top-10 cities in which it claims explosive growth, LIVE actually has few deals.
So few, in fact, that we were able to easily count those deals. Below is a table of the number of deals we counted on May 7, 2014: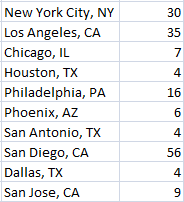 Over the past five years, LIVE has been unable to grow revenues or sustain a profitable business
LiveDeal shows, both financially and fundamentally, that it cannot become a profitable business. The company's revenues have decreased over the past five years, and earnings per share show no sign of going positive. In the past five years, with the company in a cost-cutting mode, revenues have decreased steadily, and retooling EPS also has decreased and remains in the red. LiveDeal is a failing company struggling to stay afloat. In a saturated market, it shows no signs of being successful.

A peer-group comparison shows LIVE is significantly overvalued
LIVE is significantly overvalued in comparison to other restaurant coupon and marketing companies. LIVE has the highest P/S with the lowest growth, making it a less attractive investment opportunity than its peers.

By averaging the P/S ratios of LIVE peers, we conclude LIVE should be valued at $2 per share, which is down around 50 percent from current levels. We believe this price target is generous given the company's stock promotion and lack of growth in comparison to its peers.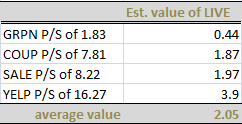 LIVE needs cash
As reported on LIVE's most recent balance sheet, the company has only $511,000 in available cash. After paying around $260,000 for DealTicker.com, LIVE has around $251,000 in cash left. In order to sustain its operations and increase its cash reserves, the company filed a Form S-3 on April 4. Stated in that S-3 is the following:
"This prospectus is part of a registration statement that we filed with the Securities and Exchange Commission (the 'SEC') using a 'shelf' registration process. Under this shelf registration process, we may offer from time to time securities having a maximum aggregate offering price of $50,000,000."
The fact LiveDeal's cash reserves are low suggests we should see an offering of stock, debt or warrants in the near future that could equal as much as $50 million. Considering LiveDeal's market capitalization is only $63 million, this capital-raise potentially could cause heavy downward pressure on the company's stock.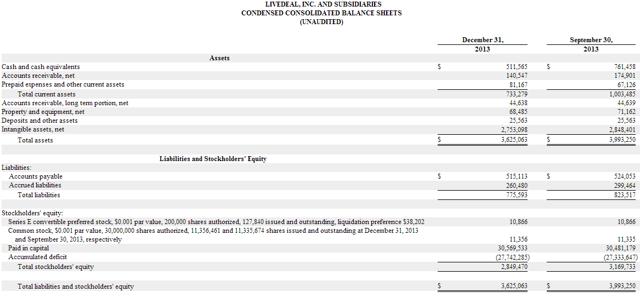 Conclusion
Given this company's history of deceptive practices and promotional activities, its declining revenues, its limited cash and its potential stock offering, investors are likely to get burned and should sell LIVE before it is too late. We reiterate our sell rating on LIVE, with a price target of $2, and ask that individual investors draw their own conclusions because LIVE eventually could fall to less than .01 per share.
Disclosure: I am short LIVE. I wrote this article myself, and it expresses my own opinions. I am not receiving compensation for it. I have no business relationship with any company whose stock is mentioned in this article.
Editor's Note: This article covers one or more stocks trading at less than $1 per share and/or with less than a $100 million market cap. Please be aware of the risks associated with these stocks.