As we get closer to the end of the era of slow growth, large bank stocks are likely to be good bets for the recovery. Five years after the worst recession since the Great Depression, banks have returned from catastrophe, rebuilt their capital structure, and kept depositors safe. Investors with a long term vision may see reasonably cheap, large bank stocks as a play while the economy is on sound footing. Rising interest rates will also help banks to boost their profits through its effect on net interest margins.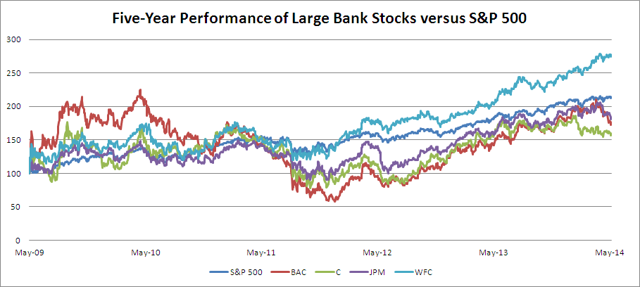 Click to enlarge
(Source: Yahoo Finance)
Even if it looks like rosy picture at first, investing in bank stocks also has some specific risks. No matter how optimistic investors become about these stocks, legal risks must be considered. They always have the ability to drive the prices down and to hurt the profitability by generating mostly unpredicted losses. Bank of America (NYSE:BAC), JP Morgan (NYSE:JPM), and Citigroup (NYSE:C) are facing big legal risks. Not surprisingly, Well Fargo (NYSE:WFC) has been the best performer out of four largest banks in the U.S. (see the chart below). This also means that it is the most expensive one to buy if you are willing to buy a large bank stock.
In this article I intend to support investors at their decision-making process who think of flowing some cash into large bank stocks, and to able to do this I will use a simple form of value at risk analysis and try to figure out how risky the each bank stock is.
Firstly, I want to acquaint readers with value at risk analysis. It is a widely used risk measure of the risk of loss. For a given stock (or portfolio), probability and time horizon, value at risk is defined as a threshold value such that the probability that the loss on the stock over the given time horizon exceeds this value. For instance, if a stock has a one-day 5% value at risk of $1 million, there is a 0.05 probability that the stock will fail in value by more than $1 million over a one day period if there is no trading. It also means that you will not lose much more than $50.000 over the given horizon. The larger is value at risk of an individual asset (portfolio), the higher is the risk, and vice versa.
I believe that the readers have already seen where this is going. I made the similar analysis for the largest four U.S. bank stocks mentioned above, in order to show that which one is the less risky to invest in. I used an analytical form of value at risk measurement with the assumption that stock prices are not stationary variables as visualized above. The analysis contains daily returns of the stocks over the last five years.

The results suggest that with JPMorgan and Wells Fargo are the less risky bets with a 95% confidence interval while the volatility of Citigroup and Bank of America stocks are relatively higher. In other words, JPMorgan and Wells Fargo should be the top picks for risk sensitive investors.
All the stocks mentioned above have their own specific headwinds and tailwinds but one thing is certain; all of them will take the advantage of the economic recovery. At this stage investors should add the stocks offering less volatility to their portfolios. The simple method I used above could be a helpful tool for the ones looking forward to see a pick-up in large bank stocks.
Disclosure: I have no positions in any stocks mentioned, and no plans to initiate any positions within the next 72 hours. I wrote this article myself, and it expresses my own opinions. I am not receiving compensation for it (other than from Seeking Alpha). I have no business relationship with any company whose stock is mentioned in this article.