When I first listened to Bill Ackman's presentation about Valeant Pharmaceuticals (NYSE:VRX) and its potential acquisition of Allergan (NYSE:AGN), my first reaction was that Ackman reads the same finance blogs that I do. Calling Valeant CEO J. Michael Pearson an "outsider CEO" is something that I've seen on fellow Seeking Alpha contributor BrooklynInvestor's blog and has generally made its way around the value investing circles.
What Makes an Outsider CEO?
Outsider CEOs, based on William Thorndike's The Outsiders, are unique CEOs that eschew conventional wisdom and thrive on capitalizing on different capital allocation strategies. These CEOs make acquisitions when businesses look cheap, deliver enormous synergies, buy back stock when it's inexpensive, and create free cash flow compounding machines.
The common theme between these CEOs is that they generated tremendous long-term returns for shareholders, thriving regardless of market condition. Each made bold moves that may have seemed absurd but became brilliant decisions.
That being said, Pearson is undoubtedly an Outsider CEO. Since taking the helm at a middling Valeant in 2008, Pearson has taken Valeant's stock up more than 25x. That's a 2,544% return in just 5 years and change. As Ackman outlined in the below chart, the stock soared after each merger.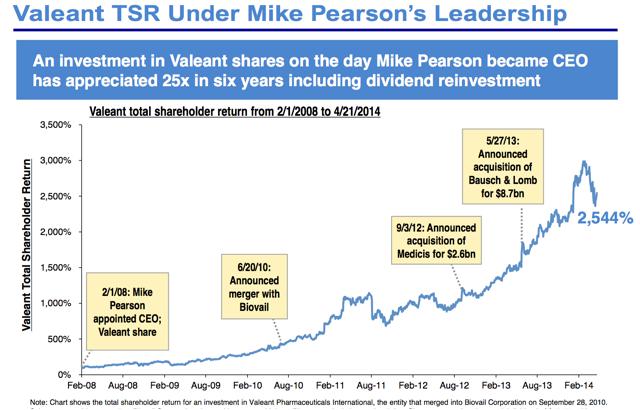 Source: Ackman Presentation
Pearson pioneered the tax inversion deal-something that took the rest of pharma years to catch on to-and immediately began making transformational transactions. Pearson's game plan was simple yet unconventional: cut negative ROIC research & development expenses, purchase durable drugs and products with international expansion and organic growth opportunities, and make deals that would support the product assortment with an anticipated return of at least 20% before tax savings. Pearson has only done great deals, and he is willing to let a deal slip away if the price is too high.
Pearson has bought back gobs of stock at far lower levels than today. He's aggressively issued debt to capitalize on the low interest rate environment.
Why the Allergan Deal is Transformational
Pearson is a master of establishing cost synergy targets and then doing even better. Management wanted to achieve $800 million in annual cost savings at Valeant's previous big fish, Bausch & Lomb. Recently, Pearson announced that the company would exceed its already bold target-generating incremental value for shareholders. Valeant has a knack for improving profitability without eroding organic sales.
Allergan has a wonderful durable product base (namely Botox) that would be prime for Valeant's cost reduction strategy. Allergan already has one of the higher tax rates in the space at 26.5%, but the company also spends a tremendous amount of R&D on projects. Current shareholders of Allergan worry that Allergan's edge is R&D; so slashing the cost is tantamount to destroying value. However, I think this fear is overblown. Valeant has repeatedly said that it targets high return R&D and uses zero-based budgeting. What that means, is that if a project makes sense on paper, Valeant will do it. Pearson ascribes 0 value to the pipeline at this time, so he even admitted to not doing much research on it. I imagine Pearson would invest in any high ROI project.
Plus, Valeant is not allergic to R&D spending. It currently spends only 2-3% of sales on R&D, but its R&D spend carries a strong return profile. The company focuses on new products to market rather than curing a certain disease or hoping for a blockbuster. This also requires moving into cash pay markets where insurance companies don't negotiate price concessions.
Getting back to Allergan, a merger with Valeant would create a dominant ophthalmological and dermatological company. The combined company would achieve $2.7 billion in annual operational costs, additional revenue synergies, and additional tax synergies. The new company would generate in excess of $6 billion in free cash flow for Pearson to allocate however he chooses. This translates into 25-30% cash EPS growth. The deal logic is a very simple premise: let Pearson manage your money, and it will compound handsomely.
While Allergan continues to seek out a white knight, Pearson (and Ackman) will stay disciplined. While a bigger player with a lower hurdle rate for success could come along, Allergan is most valuable as part of Valeant. Still, if a pharma giant makes an offer Allergan couldn't refuse, Valeant will not match. It will let the deal get away if the economics do not make sense.
What's the Bear Case?
For drawing such a controversy, I think the bear case is ultimately pretty weak. Some think the R&D cuts are shortsighted. I would say those critics don't really understand the company. Valeant is not in the ball game of reinventing the wheel, it only purchases products with strong competitive advantages. There's not necessarily a contact lens hitting the marketplace that represents the same leap as a blockbuster drug. Most of this tweaking is incremental rather than revolutionary. If anything, I think Valeant is focused almost exclusively on building a robust company for the long term.
Others think the acquisition strategy is running out of places to put money to work. This couldn't be any further from the truth. There are $3.2 trillion worth of publicly traded companies worth over $10 billion that could be targets for the newly merged Valeant and Allergan. This doesn't include smaller companies that would make great bolt-on acquisitions or the tremendous amount of privately owned companies across the world. Pershing Square estimates this figure to reach ~$3 trillion.
Others are worried about the company using non-GAAP metrics. Several companies that use non-GAAP figures have used the excuse to hide what was really going on with the company's potential-be it eyeballs, listener hours, or adjusted EBITDA. Valeant focuses on free cash flow-a metric nearly universally renowned for its accurate portrayal of owner's earnings.
Why Valeant is Still a Buy
If a merger with Allergan occurs, I think the stock could be worth anywhere from $175-$200 without any additional acquisitions. Additionally, you get Pearson managing a bigger pool of money and able to do more deals that add value. This creates a compounding machine that is NOT priced in.
If the merger does not go through, I'm very comfortable owning Valeant. The company can pursue other targets and equally as accretive transactions. Shareholders will be rewarded for entrusting Pearson to allocate their capital.
Disclosure: I am long VRX. I wrote this article myself, and it expresses my own opinions. I am not receiving compensation for it (other than from Seeking Alpha). I have no business relationship with any company whose stock is mentioned in this article.