Prospect Capital Corporation (NASDAQ:PSEC) is a business development company or "BDC" which invests in a wide range of industries. This includes healthcare, financial services, energy, and manufacturing. This company recently announced financial results and disclosed a couple of minor issues (like an earnings miss), which have caused a meaningful pullback in the stock. Let's take a closer look at this high-yielding company and the reasons why the pullback is a solid buying opportunity: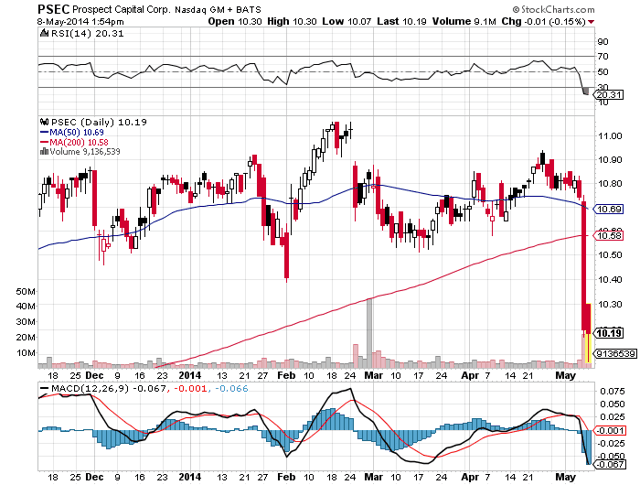 As the chart above shows, this stock has experienced a sharp decline in the past few days from nearly $11 per share to about $10.20 per share. These shares are now at extremely oversold levels as the stock has a Relative Strength Index or "RSI" of just about 20. Stocks with an RSI of 30 or less are considered oversold and therefore due for a potential rebound. The share volume also indicates a possible "capitulation" level bottom since the stock traded nearly 22 million shares on May 7, which is more than four times the average trading volume for this stock. The oversold level of this stock and the high volume sell-off could be a sign that investors have overreacted to the recent news and financial results coming from this company.
Here is what took the stock down:
Prospect Capital reported net investment income or "NII" of 31 cents a share, which barely missed the Capital IQ Consensus estimate of 32 cents a share. Total investment income increased by 58.3% to $190.32 million for the quarter which was close to analyst expectations of about $192 million, for the quarter. Furthermore, it was disclosed that the SEC has requested the company to consolidate on its balance sheet, any company that it holds more than a 50% interest. The earnings were barely a miss and the SEC request does not appear to be much more than a minor accounting change. Neither of these issues appear to have any long-term impact on the company or the stock, or the dividend. This is why this pullback is an ideal buying opportunity.
Potential downside risks:
There are some potential downside risks to consider which include the following: Business development companies tend to announce secondary offerings more frequently than other companies, especially when the share price exceeds net asset value. In order to limit this risk, I suggest that investors buy on pullbacks below book value or shortly after a secondary offering, or other dips as we see now. Some investors believe that rising interest rates may pose a potential downside risk, but most BDC's have a significant amount of floating rate securities and this means investment income can rise along with interest rates.
The buying opportunity:
This pullback appears to be a short-term buying opportunity because the long-term investment and yield potential remains strong. This stock usually trades for a premium to book value, but thanks to the recent sell-off, it can now be bought way below the book value of $10.68 per share. It's worth noting that Prospect Capital has an excellent long-term track record for paying dividends. CNBC's Jim Cramer has even blessed Prospect Capital in the past, due to its management and track record, he stated:
"I always thought it was a well-run outfit. It has that really high
yield, which is a red flag, because a lot of high yielders have been
trimming their yields. It is well run, though, and I'm going to bless
it. I've known them for years."
Prospect Capital pays a monthly dividend of 11.04 cents per share and that provides a yield of about 13%. Investors never have to wait long for the next dividend from Prospect Capital since it pays out every month. The stock will trade ex-dividend on May 28 and pay a dividend of 11.04 cents per share to shareholders of record on May 30, 2014.
From currently depressed levels, this stock also appears to have significant upside in terms of capital appreciation. In February, analysts at Wunderlich upgraded Prospect Capital shares to a buy and set a $12 price target. This implies capital appreciation potential of about 20%, and investors get paid a huge yield while waiting for a rebound.
Finally, it's worth noting that on March 20, 2014, John F. Barry, (an officer), purchased 100,000 shares at $10.86 each, in a transaction valued at $1,0860,000. That is a significant and recent insider buy when the stock was trading at much higher levels. I would not be surprised to see more insider buying reported soon thanks to the sharp pullback in the stock. Either way, with this stock trading below book value and with a yield of about 13%, it appears to be a bargain. Investors who take advantage of the pullback and buy this beaten-down stock now are likely to reap rewards in the future. For another recently beaten-down stock pick that looks like a bargain with 50% near-term rebound potential, read this article I wrote on a $2 jewelry stock.
Here are some key points for Prospect Capital Corporation:
Current share price: $10.19
The 52 week range is $10.05 to $11.62
Earnings estimates for 2014: $1.27 per share
Earnings estimates for 2015: $1.26 per share
Annual dividend: $1.33 per share which yields 13%
Data is sourced from Yahoo Finance. No guarantees or representations
are made. Hawkinvest is not a registered investment advisor and does not provide specific investment advice. The information is for
informational purposes only. You should always consult a financial
advisor.
Disclosure: I am long PSEC. I wrote this article myself, and it expresses my own opinions. I am not receiving compensation for it (other than from Seeking Alpha). I have no business relationship with any company whose stock is mentioned in this article.