The market declined once again today, but momentum slowed down thankfully. The SPX was stable around 1085. A gap down brought it below that support level this morning, but it quickly recovered. This is the level that bulls need to hold and buyers stepped-up and supported 1085 today. Volume was high, and decliners nudged out advancers by 3 to 2.
From a technical pattern perspective, the SPX, and a load of stocks, made dojis on high volume. A doji candlestick can often prelude a price bottom. Tomorrow we need to see a gap up and have the indices take back half of the decline from Tuesday's closing price. Anything less will result in lower lows, but the stock market is not going to crash this week, next week maybe, but few traders will want to take on fresh shorts before a weekend.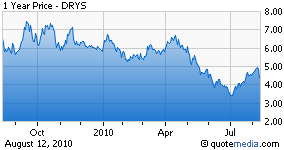 The Chart of the Day
DryShips (NASDAQ:DRYS) finished the day 1% higher.
The stock is an interesting play from both sides of the tape. We can see that this stock traded in a downward price channel from April to July and then a narrow upward price channel from July to Wednesday. Clearly, selling is intense above $5.25, and the lack of real buying interest during the 50% rise last month argues for new lows. Additionally, a high volume break down from an upward channel on Wednesday indicates more weakness ahead. A quick look at the debt service load is also a big concern.
But that bearish stuff aside, quick gains can be made from the long side. Thursday's move was bullish. The stock took a big gap down, but recovered all that loss by the close. Buyers came in and supported the $4.30 zone, which had been old resistance. Also, RSI is at 50, which could provide a brief pop back up to $4.79. Any move above $5 would result in a speedy squeeze up to the $5.30-$5.50 resistance area.
The stock should hit its 200DMA before a new low is made.
Watch List
Our watch list was lower today, similar to the market.
Leading the way higher was our top Chinese play, China Agritech (OTCPK:CAGC) soaring 20%.