The fall from grace of a former market darling can offer a conservative long term investor a low risk entry into a quality franchise. Periodically, a company will unveil a unique product that is well positioned to capitalize on an unmet need in the marketplace. That need or want can come in many forms such as the iPhone that was unveiled by Apple Computers (NASDAQ:AAPL) that directly led to AAPL becoming the largest company in the world based on market cap. The inevitable slowing down of sales growth coupled with the entry of new competitors into the field tarnished the luster of AAPL shares, leading to a greater than 50% fall from its all time high set in 2013 as the momentum players exited the shares. The exit by the momentum/high growth players offered the conservative patient investor a very attractive entry point in the $400-$450 range. Those who were fortunate enough to take advantage of this unjustified bargain have achieved market beating gains as the shares have rallied up close to $600 per share. With the above example in mind, I believe we are seeing a similar opportunity today in Gilead Sciences (NASDAQ:GILD) with its revolutionary Hepatitis C treatment Sovaldi.
March 31,

(In thousands, except percentages)

2014

2013

Change

Antiviral products:

Sovaldi

$

2,274,349

$

-

-

Atripla

779,594

877,073

(11

)%

Truvada

759,700

700,242

8

%

Complera/Eviplera

250,733

148,189

69

%

Stribild

215,271

92,148

134

%

Viread

210,625

210,332

0

%

Hepsera

11,723

26,423

(56

)%

Emtriva

6,502

6,671

(3

)%

Total antiviral products

4,508,497

2,061,078

119

%

Letairis

122,885

118,107

4

%

Ranexa

111,618

96,286

16

%

AmBisome

92,093

85,275

8

%

Other products

35,881

32,822

9

%

Total product sales

$

4,870,974

$

2,393,568

104

%
In the first three months of its existence, Sovaldi has managed to generate sales in excess of $2 billion dollars which is simply quite outstanding. The chart above lists the revenue breakdown of all the products that GILD currently sells, notice how sales have basically doubled because of Sovaldi. The impact on earnings growth was even more pronounced with gains of 208% as compared to the similar year before quarter. Earnings for the year are expected to come in at $6.21 per share as there is a large unmet demand for Sovaldi.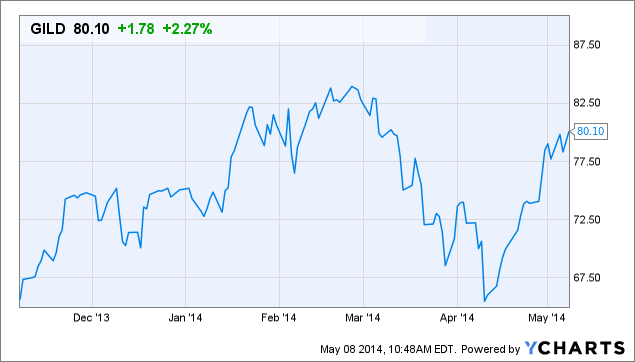 With the above information in mind, why did the shares sell off in such a brutal fashion over the course of the last month? I suspect there is a fear that the drug actually works too well and there won't be any repeat "business". Sovaldi manages to "cure" Hepatitis C in roughly 95% of those treated after a 12 week course of therapy. The fear is those infected will rush in for treatment, generating a huge bump in revenue for GILD that won't unfortunately be sustained over a longer period of time. For example, Lipitor the cholesterol lowering agent originally introduced by Pfizer(NYSE:PFE) generated over $100 billion in revenue due to the fact that it was a chronic treatment requiring daily usage. I believe the fear is over stated as the demand for the drug will remain elevated for the next few years. The following excerpts from the recent conference call sum up why I believe the demand will stay elevated for the next few years for Sovaldi.
Since launch, approximately 30,000 patients have begun treatment for hepatitis C with Sovaldi. In fact, with an estimated 1.7 million diagnosed patients in the U.S. and around 400,000 under treated care, we have to take just a small fraction of those who can benefit from treatments in the future.

On the payer front, access to Sovaldi has been as we expected, with its formulary status consistent with our experience in HIV reimbursement. Most commercial, Part D and state Medicaid plans take full six months to review new drugs.

While Sovaldi has regulatory approval in the European Union, full pricing and reimbursement, is a country-by-country process with some countries completing that process more quickly than others. Today we have reimbursement in Germany, Austria, Sweden, Finland and to some extent France.

In France, after completing or completion of the temporary authorization for use or ATU program, but prior to completion of full reimbursement stages, we continue to provide Sovaldi to patients who have pre and post-liver transplant and also patients with advanced liver disease who have failed other HCV treatments or are interferon intolerant. This is in line with the ATU scope and will widen when full reimbursement is agreed.

In the U.K., the National Health Service in England has recently issued a statement confirming that they have approved the filing to Sovaldi for approximately 500 patients. Notably, this is funding pre-NICE approval and recognizes the urgent need for Sovaldi for sicker patients.
In the US roughly 30,000 patients have been treated, with an estimated 1.7 million being infected with Hepatitis C. Of those that are infected, roughly 25% are being treated which in my view demonstrates the staying power of the drug. There won't be a rush for immediate treatment as more than half of those infected aren't currently being treated for the disease. In Europe, we are seeing a similar pattern with the drug being reserved for the sicker patients. I believe the demand for Sovaldi will be stable for the rest of the decade allowing GILD to generate a tremendous amount of free cash flow. The free cash generated is the real opportunity offered by GILD.
Definition of 'Free Cash Flow - FCF'

A measure of financial performance calculated as operating cash flow minus capital expenditures. Free cash flow (NYSE:FCF) represents the cash that a company is able to generate after laying out the money required to maintain or expand its asset base. Free cash flow is important because it allows a company to pursue opportunities that enhance shareholder value. Without cash, it's tough to develop new products, make acquisitions, pay dividends and reduce debt.
Gilead is expected to generate free cash flow in excess of $10 billion in 2014 as compared to $3.4 billion for 2013. To say the least, Sovaldi is immensely profitable and has significantly added to the bottom line of GILD. The question becomes what will the company do with all the excess cash? Looking at the company's past history, the immediate answer is to repurchase shares and shrink the existing share count. GILD has managed to shrink their shares outstanding by 20% since 2005. GILD recently approved an additional $5 billion repurchase program that will run over the next 3 years. The following excerpt taken from GILD recent 10-Q summarizes the current shares repurchase authorization.
Share Repurchase Program

In May 2014, our Board of Directors authorized a repurchase of up to $5.00 billion of our common stock through open market and private block transactions pursuant to Rule 10b5-1 plans, privately negotiated transactions or other means. This is in addition to a separate $5.00 billion buyback program announced in January 2011, which has approximately $2.90 billion remaining in the plan and is expected to be completed by September 2014. The new program expires three years after completion of the current repurchase program. We intend to use the additional authorization to repurchase shares opportunistically and to offset the dilution created by shares issued under employee stock plans.
GILD expects to purchase $2.9 billion worth of shares by September which will help put a floor under the share price. GILD is still being cautious with their outlook for Sovaldi as they have yet to issue full year guidance that includes it. The very fluid nature of the situation makes it difficult to model what earnings per share will eventually come in at which offers the unique opportunity before us.
Gild recently earned $1.48 per share with very limited usage of Sovaldi. I doubt it is a stretch to estimate they will earn roughly $6 per share in 2014. At a current share price of roughly $79 per share the shares are trading at a P/E of roughly 13 which is lower than the average market P/E. In my view the current price fails to accurately reflect GILD future prospects as Sovaldi is fully rolled out worldwide. I estimate Sovaldi sales to become rather annuity like with a ten year lifespan of at minimum $10 billion in sales per year. Sovaldi is quickly becoming the gold standard therapy and will be very difficult to dislodge from this position. I have noticed there are other products being tested to be used in combination with Sovaldi which underscores my confidence in Sovaldi's future. The fact that Sovaldi is patent protected through 2024, GILD has a claim to some of the revenue generated from a combination product. The timing of the combination products could extend the life of the revenue generated from Sovaldi as the patent on the combination products should expire after 2024.
The current sentiment in the biotech field is less than favorable hence the opportunity presented to us today. I expect GILD to conservatively generate earnings of roughly $7.5 per share in 2015 which can easily support a share price of $100 per share. I view the current negative sentiment in the industry as a gift similar to what was offered by AAPL last year and I have entered into a position at $73 per share. I expect to hold the shares for the long term to allow the Sovaldi phenomena to fully play out. Thanks for reading and I look forward to your comments.
Disclosure: I am long AAPL, GILD. I wrote this article myself, and it expresses my own opinions. I am not receiving compensation for it (other than from Seeking Alpha). I have no business relationship with any company whose stock is mentioned in this article.
Additional disclosure: Investors are always reminded that before making any investment, you should do your own proper due diligence on any name directly or indirectly mentioned in this article. Investors should also consider seeking advice from a broker or financial adviser before making any investment decisions. Any material in this article should be considered general information, and not relied on as a formal investment recommendation.