McDonald's (NYSE:MCD) is delivering horrible results lately, and competition from successful fast-casual players like Chipotle Mexican Grill (NYSE:CMG) as well as traditional fast-food competitors like Burger King (BKW) represents a big challenge for the company.
Is McDonald's an undervalued investment or a giant in trouble?
Disastrous First Quarter of 2014
Total consolidated revenues increased by an uninspiring 1%, to $1.6 billion, during the first quarter of 2014. Constant currency sales did marginally better with a 3% increase during the period, but global comparable-sales performance was quite weak, with an increase of only 0.5% versus the first quarter of 2013.
Operating income declined by 1% year-over-year, and earnings per share came in at $1.21, a decline of 4% versus the same quarter in the prior year, and lower than the $1.23 per share forecast on average by Wall Street analysts.
Performance in the U.S. was particularly weak, with a 1.7% decline in comparable sales during the quarter and a fall of 3% in operating income in the country. According to management, these results reflected:
negative comparable guest traffic amid challenging industry dynamics and severe winter weather.
Europe was marginally better: McDonald's reported an increase of 1.4% in comparable sales and a growth rate of 6% in operating income in the Continent.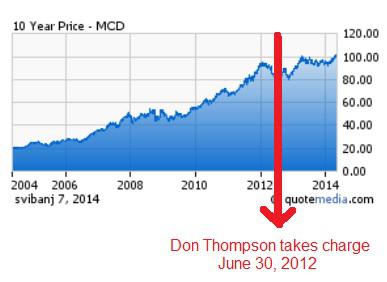 Source: seekingalpha.com
CEO Don Thompson offered the following platitudes about the future of the company:
In today's dynamic global marketplace, our goal is to ensure that we are evolving to remain a relevant and trusted brand by serving great-tasting, high-quality, affordable food and creating memorable experiences with our brand. By leveraging a deeper understanding of what our customers want with the power of our business model, our investments in restaurant capabilities and modernization, and our hard-earned competitive advantages, we will grow McDonald's business and deliver enduring profitable growth over the long term. As we begin the second quarter, global comparable sales for the month of April are expected to be modestly positive.
Well, Don, the price of McDonald's has not moved since you took over, and the short interest in the company shot up 20.7% in April 2014.
A pivot to China?
In its most aggressive buildup in a decade, McDonald's says it'll spend up to $3 billion this year on 1,600 new restaurants worldwide. China will get one of the biggest shares. The burger chain will add 300 locations there, up from 250 last year, and quadruple the number in 2004. By year-end, the Oak Brook, Illinois-based company will have more than 2,000 restaurants in China, more than anywhere else except the U.S. and Japan. By the end of 2017, McDonald's plans to double the number of restaurants in China to 4,000.
To date, the company operates over 35,000 restaurants across 119 countries. There are nearly 14,000 McDonald's in the U.S., but the company's massive international operations remain the key to steady sales growth.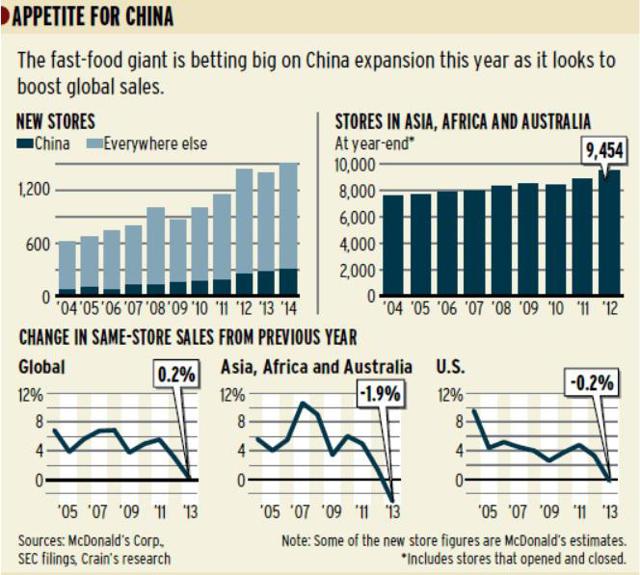 Source: chicagobusiness.com
While U.S. is a saturated market for McDonald's, China's middle class is expanding like crazy. A report published by McKinsey & Co. in 2012, calculated that the number of people in China that earned between $17,000 and $35,000 would grow from only 6% of the population in 2010, to more than 50% of China's populace by 2020.
What exactly is McDonald's doing to reframe itself in China, where it's generally only found a lukewarm reception compared to its rival, Yum! Brands' (NYSE:YUM) division KFC? First and foremost, it's de-Westernizing its stores there.
Ten years ago, when China became a hotbed of growth for consumer-oriented American companies, the presumption was that the Chinese wanted a perfect re-creation of the typical U.S. eating and shopping experience. Now, however, U.S. companies have learned that there's a limit to how much Western culture a Chinese consumer wants delivered when inside a Western restaurant or retail establishment; there are still cultural aspects unique to China that are must-haves for anyone serving consumers there.
For McDonald's, that means remodels and new-builds that incorporate Chinese - and even provincial - flair, like hanging lights and "dynasty-era" architecture. It also means more food that's familiar to the locals. Spring rolls and rice are finally on the menu at most of China's McDonald's, and much of the focus has been turned from beef and towards chicken or pork; beef is rarely part of the typical Chinese diet.
It's not just the menu and the buildings' ambiance that McDonald's is re-tooling to attract China's burgeoning middle class, however. A great deal of thought has gone into how that middle class thinks, acts, and dines, and the end result is the installation of large, round tables that can seat ten. It's something none of its American units would do, because it would be waste of valuable floor space; we rarely eat as a party of ten, particularly at a fast-food restaurant. That's not the case in China, however, where extended families are more apt to eat together. The large, round tables facilitate socialization during mealtime, which is a lost art in the U.S.
Bottom Line for MCD Stock
As for the investability of MCD stock, while it's certainly disappointing that McDonald's remains befuddled by American consumers, it may be worth considering the possibility that the average American consumer may not be interested in Big Macs and McFlurrys and McCafes for reasons that go beyond the restaurants' abilities to deliver a decent customer experience.

Source: FinViz
MCD stock has not moved since 2012, so it's no wonder that, dividend yield and P/E wise, it's a far more attractive buy than its peers. Personally, I would like to see the price below $90 before I start accumulating.
In an unquestionable sign of financial strength, the house of Ronald McDonald has raised its dividend each and every year since 1976. There is also some good news for April 2014: McDonald's Global Comps rose 1.2%; APMEA is up 2.9%.
Asia, particularly China, is a critical growth spot for McDonald's for the foreseeable future; while U.S. same-store sales were down 1.7% in the first quarter, same-store sales for the Asia-Pacific, Middle East, and Africa group were up 0.8% in Q1 2014. The numbers may feel small, but they underscore a very big trend that just may save the company's McBacon.
Disclosure: I have no positions in any stocks mentioned, and no plans to initiate any positions within the next 72 hours. I wrote this article myself, and it expresses my own opinions. I am not receiving compensation for it (other than from Seeking Alpha). I have no business relationship with any company whose stock is mentioned in this article.