Quad/Graphics (NYSE:QUAD) calls itself a global provider of print and related multichannel solutions. It has about 24,000 employees with 70 plants in 8 countries. Ninety per cent of the company's revenue comes from the U.S., 6% is from Latin America and 4% is from Europe. Net sales have increased from $1.8 billion in 2009 to $4.8 billion in 2013.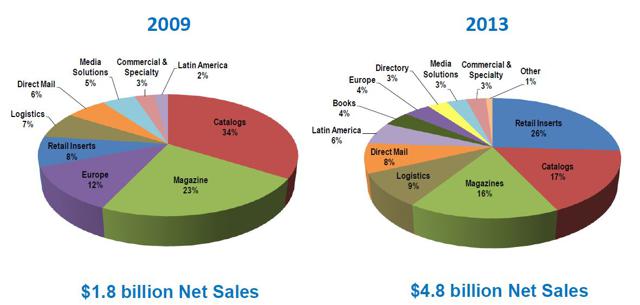 QUAD is one of the consolidators of the commercial print portion of the printing industry where 400 printers have about 55% of the $41 billion U.S./Canadian market. The company has purchased Worldcolor, Transcon in Mexico and Vertis over the past few years. The company has just announced that it is purchasing Brown from Gruner + Jahr. This purchase should add another $350 million in revenues this year and be accretive to earnings.
Quad pays a dividend of $0.30 per quarter, which offers a yield of 5.75% at the current price of $21.00 per share. Considering that the earnings per share were only $0.53 last year, the dividend is extremely high and may have to be cut if earnings do not accelerate. The company maintains the cash flow from operations is adequate to maintain the dividend. The graphs below show that the cash flow from operations is growing, and at the same time, that cash to purchase other printing companies is coming from financing. (Graphs from TD Ameritrade)

Quarterly Cash flow charts from 2013 are shown below:

As the company expands rapidly by buying other printing companies, it consolidates these new operations and rationalizes production, which leads to high capital expenditures and high depreciation of assets. Depreciation, amortization and restructuring charges amounted to $436 million in 2013, which is extremely high for a company with a market cap just short of $1 billion.
This expansion has been increasing revenue and income. See the charts below:

Quarterly charts from 2013 are shown below:

QUAD just released its first quarter report for 2014 on May 6, 2014. The company reported net sales of $1.1 billion, which was down 2% when compared to the same quarter last year. Management reported that industry volume and pricing pressures had a negative impact on both total sales and profit margins. QUAD also noted that EBITDA margins had fallen from 10.1% in the first quarter of 2013 to 9.7% this quarter. This negative trend is a further extension of the EBITDA reduction from 13.8% in 2012 to 12% in 2013. It reported that cash flow for the quarter was a negative $13 million compared to a positive $93 million for the same quarter last year. However, because of lower interest and operating expenses, the company improved from a loss of $0.31 per share in 2013 to a loss of $0.19 this year.
The Street Ratings has a buy on QUAD, with a target price of $24.60 for the next 12 months. This Buy rating is largely based upon IBES consensus estimates of $1.46 earnings per share for 2014, and $1.83 per share for 2015. Ford Equity Research has a strong Buy on QUAD, projecting that it will strongly outperform the market over the next 6 to 12 months. Both of these ratings were issued before the current quarter's numbers were released.
The S&P does not rate the company, but has written on the outlook for the industry. The commercial printing business is facing a steady long-term structural decline due to the competition arising from the internet, ebooks and email delivery of its major products. This leads to excess industry capacity and strong price competition that tends to shrink operating margins. Companies are well aware of this, and many are turning their businesses to a cash-harvest mode. S&P expects continued consolidation of this highly-fragmented business aimed at achieving economies of scale.
This structural decline is visualized in the graphs QUAD provided in its presentation: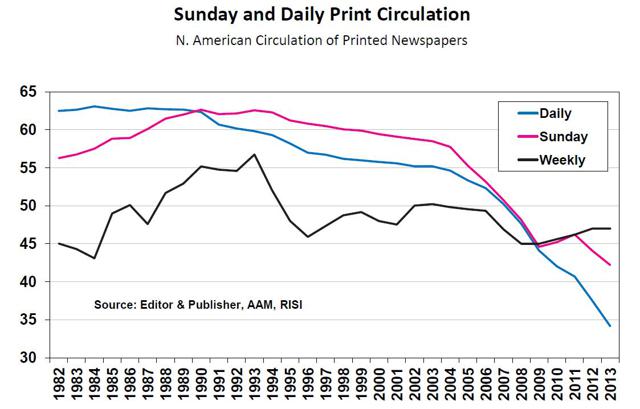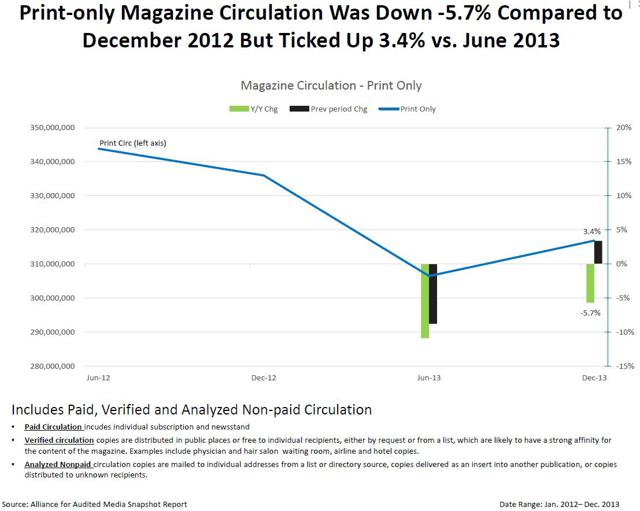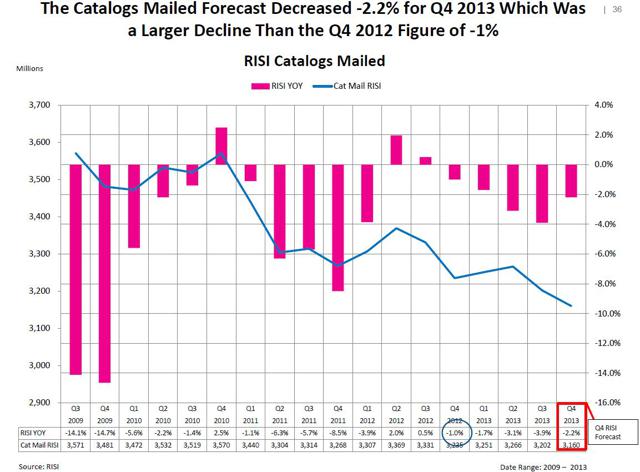 Finally, here is the guidance offered by the company for 2014: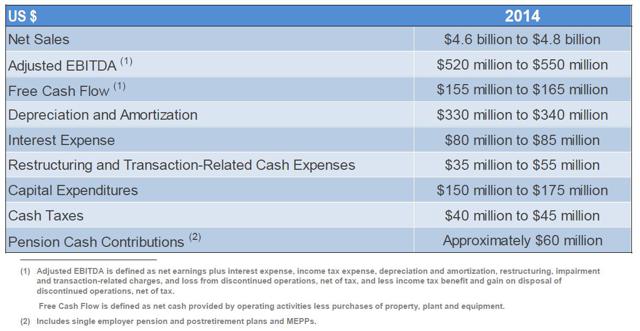 Conclusion:
QUAD is one of the major consolidators of the commercial printing business. Commercial printing is a business in secular decline that will likely go the way of the buggy whip over the next 100 years. QUAD is maintaining and growing its business by purchasing other businesses. It will likely continue growing its business over the next 10 years by buying up some companies and burying others competitively. The question remains as to how profitable QUAD can be with this strategy.
Management maintains that it can continue growing by this strategy and paying the dividend. I am convinced that the company can maintain the dividend and even possibly increase it a little if business continues to improve. However, QUAD would soon be required to stop the dividend in the event of a recession. Even a minor recession would pressure the cash flow of this company to the point where the dividend would have to be discontinued.
QUAD looks like it can be a short-term winner with a good dividend. However when the economy begins to swoon, this company will swoon faster and harder than the economy at large.
Disclosure: I have outstanding puts on QUAD at $20.00. I have no positions in any other stocks mentioned, and no plans to initiate any positions within the next 72 hours. I wrote this article myself, and it expresses my own opinions. I am not receiving compensation for it (other than from Seeking Alpha). I have no business relationship with any company whose stock is mentioned in this article.