There are many questions that the investors of Orient Paper (NYSEMKT:ONP) need answered. Does it have to do with verifiable evidence? These questions or claims have arisen mainly because of a report done by an introductory "research firm" and it is their first ever report. After re-reading all of the information, including all of the reports and press releases, each individual can determine whether or not Carson Block and Sean Regan lack credibility and/or if the information they provided is correct. Since June 30th, 2010 there have been reports and rebuttals by both ONP and Muddy Waters, but also several well known individuals have visited ONP prior to the report and some have even revisited the company and management after the report. How does all of the information, which we all have access to, tie together?
The first thing to review is the main reason for all of the chaos and confusion, Muddy Waters' inaugural report on ONP released June 30th, 2010.
In the very beginning, after all of the contact info, there is a disclaimer that is prior to any information about the claims of ONP and it reads as if it is a disclaimer from a penny stock website, which often run pump and dump schemes. Here is an example of a disclaimer from a penny stock recommendation site. It is not exact, but they do have some similar qualities.
Muddy Waters disclaimer from their first report:
As of the publication date of this report, Muddy Waters, LLC (possibly along with or through our members, employees, and/or consultants) has a short position in the stock (and/or options of the stock) covered herein, and therefore stands to realize significant gains in the event that the price of the stock declines. Following publication of this report, we intend to continue transacting in the securities covered herein, and we may be long, short, or neutral at anytime hereafter.

Muddy Waters, LLC has obtained all information contained herein from sources we believe to be accurate and reliable. However all information is presented "as is", without warranty of any kind-whether express or implied. Muddy Waters, LLC makes no representation, express or implied, as to the accuracy, timeliness, or completeness of any such information or with regard to the results to be obtained from its use. All expressions of opinion are subject to change without notice, and Muddy Waters, LLC does not undertake or supplement this report or any of the information contained herein.
Muddy Waters is very specific in their disclaimer, but take it for what you will and take it at face value. Remember, the Muddy Waters members stated this specifically at the very beginning of the report.
Sean Regan, the factory production expert
Then, Muddy Waters goes to make several claims against ONP. On page 2 of the report it states:
We corroborated these conclusions by having an expert analyze photographs and video of ONP's production equipment. Our onsite due diligence and interview with Chairman Liu shows that ONP overstates its inventory values by millions of dollars.
Who is the expert that they are speaking about? Nowhere in the report does it mention who they used as the expert for analysis. Plus, Sean Regan was supposedly brought in as the factory production consultant
I was brought in as the factory production consultant. I have been going in and out of factory in Asia for about 18 years. I like factories and respect the owners as some of the hardest working people on the face of the earth. Running a factory is tough! Being good at running a factory is even tougher.
With having so much experience in regards to factories and being the expert that W.A.B capital brought in, then why did they need an expert to analyze the photos and video? From the rebuttal to ONP on July 2nd, 2010, Sean Regan's previous statement to the last one mentioned:
What surprises me most during my recent introduction to the investment banking / research world is how ill equipped many investors are at gauging production facilities, yet they invest in them anyway. As a production guy, I was dumbfounded Rick couldn't see the same factory I saw in 2 seconds. But after all today's China analysts are a generation raised in Herman Miller ergonomic chairs. Regardless I am shocked that people would stake their reputations on defending the operation I visited on January 5, 2010.
This states that he has very little to no experience in regards to researching publicly traded firms and it is an introduction into the investment banking world for him, but also states his expertise by commenting on others gauging production facilities. Again, why did Muddy Waters need another expert opinion in which they did not name or even mention the background of the "expert", when Sean Regan was the so-called expert for the production facility?
Henan Qinyang First Paper Machine Ltd
On page 3 Muddy Waters claims:
Between April 6, 2010 and April 14, 2010, ONP raised a net amount of $26.9 million from investors in a private placement.3 On April 12th, 2010, ONP announced that it had "entered into a definitive equipment purchase agreement" to purchase one corrugating medium paper production line with annual capacity of

360,000 tons for approximately US$27.8 million.4 The purported seller is Henan Qinyang First Paper Machine Ltd. ("Qinyang").5 This implies that the money raised will be used to fund the equipment purchase.

Little – if any – of the money raised will be spent on an equipment purchase. Further, to the extent that ONP purchases this production line, the annual capacity will be well below 360,000 tons.

We spoke with the purported seller of the equipment, Qinyang, and four other Chinese papermaking equipment manufacturers. Qinyang told us that its highest capacity 5.6 m corrugating medium production line (the type ONP purports to have purchased) produces only 150,000 tons per year and costs approximately $4.4 million. This stands in stark contrast to ONP's contention that it is purchasing a single line from Qinyang that will produce 360,000 tons per year for a total price of $27.8 million."
What other manufacturers did Muddy Waters speak to? On the other hand, Dr. Eric Jackson in several articles rebuts these claims made by Muddy Waters, first in an article Update on Orient Paper on 7/8/10:
Rather than call Qinyang, we decided to visit the vendor. My colleague spent the day there yesterday, taking a plant tour and talking to several members of Qinyang's management team. Although it's not the top-tier supplier in the industry, I can report that Qinyang is a legitimate business. We saw parts of the ONP line in question.

One of the mistakes, we believe, that Muddy Waters made in its analysis was to assume that if someone can buy a slower line that has a 100,000-ton annual capacity for $4 million, it must be able to buy a 200,000-ton annual capacity line for $8 million. This is wrong, according to the experts we consulted. In fact, the pricing moves up exponentially because of the machinery's complexity.

The experts we consulted confirmed that the price ONP was paying for this planned corrugating paper line was reasonable. What's more, if ONP had used a foreign supplier, these experts said this machine would cost $70 million to $80 million. The specs are very unique, they said. If Qinyang delivers a multi-cylinder, long-mesh paper machine with a width of 5,600 mm, design speed of 1,200 m/min, working speed of 1,150 m/min and weight of 110 g/square-meters, it might be the only such line in China. Because of this, the experts questioned if hitting the top speed of 1,200 m/min was realistic.

The takeaway here is that this is a real line, which ONP's management sees as a way of increasing its revenues and gross margins. Qinyang is not a fraud, in our opinion. This line for ONP is being built -- we've seen it -- and the price, although high, is justified, given what the company is hoping to accomplish. Naturally, there are some execution risks, as Roth said in its report.
Pictures of the equipment being built: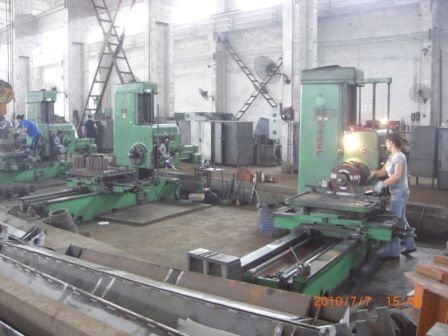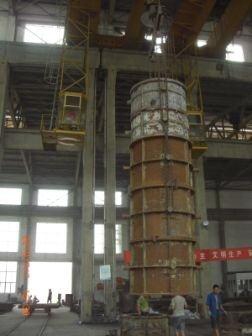 Then, in a separate article written by Dr. Eric Jackson on 7/23/2010 entitled ONP is doing all of the Right Things, he reiterates his findings in regards to the equipment being built.
Here is a quick bio on Eric Jackson to show his credibility and he has also built a very strong reputation.
Revenue accusation
On page 5 of Muddy Waters report it states:
ONP Overstated 2008 Revenue by 27x

ONP overstated its 2008 revenue by approximately 27 times. Put another way, ONP's actual revenue of $2.4 million was only 3.7% of the amount it reported in its Form 10-K.15

There is a smoking gun that proves ONP overstated its 2008 revenue by 27 times. The audited 2008 PRC financial statements for He Bei Oriental Paper Co. Ltd. ("HBOP", which is ONP's China operating subsidiary) show revenue of only $2.4 million (RMB 16,320,687.26).16 (ONP claims in its SEC filings that HBOP generated net revenue of $65.2 million.17) As we discuss in Our Theory as to Why ONP's Auditors Have Missed the Fraud, while many companies in the PRC underreport profits, they do so by inflating expenses. Because of the way that the tax reporting system works in China, we can conceive of no way that ONP would be able to understate its revenue for tax purposes by 96.3% or $62.8 million.(On a related note, ONP paid only $45,350 in PRC taxes in 2008,18 which is much less than the $2.9 million it claims to have paid.19)

ONP Overstated 2009 Revenue by approximately 40x

We do not yet know the exact amount of ONP's revenue overstatement for 2009; but, we believe that ONP's actual revenue grew little – if at all – from $2.4 million. Our January 5, 2010 site visit showed that ONP is operating at roughly the same scale as it was in 2008. It exhibited almost no truck traffic or logistics activity. We saw no sign that ONP's claimed 600 workers exist. Given that ONP claimed $102.1 million in 2009 revenue,20 we believe that the overstatement is approximately 40 times actual revenue.
The problems with the accusations are that ONP's SAIC documents match the SEC filings which would show an overstatement that Muddy Waters claims. They have no access to any other documents that provide the overstated revenue, and no one including Muddy Waters has shown any proof to prove these accusations. Here is a statement made by ONP from their press release on July 6, 2010:
AIC Stamped: Identical with the underlying original documents
In order to counter the false accusations from Muddy Waters, Orient Paper is providing the public with access to the local Administration of Industry and Commerce ("AIC") website for interested parties to verify the statutory audited financial statements that HBOP submitted along with its annual report filing:
Orient Paper would again like to reiterate that it has filed consistent financial results in both China and the United States. In order to counter the false accusations from Muddy Waters, Orient Paper is providing the public with access to the local AIC website for interested parties to verify the statutory audited financial statements that HBOP submitted along with its annual report filing. Interested parties can logon to the following official PRC website to browse these corporate and financial records for 2009 (which is the only information available online). Please email info@orientalpapercorporation.com if interested for the necessary passwords.
One way to show that Muddy Waters made an incorrect claim is that they used the wrong operating subsidiary. Rick Pearson makes mention of this in his article posted 7//1/2010 and he states:
They were trying to match up the financials of ONP with a Chinese paper company called He Bei Oriental Paper Co. Ltd.. Unfortunately, that is the wrong company, and is in fact a different paper company located in Baoding. The correct name of the operating company is Hebei Baoding Orient Paper Milling Co., Ltd., and according to ONP, the numbers match what has been disclosed in U.S. generally accepted accounting principles.
His statement is a very reasonable explanation considering that ONP's subsidiary numbers presented to the AIC are the same that were disclosed to the SEC. Again, there is no evidence to suggest that their numbers do not match and are overstated.
Here's a quick bio on Rick Pearson, who also carries a large amount of credentials and reputation.
The Weather Effect
On many occasions throughout the report done by Muddy Waters, they make mention of certain things to ascertain fraud when the weather easily had an effect on the whole northern region and many things were shut down. So business in Northern China was not running business as usual. Here are some statements that the Muddy Waters members make in their report:
Page 5 of report:

We saw no sign that ONP's claimed 600 workers exist.

Page 6 of the report:
Based on ONP's claimed production and sales volume, there would be at least 100 trucks in and out of the factory gate on a typical day. There would be trucks lined up waiting to load finished product and ship out. There would be a sizable logistical support operation, with workers and equipment moving around busily. This would be even more so on the day we visited, January 5, 2010 (the roads had reopened 24 hours earlier after a major snowstorm).

And:
However, during our 90-minute visit, there was shockingly little activity. There was only one truck lazily idling with a full bed.
Throughout the report, the Muddy Waters members make statements regarding the inactivity and the amount of mist, but Northern China had one of its worst winters ever around that time and ONP is located in Northern China in Hebei Province . Even though the storm was beginning to subside, the weather was below 0 degrees Celsius.
Information on Hebei Province is available here.
Weather reports about Northern China around the time Muddy Waters and Rick Pearson visited ONP on January 5, 2010 follow:
January 4, 2010 (here [read the comments], here and here ["large parts of northern China and South Korea are affected by the heaviest snowfall in 60 years,

causing widespread disruption.

"]
I posted a lot of links, but it is to prove my point that around that time, Northern China had one of their coldest and snowiest winters ever and obviously things are going to be disrupted and there is going to be inactivity. It also shows how Muddy Waters makes misleading claims and base their opinion on inactivity when weather was horrible around that time.
Top 10 Customers
Muddy Waters claims on page 8 of the report,
We confirmed with two of the 2008 top 10 customers that ONP's purported sales amounts to them were false by at least a very large amount – if not entirely. Neither Baoding Dadi Colour Printing Co. Ltd.("Dadi") nor China Lucky Offset Group Integrated Services Co. Ltd. ("Lucky") generate sales volume for their own companies approaching the amounts that ONP claims each purchased from it in 2008. Dadi told us that its annual revenue is less than $1.5 million (RMB 10 million). Lucky told us that the most revenue it ever generated in its history is $1.3 million. Yet ONP claims that in 2008, each respectively purchased paper worth $2.7 million and $2.2 million.
They never state who they spoke to in the company and thus provide zero evidence that these companies only make the amount that they stated. Plus, as Rick Pearson states in his article on July 1, 2010, they do not speak Chinese and thus needed an interpreter:
They didn't speak any Chinese to the company (an interpreter was used), and they really didn't ask many questions.
How did they personally contact all of these suppliers and customers when many of them speak just Chinese?
On Page 9 they present some contact information, but claim that because they could not find contact info on some or could not reach some of the companies, then in the companies must not exist
Yet while their report was supposed to be a quality and professional report, they never tried to contact ONP to try to gather information that they could not find in regards to the top 10 customers. ONP could have provided the info and it would have been very easy to verify at that point.
On page 7 Muddy Waters states:
That ONP replaced 80% of its 2008 top 10 customers in 2009, while still growing its overall sales volume 62.5% would be almost miraculous if true.
ONP's top 10 customers comprise about 35% of their total revenue for 2009 which shows that there are still a significant amount of other customers and the rest of the customers comprise about 65% of total revenue. ONP is a growing company with some customers becoming more important. Does that mean the top 10 customers in 2008 are not customers anymore? There are just other customers that are of more importance than the prior year. Another thing in regards to Muddy Waters stating that some of the top 10 customers do not exist, why wouldn't ONP post actual customers in the top 10 portion since those are put on the 10-k and 10-q? It does not make any sense as to why ONP would post a fake top 10 customer list.
Here is a response from Eric Jackson on 7/15/2010 columnist conversation
ONP's customers have changed. Newer, larger customers in 2009 bought more than prior customers who bought about the same amount in 2009 as they did in 2008.

ONP has real customers, real trucks leaving their plants every day, real auditors, real investment banking partners, and real research analysts covering them regulated by FINRA. They've researched ONP's customers. ONP is audited by BDO HK (not BDO China as this anonymous blogger incorrectly asserted). BDO HK has an excellent reputation for its work in China.
Production Lines
In the Muddy Waters report they have a section stating "The Value of ONP's Production Lines is Greatly Overstated", page 12:
We showed video and photos of ONP's production equipment (infra in this section) to a salesperson for a large European paper manufacturing equipment producer.
What large European manufacturing equipment producer? Can you really tell from a couple of pictures what a large piece of equipment is worth?
On page 13:
In its 10-K, ONP claims that its "main competitors" are Shandong Chenming Paper Holdings Ltd., Nine Dragons Paper Holdings Ltd., Shandong Hua Tai Paper Co. Ltd., Shandong Sun Paper Industry Joint Stock Co. Ltd., and Zhonghua Paper Co., Ltd.32 The following comparison of pictures we took at ONP to pictures of ONP's four publicly traded "main competitors" is informative.
Then, from pages 14-17, the Muddy Waters report shows photos of some of ONP's competitor's equipment. The fact is that the companies are much larger than ONP and are obviously going to have better and more costly equipment. Here is another comment from Rick Pearson from his article on 7/1/2010:
"The report also goes on to compare ONP to several public companies such as Shandong Chenming (Ticker:HKG 1812), which has a market cap of over 30 times that of ONP, as well as Nine Dragons Paper (Ticker:2689), which has a market cap of more than 70 times that of ONP. The authors of the report seem shocked that ONP is not operating at the scale of these companies and that ONP seems outdated in comparison."
So it is very obvious that it does not make any sense for Muddy Waters to compare ONP's equipment to those companies.
Videos
Here is the video of when Rick Pearson and the members of Muddy Waters visited on the same day.
Rick Pearson obviously has very good credentials and he is very experienced in dealing with Chinese companies and visiting factories and he and everyone else prior to the Muddy Waters report had all positive things to say about the video of a growing paper company in China
Here is the latest video presented by Doug from Wall Street Media who visited ONP, posted on July 22, 2010.
He shows many facets of the company including some of their materials, lines, buildings, and deliveries.
Here is Eric Jackson commenting on Wall Street Media commenting on ONP.
Connection between Muddy Waters and W.A.B Capital
The reason that both Sean Regan and Carson Block went to visit ONP was to try to produce a positive report for ONP on behalf of Carson's father's company, W.A.B Capital. Even though Carson may have given a different reason of why the report on ONP was not done, he does admit that the purpose of the visit in Muddy Waters rebuttal on July 2, 2010.
My father, William Block, owns W.A.B. Capital LLC ("WAB"), which writes equity research that it distributes to institutional investors. In many cases, it takes management on road shows to meet with institutional investors. In 1999, WAB switched its model from one driven by payments from institutions to one in which the companies compensate it through stock awards or warrants.

In late 2009, my father developed an interest in China microcaps after attending a conference in Florida. It was there that he was first exposed to ONP. He explained his model to some ONP investors at the conference, and they thought that ONP would be a good fit for WAB.

I had updated my father that there's no way this would be a WAB deal.
Those are just a couple of the statements, but they decided not do it and stated that ONP wanted W.A.B Capital to write the report.
Rick Pearson and ONP state that they were trying to get ONP to pay $300,000 to conduct a positive research report. A statement from Rick Pearson in his article on July 1, 2010:
As a result of the USC connection, we did quite a bit of catching up on old times. While my purpose was to produce a video of ONP, they were visiting Orient Paper -- according to the company -- to pitch a "paid for" research report that would recommend the stock as a strong buy.
The Muddy Waters members were there for a purpose and ended up turning it into a short campaign by providing a research report with zero evidence showing that ONP is fraudulent and it is just a lot of claims and heresay.
W.A.B Capital contact info is here. MuddyWatersResearch.com domain information is here. What is interesting is that the registrant's address listed for domain MuddyWatersResearch.com and W.A.B. Capital's contact address are exactly the same. What is even more interesting is that the address that the two above are tied to is a condo in California.
Why does W.A.B. Capital have a condo as their address? Why is Muddy Waters domain registrant's address the same as W.A.B. Capital? There are just too many things that do not add up and still point to the connection of Carson Block and his father William Block.
Some Other Claims
1) The number of employees changing.
The number of actual employees that ONP states has no relevance in determining if ONP is fraudulent. We do not know which employees were part time, the positions of each duty, and if they were just over employed, etc. It is also possible that they are just more efficient and they do not need the same amount of employees. It is also possible that there are more long term and longer hours worked on average by each individual. There are a lot of reasons as to why employees did not really increase along with growth in the company. Again, it shows no indication of fraud
2) How did the company have a 37-member R&D department that only cost them $30,130 in 2008?
Again, this also shows no indication of fraud as it is insinuated in both the 2008 10-k and 2009 10-k that it is not a full time department and they are used for specific projects.
From 2009 10-k:
Our R&D activities are carried out by a task force led by a group of 5 senior managers (in charge of product development and quality control) and joined by a group of selected engineers and technicians. The Company charged the time spent on the R&D projects (manufacturing waste discharge recycling and digital photo paper manufacturing) to R&D expenses and incurred $30,130 and $30,546 in R&D expenses for the years ended December 31, 2008 and 2009, respectively.
As it states, they charge for time spent. Again, this provides nothing in showing that ONP is fraudulent.
3) How can ONP spend so little on advertising while growing so much?
Advertising is a very small portion of marketing and it does not come close to showing how a company is positioning itself and gaining customers. Here is a statement from ONP's 2008 10-k showing their SGA spending which mentions some aspect of marketing including market position:
Selling, general and administrative expenses

Selling, general and administrative expenses were $327,825 for the year ended December 31, 2008, an increase of 129.1% as compared to $143,112 for the same period of 2007. This increase was due primarily to increased business travel and research expenses required to expand our production capacity and market position as well as a general salary increment made to employees, offset by realized foreign currency gains.
In conclusion, there is just not any verifiable evidence to show that ONP has been fraudulent. Rick Pearson visited at the same time as the members of Muddy Waters and he did not come away with any negativities. Eric Jackson has visited and followed up after the report. Roth Capital has visited. Doug from Wall Street Media has visited.
Prior to the Muddy Waters report there was nothing that came up pointing to the fact that ONP is fraudulent, but all of a sudden, there are ton of people trying to provide evidence that ONP is a fraud. The report gave short term manipulators a chance to take advantage of a fragile stock. Many continue to post very misleading information, but no evidence has been provided to show that ONP is fraudulent and it is just a lot of claims and misleading information.
Now there are law firms trying to accept any investor as a plaintiff, but they are all just using Muddy Waters report as their reason and again, there are just way too many holes in it. Nothing is going forward with the law firms, but it is just a bunch of "ambulance chasers." ONP has hired Loeb and Loeb, which is a very well respected law firm worldwide. What is more important is that Deloitte & Touche is going to be assisting in the investigation to provide validity to the claims made. They were hired for a reason and the reason is because ONP and the audit committee believe in ONP's innocence.
Now that everything has gone on for about a month, Muddy Waters has completely exonerated everything from their site in regards to ONP and state that they are moving on. What reputable research firm does that? I should say what reputable research firm does anything that they have done and then to get rid of all of it off of the site? This is their statement off of MuddyWatersResearch.com as of August 7, 2010:
Muddy Waters, LLC Moving On

Barring any unforeseen events, Muddy Waters, LLC is "moving on" from our work on ONP. We are focusing on confidential contract research for institutional investors, and on advising investment committees on their China investments.

Although more could be written on ONP, we do not expect to publish additional research on it (barring any unforeseen circumstances). Given that the internal investigation is underway and other researchers are now focused on ONP, Muddy Waters' resources are best directed elsewhere.

For institutional investors interested in our research and advisory services, please contact us at:

info@muddywatersresearch.com

+852 3757 7702
Muddy Waters has moved on and ONP is continuing to show their innocence. Shortly results of the investigation will be released and on Monday August 16, 2010 ONP will provide their Q2 financial results and maybe more along with it. Continue to follow and continue to do research and I am confident in what the findings will bring. One last thing that Dr. Eric Jackson stated in his article on 7/23/2010:
In addition, we have checked ONP's power consumption usage last year and this year against the cost of power for industrial users in Hebei Province. The company's power usage for steam consumption matches its output.
Disclosure: I have a short term position which constitutes 50%-75% (1 week - 2 months) and the other part of my position I plan on holding long term (25%-50% of my total position)