Company's Current Presentation
Hewlett-Packard Company (NYSE:HPQ) has been facing a decline in revenue for the past two years. The company generates revenue from a number of segments that are shown in the chart below. Almost one-third of the company's revenue is generated from three segments: 30 percent from Personal Systems, 24 percent from Enterprise Group, and 20 percent from Printing. The remaining 26 percent is contributed from the three other segments. The chart below explains the segment-wise dissemination of the proceeds from the sales of the company's products.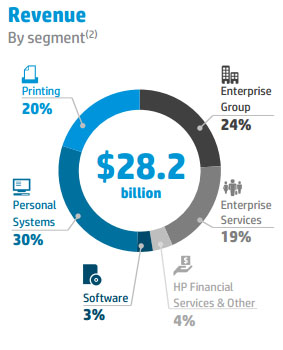 Source: HPQ Q1-14 Earnings Release
In the recently ended quarter, Q1 2014, the company managed to earn revenues of $28.2 billion. The company generated 3.1 percent less revenue in Q1 2014, because in Q1 2013, it generated $29.1 billion. However, in Q1 2013, the company earned $28.4 billion in revenue, which is 0.709 percent more than the current quarter's earnings.
Hewlett-Packard in the PC Market
According to IDC reports, worldwide personal computers shipments have been declining over the last eight quarters. The report says that worldwide PC shipments have declined almost 4.4 percent year-on-year, which is slightly better than the expected decline of 5.3 percent. HP managed to increase its worldwide PC shipments by 4.65 percent, compared to shipments of 11.99 million in the first quarter of 2013. Despite the shrinking PC market, following Lenovo (OTCPK:LNVGF) with 12.962 million shipments worldwide, HP succeeded in becoming second leader in the market with 12.557 million shipments worldwide. The following chart represents the market share of the top 5 companies of the PC market.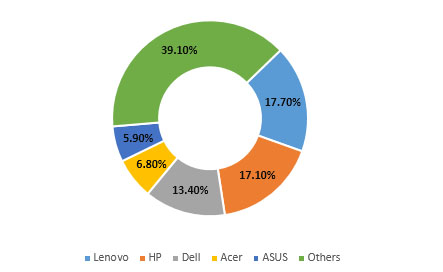 Data Source: IDC
Earlier last month, April 8th, 2014, Microsoft (NASDAQ:MSFT) halted support for Windows XP, and a number of Windows XP consumers will have to upgrade their systems to stay in line with supported operating systems. This OS system movement is anticipated to improve PC sales. HP, who is still enjoying 17.1 percent of the worldwide the PC industry, is expected to show a positive shift in its margins.
HP Entering the 3D Printing Market
March 2014, HP CEO, Meg Whitman announced that the company is planning to enter the 3D printing space by the end of this fiscal year. According to IDC, HP is already dominant in the 2D printing industry, with 12.6 million shipments in Q4 2013 and 44.6 million shipments in fiscal year 2013. The market share of HP alone was 39.9 percent in fiscal year 2013. Following HP is Cannon (NYSE:CAJ), but compared to HP, its market share is 20.9 percent.
According to Gartner, an IT research firm, the end users spending on 3D printers totaled to $412 million, reflecting a 43% increase from $288 million in 2012. Consumer market spending was $87 million of the $412 million total, and $325 million was from enterprise spending. According to the research firm's projections, 2014 will report a 62 percent increase, with total spending reaching $669 million. This will include $536 million in enterprise spending and $133 million from consumer spending.
According to another research firm, Canalys, the 3D printing market is estimated to grow to $16.2 billion by 2018. The firm projected the sales of the 3D printing market would reach $3.8 billion in fiscal year 2014. This includes $1.3 billion in 3D printer sales and $2.8 billion from the proceeds of services and materials.
It is usually the rule of thumb that smaller companies come to new technology market later. HP has planned to take advantage of expiring 3D patients. Many of the 3D printing patents have expired, or will expire soon, so HP timed its entrance into the 3D printing market to save millions in patent expenses that can later be used by research and development to make the company's product more competitive and reliable. HP is a world-renowned brand, and this can be an advantage to help the company grab a major chunk of the 3D printing market. For now, the 3D printing market is detained by two companies: 3D Systems (NYSE:DDD) and Stratasys (NASDAQ:SSYS).
At HP's shareholder meeting, Whitman said that currently available 3D printing systems have two big challenges. First, they are too slow, and secondly, the printing quality is not as good as it should be. She also said that HP has solved the speed and quality issues found in the current 3D printing technology
HP's Stock Upgraded by Analysts
Brent Bracelin, an analyst at Pacific Crest Securities, has upgraded HP's stock to outperform from sector perform. Moreover, for HP, the firm has set a target price of $37. Since 2004, Pacific Crest has had a neutral-to-negative prejudice towards HP because of the company's eroding core business and losses in market share. This is the first time since 2004 that Pacific Crest has upgraded HP to outperform.
Outperform rating assigned by Pacific Crest is because of "increasing confidence and improving visibility that HP can begin to deliver a sustainable profit recovery in (fiscal) 2014, which should build further momentum into (fiscal) 2015."
Concluding Remarks
It seems that HP's stock is currently undervalued, with a price-to-earnings ratio of 12.06 and compared to the industry price-to-earnings ratio of 16.69. Up until now, the 3D printing market is almost dominated by relatively small players. With the entrance of HP, not only will the industry benefit, but the company's margins will also be boosted. The 3D printing market is anticipated to grow rapidly in the coming years, and despite the declining PC market, HP has managed to increase its worldwide PC shipments by 4.56 percent. These two factors can have a significantly positive impact on both the top and bottom lines of the company.
Disclosure: I have no positions in any stocks mentioned, and no plans to initiate any positions within the next 72 hours. I wrote this article myself, and it expresses my own opinions. I am not receiving compensation for it (other than from Seeking Alpha). I have no business relationship with any company whose stock is mentioned in this article.