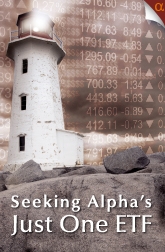 Several times a week, Seeking Alpha's Jason Aycock asks money managers about their single highest-conviction position - what they would own (or short) if they could choose just one stock or ETF.
---
Tom Lydon is president of Global Trends Investments, an RIA based in Newport Beach, Calif., and editor of ETF Trends, a website with daily news and commentary about the fast-changing trends in the exchange traded fund industry. He has been involved in money management for more than 25 years.
Which single asset class are you most bullish about in the coming year? What ETF position would you choose to best capture that?
High-yield (junk) bonds, and SPDR Barclays Capital High-Yield Bond (NYSEARCA:JNK).
How does this ETF fit into your overall investment approach?
The foundation of our strategy is to be invested in asset classes and sectors that are above their long-term trend lines (200-day moving average). Simply put, when a position (ETF) is above that line, it's a buy signal; when it's below, it's a sell signal.
We use this strategy not only to find ETFs that are in potential long-term uptrends, but to find diversified areas that might be in uptrends in order to give our clients well-rounded exposure to trending areas of the market.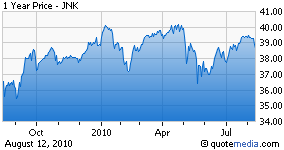 Domestic and global equity markets have been operating in a trendless mode during most of 2010 so it has made sense to have higher fixed-income positions in client portfolios. With rates at historically low levels many have been looking up the yield curve to search for better income options. High-yield bond ETFs have offered attractive yields with the possibility of capital appreciation as economies and corporate balance sheets improve.
SPDR Barclays Capital High-Yield Bond (JNK) aligns nicely with our strategy – it covers an asset class we didn't already have exposure to, it's liquid ($5 billion in assets), has a high yield (9.6%) and, most importantly, it's above its 200-day moving average.
Tell us a little more about the area. What makes junk bonds your top pick?
The environment for junk bonds is very favorable these days, for several reasons:
· A strong corporate earnings season (so far, more than 80% of companies have beaten expectations) has helped lift perception of the sector and inspired investors to take on more risk.
· Yields are next to nothing right now – the 10-year bond is hovering around 3% - which has investors looking for income from other sources.
· Record low rates have made it cheaper for companies of all types to get access to loans, which they can use to further grow.
· The percentage of high-yield bonds trading at distressed levels fell in July to 14.3%, the lowest point since April.
· A rush of corporate bond sales and recession-related cost cutting has left companies sitting on $1.2 trillion of cash – a record.
Are there alternative ETFs that could be used to capture the same theme? What makes this specific ETF your first choice?
This same theme can be captured with the iShares iBoxx High-Yield Corporate Bond Fund (NYSEARCA:HYG) and the PowerShares High-Yield Corporate Bond Portfolio (NYSEARCA:PHB).
JNK is my first choice because:
It's one of the largest funds, with more than $5 billion in assets

It also has an attractive yield at 9.6%

It falls in the middle of terms of securities; JNK has about 135 holdings, vs. 352 for HYG and 50 for PHB
Does your view differ from the consensus sentiment?
Most analysts seem bullish on the high-yield bond sector, especially after this earnings season. The sentiment toward corporate America in general is more favorable than it is for the broader American economy. But some do worry that this rush into bonds and hunt for yield may be exposing investors to more risk than they might be aware.
I would agree with that – investors do need to understand that these are junk bonds and as such, they're at a higher risk of default than other types of bonds. But used correctly with a strategy in place, investors willing to shoulder those risks have an opportunity to take part.
Matt Hougan has noted that bond index funds give greater weight to companies that issue more debt - the "bums." Is that more of a problem when the bonds are this junky (AIG, GMAC, CIT Group)? Sure, investors are here for high yield, but as he says, there's risk and then there's (capital-r) Risk.
However, as the balance sheets of these companies have improved dramatically, investors holding their paper should benefit from the higher yields they offer. These aren't the same companies they were two years ago; chances of defaulting on their bonds have subsided greatly. It appears only a double-dip recession would cause worry at this point. Those that recognize this is a case of "that was then, this is now" are in a position to grab some attractive yields.
What catalysts, near-term or long-term, could move the sector significantly?
If the American economy continued to improve in both the near and long terms, the sector could move significantly. A combination of factors could improve sentiment toward high-yield debt.
Two things that have the potential to greatly impact the sector would be a) if strong corporate earnings continued to come in and boost the image of corporate debt and b) economic growth, which could lead to an investor willingness to take on even more risk.
Both events could heighten the appeal of high-yield debt. This would, of course, push yields down and prices up.
What could go wrong with your pick?
The greatest risk in high-yield debt is the risk of default. If corporations within these funds defaulted on their debt, it would have a negative impact. If corporate America began to show cracks or instability, these funds may bear some of the damage.
Thanks, Tom, for sharing your choice with us.
Disclosure: Global Trends Investments is long JNK.
Read more Just One Stock interviews »
If you are a fund manager and interested in doing an interview with us on just one stock or ETF position you'd hold, please email Rebecca Barnett.