Very simple fundamental screens tend to reduce long securities lists to quite short lists. Complexity is unnecessary and often creates a zero pass rate. MLPs are no exception.
By seeking no more than 3-year and 5-year growth of sales and dividends; and for total dividends paid over five years to be covered by total cash flow from operations over the same five years, and requiring a minimal average dollar trading volume per minute of $10,000; our universe of 79 MLPs produces only 11 survivors. Those surviving MLPs are listed in this table image along with their growth, dividend coverage and dollar trading volume figures.
Click to view full size image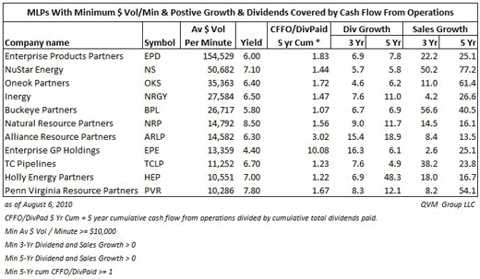 The ratio of Cash Flow From Operations to Dividends Paid eliminates those MLPs that have relied in part on asset sales or borrowing to make dividend distributions. While they may or may not have been "covered" in any individual year, they were fully covered over the 5 past fiscal years.
Since MLPs tend to be bought for income and income growth, the dividend growth requirement in excess of zero is obvious. Since dividends are hard or impossible to maintain in the long-term without sales growth, we require sales to grow as well in this filter.
This list generates current yield ranging from 4.4% to 8.5% -- better than bonds, likely to increase dividends (and yield on cost), but with a high equity level of price volatility, not a low bond level of price volatility.
In a prior article in the MLP series, we identified the 20 most liquid MLPs. That list went down to $25,000 per minute of average trading. Only 5 of the 11 MLPs in this fundamental screen are in that liquidity list. The table above orders the MLPs in descending order by liquidity.
Negative sales growth was the most frequent reason for other of the most liquid MLPs not making this list. That doesn't make them bad investments, but simply shows they have a less perfect record of growth than those in the list in this fundamental filter.
Two of the most liquid from the prior article had dividend cuts and two didn't fully cover dividends with cash flow from operations.
If you are invested "no matter what", liquidity is not so important, but for most people the ability to exit rapidly under some market conditions is important. Those people should look closely at liquidity. While we included MLPs with as little as $10,000 per minute in this list, we find that woefully inadequate for investors with substantial assets. Generally, we think $25,000 per minute is rock bottom, and prefer $100,000. Unfortunately, there is only a handful of MLPs that meet or even approach meeting the $100,000 per minute threshold.
Symbols Cited: EPD, NS, OKS, NRGY, BPL, NRP, ARLP, EPE, TCLP, HEP, PVR.
Holdings Disclosure: As of August 12, 2010 we own EPD and OKS in some managed accounts. We do not currently own any other securities mentioned in this article in any managed accounts.
Disclaimer: Opinions expressed in this material and our disclosed positions are as of August 12, 2010. Our opinions and positions may change as subsequent conditions vary. We are a fee-only investment advisor, and are compensated only by our clients. We do not sell securities, and do not receive any form of revenue or incentive from any source other than directly from clients. We are not affiliated with any securities dealer, any fund, any fund sponsor or any company issuer of any security. All of our published material is for informational purposes only, and is not personal investment advice to any specific person for any particular purpose. We utilize information sources that we believe to be reliable, but do not warrant the accuracy of those sources or our analysis. Past performance is no guarantee of future performance, and there is no guarantee that any forecast will come to pass. Do not rely solely on this material when making an investment decision. Other factors may be important too. Investment involves risks of loss of capital. Consider seeking professional advice before implementing your portfolio ideas.