By Brad Zigler
Last month in "Appraising Gold Miners' Equity Risk," we peeled into the Market Vectors Gold Miners ETF (GDX) components and discovered a connection between the miners' performance and that of the general market. More properly, it's a disconnect that makes for good numbers: The lower a gold miner's correlation to the stock market, the better its performance.
We highlighted two stocks in particular — Randgold Resources Ltd. (GOLD) and Eldorado Gold (EGO) — as outperformers, not only skunking the S&P 500 Composite but also gaining more than bullion over the past four years.
We were left scratching our heads when we thought about the two stocks' future prospects. Was Randgold really "fully valued" as Goldman Sachs said? Were UBS analysts prescient in raising their price target for Eldorado shares?
In a word, "yes." Randgold's shares slipped more than 6 percent since the column was published, but Eldorado's price climbed 5 percent.
Gold Miners' Performance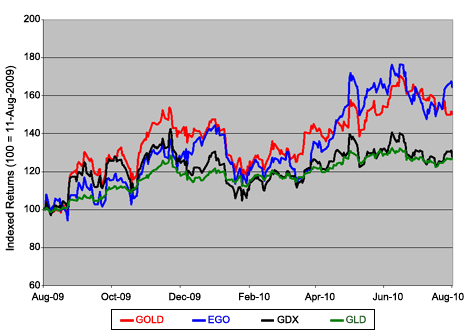 Eldorado's shares, in fact, outgunned bullion over the past month, adding to its record of positively leveraged returns.
With buyers now returning to metals, investors are rightfully asking if there's enough momentum to push the stock into new high ground.
The stock is not overbought — not yet, anyway, though a pullback wouldn't be a surprising development. We'll be keeping our eye on the stock over the next few days for new developments.
Disclosure: No positions