JA Solar (NASDAQ:JASO) is currently one of my favorite picks in the solar industry. Not only does it make amongst the highest-wattage poly panels amongst its peers (315W 72 cell panel), some of which I have on my roof, it is also currently underestimated by analysts. Trina (NYSE:TSL), ReneSola (NYSE:SOL), Yingli (NYSE:YGE), Canadian Solar (NASDAQ:CSIQ), JinkoSolar (NYSE:JKS) are all currently at 310W or less. The 315W panel is also price-competitive with other panels in its class, making it cheaper per watt.
JA Solar reported earnings yesterday. It delivered 638MW of panels and cells combined (388MW modules and 250MW cells), a 44% jump from last quarter, still 4.4% below 2013 Q1, however. EPS of 23c on revenues of $366M handily beat analyst expectations of 6c and $331M
More importantly, JASO guided to deliveries of between 670 to 700MW in Q2 and between 2.7 and 2.9GW for the whole year. Also, cost reductions and improved margins are leading to higher-than-expected profits for the company.
For 2014, I expect JASO to have total revenues of at least $1.45 billion and EPS of a minimum of 1$. This is calculated using the mid-point of its annual guidance and assuming similar margins as Q1. However, I expect more margin improvements going forward, and will not be surprised at annual EPS of $1.2.
In addition, JASO has other things going for it, like very low debt levels compared to its peers, making it poised to survive longer term than any of its peers. This was also a deciding factor when I chose JASO panels. I wanted to pick a company that is more likely to survive the warranty period of the panels.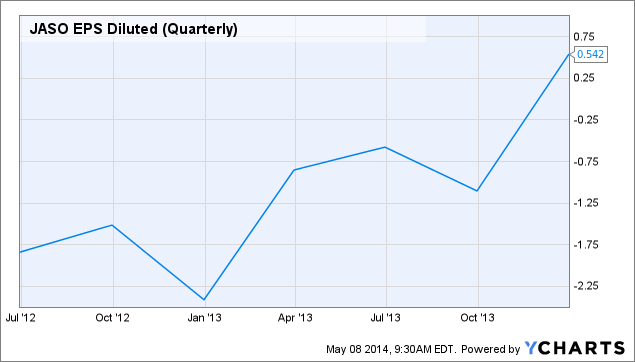 As evidenced from the above chart, JASO has been steadily improving earnings and has swung to a profit for the last two quarters.
Like other solar industry stocks, JASO has been extremely volatile, and I have been building my JASO stock steadily by diverting all my dividends into JASO in one account using the Scottrade FRIP program.
JASO Options
Generally, I prefer just to buy stocks, rather than deal with options. But right now, I'm almost completely invested, and JASO being very volatile, gives good opportunity to make money using options. For example, JASO Jan 2015 Put with a strike price of $10 trades between $2.10 and $2.35. Selling this Put presents an opportunity to either make $210-$235 in premium or acquire the stock at under $8, a more-than-20% discount to today. With a cash covered Put, this represents a greater-than-20% return. However, with the extreme volatility, it is possible that there might be one or more days in the year when the stock does go under $8. In this case, you have perfectly timed the market if the option is exercised. Another great option is the JASO Jan 2015 $8 Put.
I do not expect this opportunity to last very long as not only JASO, but other solar companies start reporting good results. Global PV demand is expected to rise significantly, as US, China and Japan are set for record deployments in 2014, and as JASO continues to beat earnings, the premium on those options will continue to fall as we approach Jan 2015.
Disclosure: I am long JASO, JKS. I wrote this article myself, and it expresses my own opinions. I am not receiving compensation for it (other than from Seeking Alpha). I have no business relationship with any company whose stock is mentioned in this article.