Analysis: Moving into next week, I think we have a very solid play out of what has been a bear's week. Solar power, as I mentioned earlier this week, has been killing. After this week's reporting, five out of six reporting solar companies have beaten earnings. Most have been by 50% or more. The only miss was from JA Solar (NASDAQ:JASO), and the company credited their loss to accounting charges and was just upgraded by UBS. The companies are also forecasting extremely well, which is a great sign for the future of these companies. So, if we could find an undervalued solar company that is set to report earnings early next week, I think it would be of interest to us.
Therefore, we should take a look at Suntech Power Holdings (NYSE:STP). While I would love the Stone Temple Pilots to be what we were investing in, solar may be even more exciting. Suntech is reporting earnings on Wednesday morning, and it may be the most undervalued solar company currently with a P/E at 15.5 while industry is near 17. The company has dropped almost 20% in the past month, and it has tons of upside moving into earnings.
First off, the company is poised to make great growth year-over-year with an EPS 33% higher at 0.09 vs. 0.06 from one year ago. Additionally, the company is set to improve revenue from $315 million to near $600 million. The company, itself, has already stated it will be this figure and bring in $620 - $630 million. Such an improvement in revenue surely should mean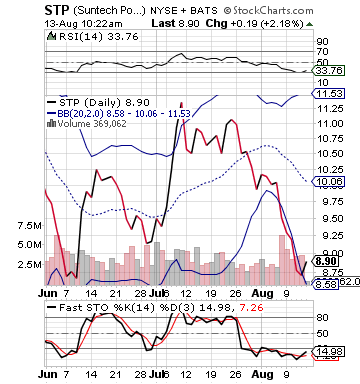 more in way of EPS. The company has announced some one-time charges, but we are not looking at this as an Overnight Trade and thinking it will move before earnings.
With the information out there, I think a run up into earnings is definitely a possibility. A company improving revenue by nearly 100%, and nearly all of its peers reporting EPS that are well above estimates. Combine that with a company that has been sold off heavily and started today touching its lower bollinger and you have quite a possibility. The company released last week some information about losses and charges that hurt the stock this week, but I am guessing that the company will make a strong recovery out of that news. Additionally, the market loves to rally on Mondays. It may be a great chance to make a quick turnaround on STP. The stock fell over 10% on the news, and if it makes up 1/2 of that, I would be ecstatic.
Technically, as I mentioned, the stock is sitting on its lower bollinger band. Further, the company is extremely oversold and undervalued. It really does not have a lot of potential to decline much more. So, we are safe there. At worst, I would expect us to get really nothing out of it….break even or a small loss. At worst that is. At best, this one could take a run to finish the day and continue that into Monday and Tuesday. We will need a little help from the market, but after this week, a day or two of buying may be in order.
Entry: We are looking to get involved at 8.85 - 8.95.
Exit: We are looking to exit on a 4-6% gain.
Stop Loss: 5% on bottom.