American International Group Inc. (NYSE:AIG) is a leading international insurance organization that serves customers in more than 130 countries. It has the most extensive property-casualty insurance network globally. The company recently reported its results for the first quarter of fiscal year 2014. While its property-casualty insurance segment portrayed sluggish performance, its life insurance segment produced a sensible performance and is expected to continue its robust performance in the coming quarters. This article will analyze the company's performance during the latest quarter and assess its future. By the end of this article, I will determine whether or not this stock should be considered for investment.
Key Performance Highlights
American International Group is regarded as the largest commercial insurer in the U.S. and Canada, however, it also serves individual and institutional customers through its vast insurance network. For the first quarter of 2014 the company reported a 10% lower operating income year over year as the recent quarter's operating income stood at $1.21 per share, down from $1.34 per share in the first quarter of 2013. Analysts were expecting an operating income of $1.07 per share for the quarter but the company managed to beat analysts' expectations by almost 13%. Net income for the quarter fell 27% year over year, down from $1.49 per share to $1.09 per share. Analysts were expecting better premiums on property and casualty insurance, but that was not the case, so the stock price fell 2.3% to $51.52 in afterhours trading. The following graph illustrates the segment wise contribution to AIG's pre-tax operating income. The trends show that year over year AIG Life and Retirement has become a more influential segment than the AIG Property Casualty segment. However, the Property and Casualty segment is still a major contributor to the company's bottom line, therefore both segments will be assessed based on their performance in the first quarter this year.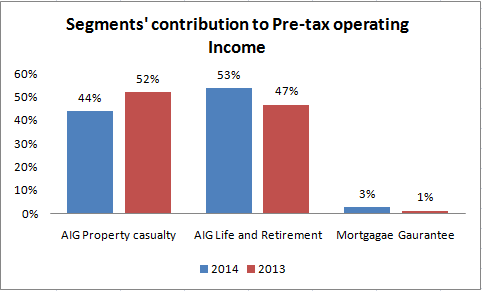 Source: AIG Press Release
Property-Casualty Insurance
The Property-Casualty unit experienced a 2% decline in sales to $8.33 billion. At the commercial operations sales increased to $1.5 billion reflecting an increase of 1.9% whereas the consumer segment's sales declined 5.5%. During the quarter net premium earned declined 4% while net investment income declined 5% year over year. The unit experienced an underwriting loss of $97 million during the quarter, in contrast to the underwriting income of $232 million in the comparable quarter last year. Loss ratio is defined as the ratio of annual claims paid by an insurance company to the premiums received increased 3.8 points during the quarter. The loss ratio of the business unit is too high, standing at 67 times the earned premium that may be attributable to increased claims. Recently the U.S. met with a harsh winter season that resulted in roof collapses, slick roads and burst pipes so this may have increased the claims for the insurance company.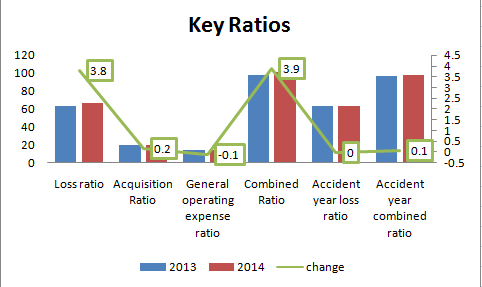 Source: AIG Press Release
Acquisitions ratio is the ratio of net acquisitions to premiums earned and measures a company's operational efficiency in producing, underwriting, and administering its insurance business. This ratio has also risen by 0.2 points. The general operating expense ratio declined by a meager 0.1%, which is good for the company. Earlier this year the company had announced it would cut 3% of its staff and relocate some of the staff to lower cost areas. The results of these staff changes may be evident in the decreased expense ratio. The combined ratio, which is a measure for underwriting profits/loss stood at 101.2 during the quarter up from 97.3 in the same quarter a year earlier. A combined ratio of 100 represents breakeven, a lower ratio means profit while a higher ratio reflects loss. This ratio was adversely affected by the catastrophe losses during the quarter that have increased notably from $41 million in the first quarter of 2013 to $262 million in the first quarter of 2014.
Ignoring the effects of catastrophe losses gives a combined ratio of 97.3 that went up 0.1% from the normalized combined ratio a year earlier. This shows that the performance of the Property Casualty insurance unit was shadowed by high catastrophe losses. This suggests that onetime losses were responsible for the weak results of the segment and the segment can come up with robust profitability if the company gets more business, considering the potential risks and rewards in mind. For the sustainable growth of this unit the company is seriously focusing on operational efficiency, managing its expenses, and investing in technology.
Life Insurance and Retirement
AIG's Life and Retirement unit offers annuities, mutual funds, and insurance in the U.S. AIG also has a competitive advantage regarding the sales of retirement products because rivals such as MetLife Inc. (NYSE:MET) have scaled back in this regard. This segment of AIG showed continued growth momentum and earned a record pre-tax operating income of more than $1.4 billion during the quarter up 2% year over year. The segment's premiums and deposits increased remarkably by 28% during the quarter. Portfolio-based investment yield increased to 5.32%, up from 5.30% in the first quarter of 2013. Fee oriented products increased income while higher profitability was attributable to spread based products. Assets under management increased 9% year over year from $0.296 billion to $0.324 billion during the quarter. This represents the rising demand for AIG Life and Retirement's products. Higher assets under management will bode well for the segment's profitability if the interest rates rise. In that case the investment income will also rise and that will elevate the base investment yield, as the company will reinvest its maturing investments into high yield generating investment opportunities.
AIG - A More Focused Business
At the end of last year AIG had agreed to sell its plane-leasing business to AerCap Holdings NV (NYSE:AER) in a deal priced at $5 billion. This divestiture deal received regulatory approvals and thus soon AIG will sell its International Lease Finance Corporation. This divestiture will allow the company to focus on its core businesses, Property Casualty and Life and Retirement. AIG will thus become a more focused and sensible business.
AIG - Generous Towards Investors
AIG Life insurance is paying an enviable return to its shareholders through dividends, share buybacks, and stock price appreciation. During the first quarter the company paid a cash dividend of $1.7 billion from AIG Life and Retirement. The company is offering a dividend yield of 0.95 in an industry where 2.23 is a standard benchmark. However the company has more focus on share buybacks rather than dividends because it is a more feasible option to the company. Not only is the stock trading at a discount to the book value per share but also repurchasing the stocks will increase book value per share as well as earnings per share and lift the stock price. During the first quarter the company repurchased 17.4 million shares by spending $867 million. Under its current repurchase authorization $537 million remain for further buybacks. Over a one-year period the company reduced its share count by 20 million, down from 1.48 billion to 1.46 billion shares from the first quarter of 2013 to the first quarter of 2014. More buybacks should be expected to come because the company's stock is continually trading at a significant discount to its book value. Book value per share has increased 6% year over year to $71.77 during the first quarter. The stock price has also increased 18% year over year outperforming the price appreciation of the S&P 500 Index.

Source: Y-Charts
Final Take
After experiencing tough operating conditions during the financial crisis AIG has become a more sensible organization, but there is still room for some improvement. AIG has tried to eliminate risks from its balance sheet but the recent quarter's performance was a little disappointing. The Property Casualty segment's performance left much to be desired but the Life and Retirement business was a star performer. It seems that this segment will continue delivering robust financial results in the coming quarters and years. With regards to the Property Casualty business, the company needs to take some steps to reduce the severe losses.
It seems that AIG is now at an inflection point and will soon start its journey back to the top of the hill. Therefore Investors should consider investing in this stock that is trading at a P/E multiple of 8.68 in an industry where the benchmark P/E stands at 11.66.
Disclosure: I have no positions in any stocks mentioned, and no plans to initiate any positions within the next 72 hours.
Business relationship disclosure: The article has been written by a Gemstone Equity Research research analyst. Gemstone Equity Research is not receiving compensation for it (other than from Seeking Alpha). Gemstone Equity Research has no business relationship with any company whose stock is mentioned in this article.