While summer is typically when Wall Street takes some time off, the Ira Sohn conference is one event that gets the big money to attend. A quick search of past SA articles (including mine) show that it's on the radar screen of several SA contributors. The big money tips from this conference are not a guarantee, but the table below shows that it can be a pretty good starting point for what turn out to be excess alpha bets. For this reason alone, it's a good event to consider as a source of ideas. This year's Sohn has the added feature of separating the already famous from the emerging stars.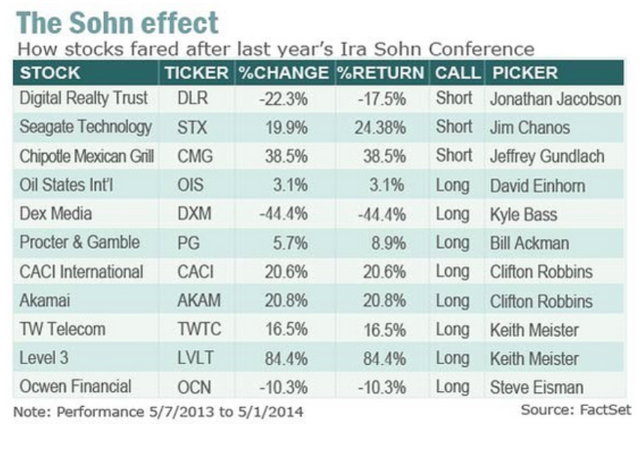 One problem with many of these "Guru" conferences is that investors "talk their book." In other words, they share investments with us that they've already gotten into at a much lower price. This could mean higher risk and muted returns for us, and the reverse for them. With that in mind, I have only included their high conviction bets in which they are on record stating that the upside (or downside) as substantial (50% or more).
Repeaters List
Tyler Durden's excellent post (Ira Sohn Post-Mortem) does a great job of summarizing picks from well known hedge fund managers. As I stated above, I summarize the ostensibly "higher alpha" bets below.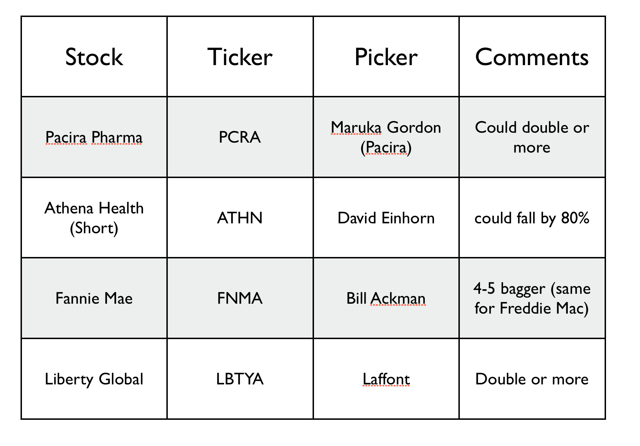 Of the picks here, my favorites are Fannie Mae (OTCQB:FNMA), Freddie Mac (OTCQB:FMCC) and Liberty Global (NASDAQ:LBTYA), in that order. For those who balk at the recent checkered past of FNMA and FMCC, I'd remind them that these were considered too good to fail companies back in the 80s, and a must-have in blue chip portfolios. Famed investor Peter Lynch made his name on valuation anomalies around FNMA and FMCC. We now have the potential of reliving that upside, for very similar reasons. As for LBTYA, it is a good company in a generally positive industry. AT&T (NYSE:T) is sniffing around for a good international acquisition, and LBTYA is a good property that is large enough to move the needle for AT&T. There is also the prospect of a bidding competition for LBTYA that could provide an additional catalyst therein.
The Young Gun List
This year's Next Wave Sohn session was a selection of picks from five young guns. The good and bad news here is that all of these are "macro" bets on good companies in particular industries. The good part of such a macro bet is that you're less worried about company specific issues. The bad part is that a good stock in a bad sector can stay in a negative return situation for a long time.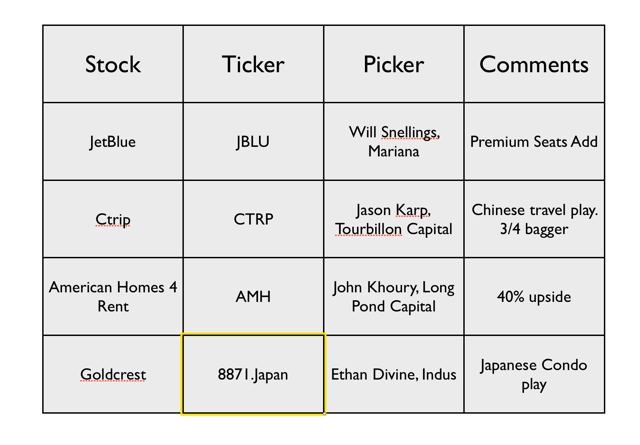 That said, I see this list as providing some intriguing ideas. Even in a volatile market, I like the JetBlue (NASDAQ:JBLU) pick as having multiple tailwinds. There are the twin industry tailwinds of lower fuel prices and tight capacity. Add to that the fact that JetBlue is considered one of the best managed airlines in the industry, and sports a P/E ratio of about 10 in a market with a P/E ratio north of 15. Ctrip (NASDAQ:CTRP) is a way to play the consumer in China, without getting mired in the riskier plays around infrastructure. Chinese travel (both local and international) is a secular growth business, and getting a market leader at a P/E of 5 is decent bargain.
American Homes (NYSE:AMH) and GoldCrest (OTCPK:CDCTF) are potentially high reward, but also higher risk. AMH is a good company, but the macro play has two sides to it. The secular growth of rental properties isn't a given in my opinion, simply because of the quantity of money that has flooded into that concept. And call me "once bitten, twice shy" if you like - but despite the great points made about GoldCrest, I have issues investing in real estate in Japan, a country with a stagnant economy.
In conclusion, Ira Sohn is no slam dunk for the retail investor, but does provide some good ideas. My gun-to-head choices from this set would be JBLU, CTRP and FNMA, but your mileage may vary. If you do leverage some of these ideas, you also want to be careful about your entry point. After all, As Buffett would say, "price is what you pay; value is what you get."
Disclosure: I have no positions in any stocks mentioned, and no plans to initiate any positions within the next 72 hours. I wrote this article myself, and it expresses my own opinions. I am not receiving compensation for it (other than from Seeking Alpha). I have no business relationship with any company whose stock is mentioned in this article.
Editor's Note: This article discusses one or more securities that do not trade on a major U.S. exchange. Please be aware of the risks associated with these stocks.