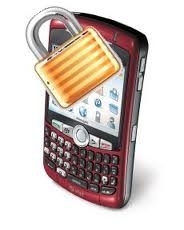 Research in Motion (RIMM), which operates the popular BlackBerry Messenger service, has been in the news recently for all the wrong reasons.
Firstly, the American President Barak Obama revealed that he was "bored" of his BlackBerry handset with only a handful of people authorized to email the super-encrypted device. The company has ever since faced mounting pressure to open its secured data network for scrutiny by the governments of Saudi Arabia and the United Arab Emirates. RIM competes with Apple (NASDAQ:AAPL), Motorola (MOT) and Nokia (NYSE:NOK) in the mobile phone market. Several other countries, including India, Algeria and Lebanon, have recently pushed for access to BlackBerry data for law enforcement purposes.
If RIM denies their requests, its BlackBerry Messenger service and/or smart phones could be banned from these countries. On the other hand, some Blackberry users might lose confidence in the service if they feel that their data is no longer confidential.
Why Business Users Prefer BlackBerry
Despite the introduction of competing smart phone solutions, RIM's BlackBerry remains prevalent amongst large business customers due to its track record of security and reliability. Heavy usage amongst business users helps RIM to "condition" users to the BlackBerry device making a switch less likely. RIMM's net profit margins of 16.5% are significantly higher than other mobile phone manufacturers of 5%, mainly because of RIMM's higher margin is its Service revenue segment but If numerous governments were to ban BlackBerry Messenger services, RIM is likely to loose its USP which is its competitive advantage, prompting subscribers to buy other smart phones. Research in Motion has been getting brutally punished by Wall Street. Its stock is down 30% in the past 6 months from $75 to $56 per share.
RIM Market Trends:
BlackBerry Mobile Phone Market Share increased from 0.4% in 2005 to 2.7% in 2009.
Research In Motion sold 11.2m devices in the first quarter this year, compared to just less than 9m sold by Apple in its last quarter. Research In Motion however under estimated the fall in the average revenue per device. In the previous quarter Research In Motion was guiding to $305, but it only achieved $300 in the quarter just reported.
Apple iPhone and Android-based smart phones have been increasing their market shares at the expense of RIM over the last few years. RIM has always been playing catch-up in terms of features, and introduced Blackberry OS version 6 to counter the increasing competition in the smart phone market.
World Market Pulse RIMM's Analysis: (Click to enlarge)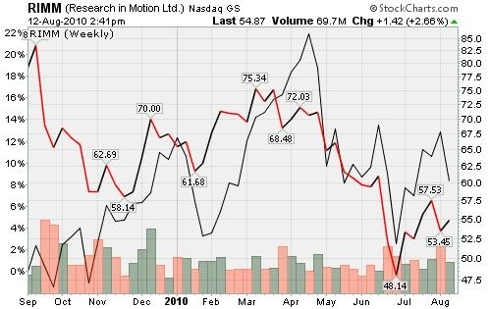 Click to enlarge
PRICE MOVEMENT
LONG TERM PRICE RANGE: RIM moved from its low of $20 price in Oct 2005 to July 2006 when it double bottomed at 22. From July 2006 it began its meteoric rise from 22 to 43 around begining of 2007 and peaked in Oct 2007 at 125 and then had a double top at 122 again in July 2008 [Its highest peak price was 138.87 in summer of 2008] where it began a slide and bottomed at $40 in early 2009.
WEEKLY RIMM: The black line on the chart is NDX Nasdaq 100 index.
Outlook 2010: It generally follows the Nasdaq 100 index but RIMM has performed more or less similar to AAPL [Apple] for past one year but from March 2010 its more in tune with NDX Nasdaq 100 index, whereby APPL has remained very strong.
Price of RIMM had a long momentum from Feb to March where it did about $14 appreciation from 62 to 75.34 aprox. from where it reached to 48 in end June, currently at about $55 it may have support at about 52$ in very short term. If that support is broken and the broader market is sliding down the next best support would be at about 47/48 range.
Worldmarketpulse analysts believe that despite any banning in few countries, BlackBerry's base in North America and Europe is big enough to sustain more sales in the times to come. RIMM can become a buy for a good appreciation at the 47/48 range.
RIM Security Issues:
Research in Motion is at odds with the governments of India, Saudi Arabia and the UAE over their demands that the company-let authorities tap BlackBerry messages delivered using RIM's rock-solid encryption technology. RIM uses powerful codes to scramble, or encrypt, messages as they travel between a BlackBerry server and the BlackBerry device.
BlackBerry traffic runs through RIM data centers, which help manage the devices. It also runs through BlackBerry servers, which encrypt and unscramble messages. Those BlackBerry servers are owned and run by RIM's business and government customers. Rivals including Apple Inc, Google Inc, Nokia and Microsoft Corp design their products so they communicate directly with ordinary email servers.
RIM vs. Saudi Arabian Government:
The government of United Arab Emirates (UAE), has announced that it would suspend Blackberry mobile services like e-mail and text messaging beginning in October affecting 500K users and potentially paving the way for other Gulf states to follow suit. Nokia and Apple smart phones will were however supposed continue to operate as usual.
According to recent developments, Saudi Arabia's telecommunications watchdog has announced that it would allow BlackBerry Messenger (BBM) service to continue operation citing "positive developments" with the Research in Motion management.
In the case of Saudi Arabia, the government says it only wants access to RIM's consumer-focused BlackBerry Messenger service unlike other countries like Indonesia, Bahrain and India that are seeking access to encrypted emails which RIM routes through its own secure servers which have no master key.
RIM vs. Indian Government:
BlackBerry, the device developed by Canada's Research in Motion that has now become a matter of concern for Indian security establishment. India, like several countries in the Middle East and North Africa, wants access to encrypted BlackBerry communication. India fears encrypted data can be used by militants just as Pakistani-based militants used mobile and satellite phones in the Mumbai attacks in 2008 that killed 166 people. While India is said to be seeking access to both email and Blackberry Messenger functions, while Saudi Arabia is thought to be seeking access only to the latter. Government of India's talks with Blackberry manufacturer Research in Motion have so far failed to resolve the issues.
India is the fastest-growing wireless market in the world, and is one of the Ontario-based company's fastest-growing markets. There are between 700,000 and 1 million BlackBerry owners in India.
RIM and US Security Issues:
BlackBerry has always had a market edge in the highly competitive world of smart phones mainly due to highly encrypted data transfers that works well in an ideal world. The BlackBerry encryption is so advanced that even the United States government allows many military and law enforcement employees to send confidential messages by BlackBerry, but it also makes surveillance correspondingly difficult.
The encrypted data seems like a double-edged sword now as RIM management is now having clashes with officials elsewhere in recent years. A point to note is that RIM has been offering country specific solutions to its encryption message issues and has not come out openly in public domain over the exact deals reached with various governments worldwide including the US and China.
According to various reports however, U.S. authorities can seek a court order to tap BlackBerry traffic, giving them access to messages sent over the network. Officials with Research in Motion declined to talk about how they provide such access. It is possible that the government provides such requests directly to RIM's customers. Moreover unconfirmed reports say that US National Security Agency reportedly has the technology to crack encrypted mail in a few hours - with or without help from RIM.
RIM Management vs. Governments: Who will blink first?
Research In Motion president and co-CEO Mike Lazaridis has meanwhile slammed foreign governments seeking ban on BlackBerry saying BlackBerry smart phones were being unfairly singled out to score political points.
The BlackBerry boss said RIM was trying to convince these governments that the Internet requires secure communications. However, he said RIM would have to cooperate with authorities if it was handed a court order to do a lawful intercept of a person's communications.
Disclosure: No positions