For generations, value investors have looked to the price-to-earnings ratio, or P/E, as a means to finding value stocks. However, Benjamin Graham, long considered to be the "father" of value investing, found that a low price-to-earnings ratio wasn't enough to unearth the true undervalued companies.
Graham combined the low price-to-earnings ratios with the power of growth by using the PEG ratio. The PEG ratio is calculated by taking the price-to-earnings (P/E) ratio and dividing it by the growth rate. Normally, a stock with a PEG ratio under 1.0 is considered a "value".
With the S&P 500 and the Dow Industrials trading at or near record highs, you might think it would be hard to find ANY value but it does still exist if you dig deep.
Screening for PEG
I created a screen for PEG ratios under 1.0 on Zacks free Custom Screener. Just this one criteria gave me 434 stocks. That's not too shabby. But that doesn't mean all 434 companies are necessarily the companies I want to be buying right now and a list that big is somewhat unruly.
Therefore, I eliminated companies that had a Zacks rank of 4 or 5, which are Zacks Rank Sells, and only searched for Buy ranked stocks which are Zacks Rank #1 (Strong Buy) or #2 (Buy).
I didn't consider any other fundamentals as I wanted to keep it as a pure value and growth play. But if you wanted to add another layer on top of the PEG to find even deeper value stocks, you could also search for companies with a price-to-sales (P/S) ratio under 1.0. Companies with a low P/S are usually undervalued.
3 Stocks with Magic PEG Ratios
The following 3 companies stood out because they had both stellar fundamentals, including a low PEG ratio, and a solid business story, including strong earnings growth.
It's rare to find companies that have both value and growth.
1. United Rentals Inc. (NYSE:URI)
United Rentals is the largest equipment rental company in North America renting out over 20,000 different types of equipment to construction and industrial customers, utilities, homeowners and municipalities.
The company has a solid first quarter despite it normally being a seasonally slow quarter. The brutal winter weather also put a damper on construction activity but the company overcame that as well. It beat the Zacks Consensus for the 11th quarter in a row.
United Rental had a strong rental rate and improved utilization. It also said that non-residential construction, which had lagged, had finally turned the corner.
PEG Ratio = 0.8
Forward P/E = 14.6
Expected 2014 Earnings Growth = 31%
Expected 2015 Earnings Growth = 24%
Zacks Rank #1 (Strong Buy)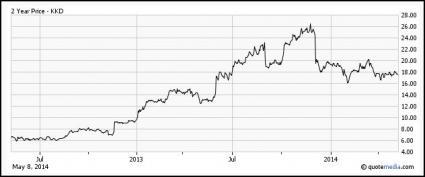 2. A.O. Smith Corporation (NYSE:AOS)
A.O. Smith is one of the largest manufacturers of residential and commercial water heating equipment in the world. It also makes water treatment products such as water filtration systems.
On Apr 22, A.O. Smith reported record first quarter sales which jumped 8%. They were boosted by China, where sales jumped 25% year over year due to demand for water heaters and point of filtration products.
However, Chinese sales comps will become more difficult over the next two quarters. While China will still be a growth market, A.O. Smith expects growth to slow to around double the Chinese GDP, or around 15%.
A.O. Smith has beat the Zacks Consensus 10 quarters in a row.
PEG = 0.8
Forward P/E = 19.9
Expected 2014 Earnings Growth = 14%
Expected 2015 Earnings Growth = 13%
Zacks Rank #2 (Buy)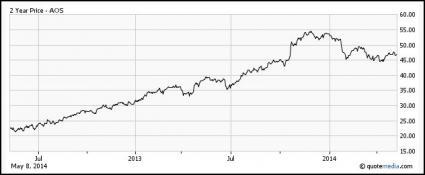 3. Krispy Kreme Doughnuts, Inc. (KKD)
Krispy Kreme makes doughnuts and coffee in over 800 stores in 20 countries. It is famous for its Original Glazed doughnut.
It reported fiscal fourth quarter 2014 earnings on March 12 and raised fiscal 2015 guidance despite being hit by severe winter weather. It said in March that the weather was impacting the first quarter of 2015 but that it still believed in the higher guidance.
Krispy Kreme is expected to report first quarter 2015 earnings on June 2 so we'll soon find out if early quarter momentum held.
The company reiterated its long term goal of 1300 domestic and international stores by January 2017 so it still sees the pace of growth continuing.
PEG = 0.8
Forward P/E = 23
Expected Fiscal 2015 Earnings Growth = 25.4%
Expected Fiscal 2016 Earnings Growth = 19.6%
Zacks Rank #2 (Buy)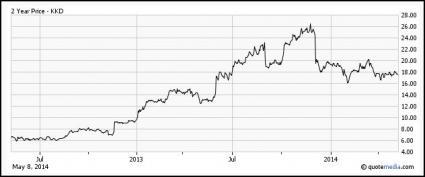 Tracey Ryniec is the Value Stock Strategist for Zacks.com. She is also the Editor of the Insider Trader and Value Investor services.
SMITH (AO) CORP (AOS): Free Stock Analysis Report (email registration required)