By Todd Shriber & Tom Lydon
Record low interest rates in Australia are encouraging investors to gobble up stocks in the world's 12th-largest economy despite record valuations and some exchange traded funds are benefiting.
Over the past 90 days, Australia's benchmark S&P/ASX 200 has climbed nearly 7%. Now, the index trades at 15.3 times estimated earnings compared to 12.7 times for the MSCI Asia Pacific Index, Adam Haigh reports for Bloomberg.
Some U.S.-listed ETFs tracking Australian stocks are even more richly valued. For example, the iShares MSCI Australia ETF (NYSEARCA:EWA) had P/E ratio of nearly 20 at the end of March, according to iShares data.
The WisdomTree Australia Dividend Index, the underlying index for the WisdomTree Australia Dividend Fund (NYSEARCA:AUSE) had a P/E of 18.6 as of May 5, according to WisdomTree data.
The P/Es for EWA and AUSE are higher than what is currently found on the iShares MSCI Pacific ex Japan ETF (NYSEARCA:EPP) and the WisdomTree DEFA Fund (NYSEARCA:DWM). Still, the two Australia ETFs have backed up those lofty valuations with impressive returns.
Over the past 90 days, EWA has surged 11.8% while AUSE is up nearly 10%. Although interest rates down under are low by Australia's standards, rates there are high relative to much of the developed world, which juices the yields on AUSE and EWA. AUSE has a distribution yield of almost 6.1% while the trailing 12-month yield on EWA is 4.3%.
Since 2011, the Reserve Bank of Australia has cut rates by 225 basis points to 2.5%, which has helped lift Australian stocks and dividends. Australian companies paid $40.3 billion in dividends last year, nearly double the amount paid in 2013.
Due to weak global demand, Australian mining companies are trimming costs and could come under pressure from investors to use some of that conserved cash to bolster payouts, Bloomberg reports. Those firms include mining giants BHP Billiton (NYSE:BHP) and Rio Tinto (NYSE:RIO).
Earlier this year, Goldman Sachs said Australia's mining sector could surprise with dividend hikes this year due to payout ratios that are well below the national average.
AUSE and EWA have traded higher this year despite gains in the Australian dollar. Still, it is clear RBA has had some impact on the Aussie as the CurrencyShares Australian Dollar Trust (NYSEARCA:FXA) has lost 8.3% over the past two years. Investors have pulled $62.7 million from FXA, perhaps a sign they expect more RBA rate cuts.
iShares MSCI Australia ETF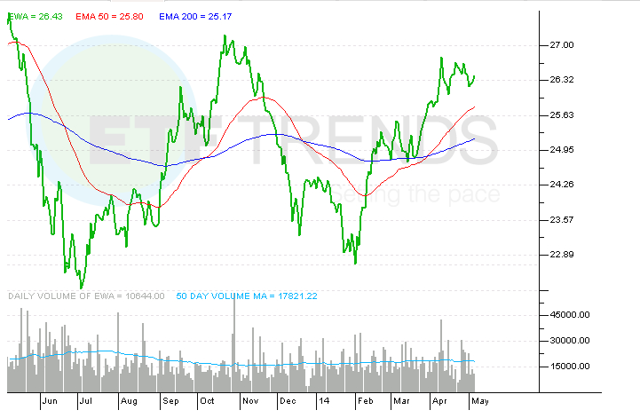 Disclosure: I have no positions in any stocks mentioned, and no plans to initiate any positions within the next 72 hours. I wrote this article myself, and it expresses my own opinions. I am not receiving compensation for it. I have no business relationship with any company whose stock is mentioned in this article.