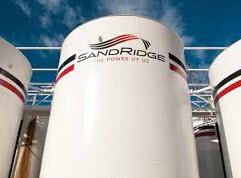 SandRidge Energy (NYSE:SD) just reported a great quarter despite weather-related headwinds. Furthermore, the company raised guidance for fiscal 2014. Nevertheless, the stock sold off Thursday after popping in after hours Wednesday. I suggest the dip after earnings may simply be short-term traders taking profits. The stock remains a long-term buy. In the following sections I will lay out my bull case for the stock going forward.
SandRidge recorded the third straight earnings beat and raised full-year guidance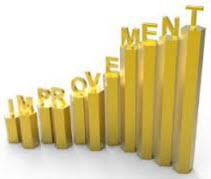 SandRidge reported first quarter EPS of $0.07 beating estimates by $0.05. Revenue of approximately $443 million was down 13.4% year-over-year yet beat estimates by $36.62 million. CEO James Bennett held forth another round of highly positive future projections and current performance statistics. This comes as no surprise to anyone who has been following the company. SandRidge has been putting up good numbers since the departure of Tom Ward last year. CEO James Bennett stated:
"We are well on our way to deliver the early part of our three-year growth plan introduced at our March analyst day. We produced 55 MBoe per day in April compared to our first quarter average of 51 MBoe per day, and brought on 45 new wells in April, compared to 71 wells for all of the first quarter. We continue to advance our value initiatives such as the multi-lateral well programs, producing from multiple zones, and expanding our asset base with the addition of Oklahoma's northern Garfield County into our focus area. These efforts continue to position SandRidge as the premier operator in the Mid-Continent region."
So why was the stock down on Wednesday?
One issue may be the stock had a significant run up into earnings. The stock rose from a near term low of $6.16 to a 52-week high of $7.10 in late April.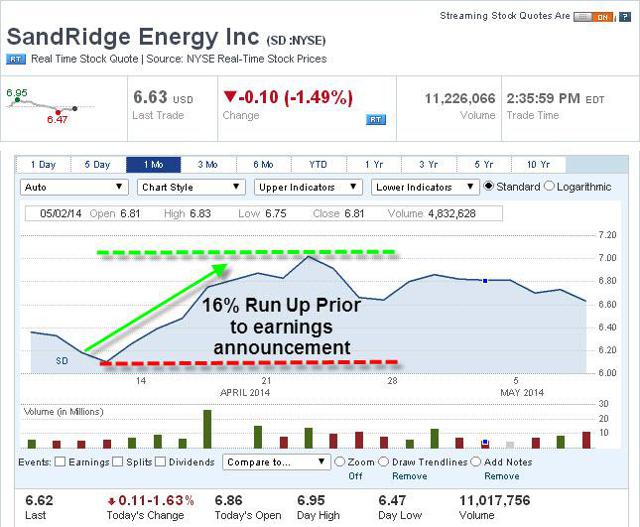 (Chart provided by CNBC.com)
I surmise many short-term traders positioned themselves in the stock prior to earnings and are now taking profits and moving on. SandRidge handily beat estimates for the past two quarters based on significant cost savings from the turnaround plan which vastly improved the odds of this quarter beating estimates.
Investors remain guarded
Many investors remain cautious citing the results may be fleeting. Much of the past positive results have been related to cost cutting and increasing operational synergies rather than improved well performance. Now, with improved well performance and upped guidance, I feel the stock may be ready for a significant move higher.
The stock's fundamentals are improving and forward guidance was raised
The fundamentals are improving across the board. The company reported adjusted net income of $37.9 million for first quarter 2014 compared to adjusted net income of $2.0 million in first quarter 2013.

(Table provided by Scottrade.com)
Earnings per share are expected to ramp up to nearly 100% next year. The company also raised production guidance. The company now projects production to grow by more than 20% over the next three years. Cash flow from operations was strong. Adjusted operating cash flow was $136 million for first quarter.
SandRidge is undervalued on a net asset value basis
Net Asset Value calculation
On a net asset value basis, the company could be worth anywhere from $10 to $15 per share depending on the math used. Bennett's most conservative estimate included a 15% discount regarding potential reserves. This would value the stock at $10 per share. Using a 10% discount and a best case scenario, the stock could be worth $15 per share which includes all proven and potential reserves.
Current geopolitical unrest bodes well for SandRidge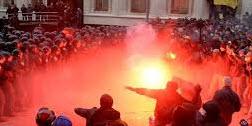 As I am sure you are aware, the Ukrainian crisis has once again put energy reserves front and center on everyone's mind. A major disruption of pipelines in Ukraine could send energy process skyrocketing. Further, since the start of the Ukrainian crisis, it seems everyone has forgotten what a tinderbox the Middle East remains. There are too many flare ups to list. I feel it's only a matter of time before some type of supply disruption occurs.
Downside Risks
Encumbered by Long-term Debt
SandRidge has a lot of long-term debt on the books. This is symptomatic of the tremendous asset buying spree the company embarked over the last few years.

(Table provided by Scottrade.com)
The current long-term debt to equity ratio of 1.75 is substantially higher than the company's peers or the industry average. Effective management of this debt will be a must for the company to succeed.
Cost cutting benefits may be coming to an end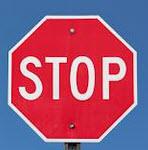 Even with all these positive factors coming to light, the stock still has not moved significantly to the upside. The risk remains that SandRidge does not live up to the hype. One bad quarter and the stock could take a nose dive. Questions still remain regarding the estimates put on the company's Mississippian reserves. It remains to be seen if SandRidge can be successful where so many others have failed.
Conclusion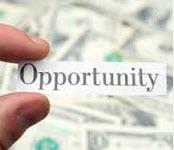 I say at this point the reward outweighs the risk. The new management team has done a bang up job cutting costs and creating synergies. The team has vastly increased the efficiency and effectiveness of operations. Many are still taking a wait and see approach. This is why the stock is still trading in the sixes. After nearly six months of accumulation, I say the reward outweighs the risk at this point. My 12 month price target for the stock is $14 which implies about 100% upside from current levels. Further, for any major oil and gas firm looking to buy up reserves on the cheap, SandRidge would appear to be a tasty morsel with a less than $4 billion market cap. The stock is a buy here.
Final Thought
Sandridge is teetering on the edge of a major breakout. The company has consistently beat earnings and raised guidance since Bennett has taken the reigns. When factoring in the tremendous upside potential coupled with the current net asset value of the company, the stock seems a steal at these prices.
Disclosure: I have no positions in any stocks mentioned, but may initiate a long position in SD over the next 72 hours. I wrote this article myself, and it expresses my own opinions. I am not receiving compensation for it (other than from Seeking Alpha). I have no business relationship with any company whose stock is mentioned in this article.