The Commerce Department reported that retail sales rose for the first time in three months, however, the gains were less than expected as confidence in the economic recovery continued to wane and consumers were wary of spending amid a weak labor market. (Click to enlarge)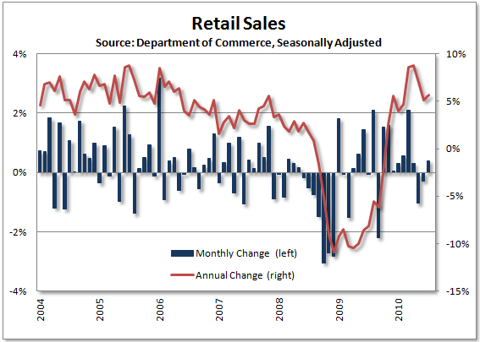 A surge of 2.3% in gasoline station sales and a 1.6% boost in auto sales paced the advance. Overall retail sales rose 0.4% in July after an upwardly revised decline of 0.3% in June but, excluding autos, sales gained just 0.2%. Excluding both autos and gasoline, sales fell 0.1%, a clear sign that consumers have tightened their belts.
Clothing sales fell 0.7% while two categories closely linked to the nation's troubled housing market – home furnishings and building materials – both declined 0.3%.
Disclosure: None