Profile: Companhia de Saneamento Basico do Estado de Sao Paulo (Basic Sanitation Company of Sao Paulo - SBS) is the state of Sao Paulo's environmental sanitation service company in Brazil's financial capital. The company operates water,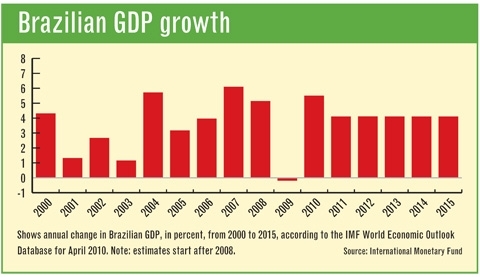 sewage,a nd industrial waste treatment facilities. Founded in 1954, the company has grown with the Sao Paulo state of Brazil. The company operates in 366 municipalities, treats sewage for 26 million people, and also handles rainwater drainage and management.
Thesis
Sewage and water sanitation is not sexy. SBS is no Vale, no Google, no Trina Solar. It does not operate a very interesting business, but it has one of the largest economic moats that can exist. It has no competitors, and it will continue to grow as Brazil grows. The company continues to operate with significant free cash flow, high growth, and continues to grow out of the 2008 hit that it saw to its growth. Sanitation services companies grow as the community they are serving grow, and if there is one thing Brazil is doing, it is growing. SBS since 2005 has grown through FY 2009, from $4.9 billion in sales to $8.6 billion…growth of over 75%.
The company does not appear to be slowing down, with estimated revenue to grow 5% this year. Operating income has grown at a minumum of 30% each year, and the company returned an EPS over 4 last year, which is growing to grow to over 5. This company is your standard growth stock, but can it keep growing to increase share price. Two main catalysts to the Brazilian economy really have me excited: The World Cup and The Olympics. While the Olympics is in Rio, The World Cup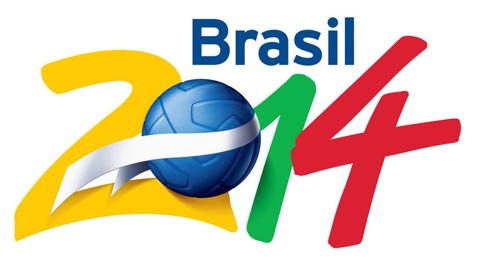 will have games in Sao Paulo. This is a huge boost to sanitation facilities. According to Ernst & Young, the World Cup could have an $80 capital injection into Brazil. $12.7 billion will come from the state itself to improve infrastructure. A lot of this money is expected to go to utilities, such as water sanitation. Direct investments into SBS.
Additionally, the Sao Paulo company is growing outside of Sao Paulo and doing projects throughout Brazil and the rest of Latin America. The company only sells at one times revenue with a P/E at 5.76. The company is heavily undervalued, and it could take off at any moment.
Forbes writer, Ken Fisher, comments, "You're getting a moderate growth company at discount valuations because people think of it as a utility. But as Brazil grows–and in fact, as Latin America grows–fundamental features underlying all of the growth include good, clean water as well as sewage-treatment capability, which is also one of this company's other related activities. SBS combines both value as well as fundamental organic growth, which I think is attractive."
The company trades below its book value, which at the end of FY 2009 was 107. The stock is only $40. Even though utilites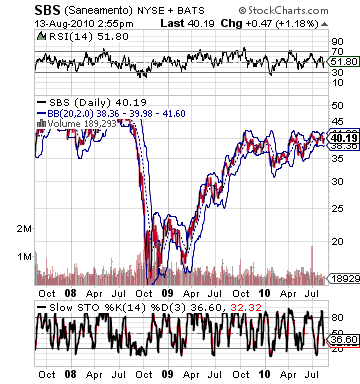 trade below normal P/E levels, the average P/E ratio for utilities is near eleven, and foreign utilites are closer to seven on average. So, there is a large undervaluation here. We have not even gotten to the growth possibilities of the "B" in BRIC. The stock even has a dividend yield of 3%, which is a nice bit of change for a stock that looks.
Brazil is estimated to grow in 2010 by 6.5%. That number will continue to be steady above 4-5% over the next five to ten years. The addition of world events like the World Cup and the Olympics will demand that Brazil takes a lot of steps to improve water quality, sanitation, and many other infrastructure avenues. SBS is poised to grow with this demand. A lot of foreign investors continue to move into this country as developed nations are only having marginal growth. Banco Santander, for example, recently commented that they believe Brazil will take over as its leading source of revenue - over its home country Spain.
The current knock on Brazil for its inability to be a China is that it lacks the proper infrastructure and capital. According to Reuters, China invests 16% of GDP in infrastrucure. Brazil is at 2%. This rate is much too low, and if the nation wants to continue to grow at alarming rates…they have to address this problem. The risk to SBS lies in the nation's growth itself as a blessing in disguise perhaps. Yet, if the nation can manage its growth, keep inflation lowered, and follow a Chinese mold, then SBS is an even more hidden and larger gem.
According to istockanalyst, "Brazil's credit rating was raised to investment grade recently by Moody's Investors Service after the country built record foreign reserves and averted a prolonged recession amid the global financial crisis with a 1.9% GDP growth rate for the first quarter, powered by domestic demand. This growth by domestic consumer demandmakes Brazil look very attractive to investors right now."
The prospects for SBS look very solid. It grows as Brazil and Sao Paulo grow. The company has extraordinary free cash flow in the billions, and it operates a very sound financial sheet. They look very promising moving forward, and I don't think I have been this excited about a long termer since Trina.
Valuation
I have a fair value estimate for SBS at $60 per share, and I think this is a very fair valuation. The company has seen nothing less than 30% in operating income except for 2008's recession year. I have operating income growing only 15% for the next two years and dropping to 10% through 2010. I started 2010 at $2.8 billion in operating income. The stock's price is really undervalued, and the sky is the limit. There is some risk, but the company will continue to produce more than $2 billion in free cash flow, which is a great recipe for future growth and maintaining a healthy balance sheet. If only American companies were so financially responsible.
Disclosure: No positions