IDC reported that Q1 smartphone sales globally rose 29% to 281 million units and that 40% of those sold were shipped to Chinese consumers, or about 112 million units in China. Trendforce put global Q1 sales at 267 million units.
SA Author Doug Young posted a blog recently reporting that smartphone sales in China fell in the first quarter of 2014 to about 100 million units. China Market Watch confirmed that number, sourced from the China's Ministry of Industrial and Information Technology ("MIIT"), and down 24.7% from the prior year.
The Q1 smartphone mystery
The data don't add up. It cannot be that a record 40% of a record 281 million smartphones sold in Q1 worldwide were purchased by Chinese customers while sales in China declined almost 25% year over year.
Apple (NASDAQ:AAPL) reported a record quarter with 43.7 million iPhones sold. Apple's geographic mix of iPhone sales is not segregated from other revenues in its regional breakdown, but Apple did report higher revenues from Greater China of $9.3 billion in the March 2014 quarter, up 13% from 8.2 billion in the similar period in 2013.
At the same time, Kantar Worldpanel reports that Apple lost market share in China in the March 31, 2014 quarter.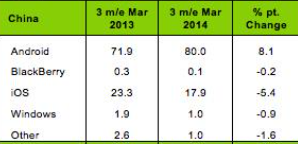 Source: Kantar World Panel
How did Apple achieve 13% higher revenues with a drop in market share from 23.3% to 17.9% in a market that itself declined 24.7%?
The answer to that question may explain a lot. It may explain how Apple achieved record revenues for a March quarter, record iPhone units for a March quarter, and record profits for a March quarter.
Apple CEO Tim Cook told analysts at the Q2 conference call that Apple gained share in China, as quoted below:

Cook went on to state:

Source: Apple Q2 Conference Call transcript
CFO Luca Maestri followed up on Cook's remarks about China and stated:

Source: Conference call transcript
There is a pretty obvious disconnect between Cook's and Maestri's remarks and the Kantar data. Either Apple gained share as Cook asserts, or it lost over 20% of its market share as Kantar reports. The data should find it hard to co-exist. It is indeed a mystery.
The Mystery Explained
The data points should not co-exist, but they do. And they co-exist for the following reasons:
Apple restarted production of its iPhone 4S and shipped what I estimate to be 4 million of them to carriers in the quarter at a price of $349;
Apple cleared iPhone 5C and iPhone 5 inventory from carriers at an ASP of about $500; and,
Apple restocked carriers with iPhone 5S, particularly in China with an ASP of about $649, likely even higher in China.
So what? The answer is interesting, but not pretty.
Apple recognizes revenues when the devices are shipped to carriers. During the quarter, carrier inventory only rose by 100,000 units, so the units recognized are not an increase in unit inventory by any material amount. Nonetheless, I believe that Apple recognized a major increase in the carrier inventory in China as revenue in the quarter (as it should in accordance with its revenue recognition policies) even though those units were not sold to end users. The growth in inventory in China was offset by reduced inventory elsewhere.
And while a mountain of iPhone 5S devices recognized as revenues in the quarter were not sold to end users, what was sold to end users was a few million iPhone 4S' in India, Brazil and Indonesia and a pile of end-of-line iPhone 5s and iPhone 5Cs as these were cleared out.
The average selling price of iPhones fell about $40 in the quarter, but margins rose on higher volume. If the higher volume was lower priced iPhone 4S, iPhone 5 and iPhone 5C units, the numbers don't seem to make sense at first glance.
But they do, and that is the story. They make sense because the inventory profits on iPhone 5S units shipped to carriers in China were more than enough to offset lower actual profits on the lower priced devices moved elsewhere.
Here is an example of how that works. At December 31, 2013, Apple could barely meet demand for the iPhone 4S, so very few devices were in carrier inventory, which was clogged with iPhone 5Cs that Apple was having some trouble moving; iPhone 5s still on hand; and some iPhone 4S devices that needed to be moved.
Apple moved the lower priced devices by discounting them in peripheral markets. It then shipped a roughly equivalent number of its newer iPhone 5S and iPhone 5C units to China carriers, primarily China Mobile (NYSE:CHL).
I estimate the inventory in the hands of carriers at December 31, 2013 and March 31, 2014 looked like this:

Summarizing the quarter, I estimate Apple shipped 43.7 million iPhones to its stores and carriers comprising iPhone 5S, 5C and 4S models. Users actually purchased 43.6 million units from Apple's stores and carriers. About ten million of the sales to users were iPhone 5 and iPhone 4S models, while sales of newer models to end users were about 33 million. Since the older models already in carrier inventory were recognized in sales in earlier quarters, Apple's accounting recognized somewhere around 39 million of the two new models in sales in the March quarter, of which 13 million remained in inventory in the system, more or less.
The third party industry followers do not have any data on Apple's inventory and report their estimates of what customers actually purchased. An added 10 million units in inventory of Chinese carriers on a base of 100 million units can go a long way to explain the differences between the market estimates by IDC; Trendforce; and, the report from the Chinese MIIT.
None of this is a criticism of Apple in any way. That is how its revenue recognition has always worked and this quarter was no exception. Apple was clear in its disclosure that it had recognized 43.7 million units in revenue in the quarter and that 0.1 million of those represented increased carrier inventory.
So what is my beef?
If you convert the devices in carrier inventory into sales dollars recognized using an approximation of the revenue to Apple for each model, you get a table like the one below. Because the iPhone 5S is higher priced than the iPhone 5C, 5, 4S and earlier models, the revenue recognized but still in carrier inventory rises by about $1.5 billion even though the number of iPhones in inventory barely changed.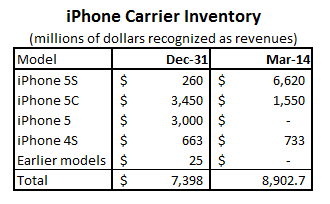 Source: Blair analysis
The numbers cannot be too far off. I used an ASP of $650 for the iPhone 5S, $500 for the iPhone 5C and 5 versions, and $350 for the iPhone 4S. With those ASPs, the revenue recognized approximates the $26.1 billion iPhone revenue Apple reported for the period.
The result is that while Apple may have only recognized 100,000 more devices in carriers' hands as "revenues" in the quarter, recognition of the higher priced models in carrier inventory displacing the lower priced models removed from inventory added about $1.5 billion to revenues. Since the bill of materials for the differing models of iPhone are all in the $225 range more or less, the $1.5 billion of additional revenues contributed a similar amount of added margin. Without that "inventory profit" being recognized, Apple would have had a year-over-year sales increase of $800 million instead of $2 billion, and year-over-year profits would have declined.
There is nothing wrong with Apple's accounting, it is simply following its policies. But for Apple's CEO and CFO to stand and crow about Apple's China sales and share growing is at a minimum misleading. Market share only grows when actual users buy iPhones.
The Kantar World Panel and data from the Chinese ministry of communications posted by Doug Young tell the tale. The IDC data seem to be estimates that simply include Apple's reported sales and reflect its officers' public statements rather than any bottom up analysis of the actual China market.
The important facts for investors are threefold:
The China market is shrinking, not growing, and double digit declines are major ones;
Apple appears to be losing share in China; and,
Selling iPhone 4S units in emerging markets and suggesting to investors that the sales growth came from robust demand in China is in its essence a misrepresentation of what is actually taking place.
The coincidence of Apple's officers (at least arguably) gilding the lily at the same time as announcing major capital initiatives and a stock split can be seen as acts of desperation as much as acts of confidence. If Tim Cook had stood up and said: "Contrary to what we expected, the market in China fell sharply in the March quarter and Apple lost 5 percentage points of market share," I am confident the market reaction would have been less enthusiastic and the stock somewhat less likely to run up ten or fifteen percent.
But he did not. Instead, he and his CFO took pains to tell the world just how well Apple was doing in China without taking the time to tell those interested that by doing well, he meant stuffing the channel inventory with high priced product that he hoped would move in later periods, if that is in fact what is happening. The data suggest it is.
I don't know what the whole story is. All I know is the numbers we get from the company and what the industry observers report. But the data do not add up and investors deserve an explanation.
I am short the stock.
Disclosure: I am short AAPL. I wrote this article myself, and it expresses my own opinions. I am not receiving compensation for it (other than from Seeking Alpha). I have no business relationship with any company whose stock is mentioned in this article.