Hewlett-Packard Company (NYSE:HPQ) has had a bad week since the announcement that Mark Hurd was resigning. HPQ stock is currently sitting at $40.40, just off the 52 week low of $39.95 established on Thursday after Cisco's (NASDAQ:CSCO) CEO John Chambers gave tempered guidance for the tech bellwether. (See chart)

The question that arises is whether HP is oversold in the short-term, and due for a bounce, in line with the fundamentals of being one of the largest technology companies in the world in terms of revenues.
Click to enlarge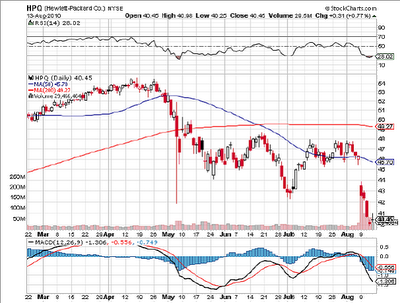 Let's examine the leadership change, it is apparent that the board and upper management within HP who helped mitigate the change thought it was in the long-term best interest of HP, the employees of HP, and shareholders ,to seek new leadership at this point. I imagine that the reason which is articulated in the media, as the media needs a truncated version of the board's decision making process, is far more complex and involves a multi-layered analysis as to what is in the long-term interests of HP.
Carly Fiorina provided a strategic vision for HP in combining Compaq Computer and HP, which in retrospect, turned out to be a brilliant acquisition. However, acquisitions often require a different type of leadership from an operational standpoint, and Mark Hurd's talents were just what the doctor ordered in meshing these two diverse companies into one cohesive technology machine. Then add in the future acquisitions by HP, and his skill set really fit the bill.
But perhaps a new course is now set to put HP's operational house in order. The new vision could be that HP should focus more on organic growth, building of the R&D house, and getting better at developing the creative solutions for tomorrow's technological landscape a la their Silicon Valley neighbors at Apple (NASDAQ:AAPL).
Instead of following Apple's lead with its own tablet device, which will be forthcoming, HP's board wants to start leading, and bring new technology offerings first to the market place going forward. This often takes a creative CEO who fosters the creative juices within the employees, builds company morale towards being an innovative leader, and transforms the current culture from one of an operational juggernaut to that of an innovative machine providing revolutionary technology solutions for both businesses and consumers.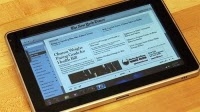 Graphic Source: softsailor.com
HP's board could be asking this question: yeah we are doing great, but could we be doing better? When was the last time that there was a line waiting overnight at Best Buy (NYSE:BBY) for one of our products? Maybe HP's board wants to take its business model to the next plateau?
Is the company currently undervalued after this recent selloff? Let's examine some future catalysts that could possibly restore some value to this company's stock price and market cap.
The upcoming earnings on Thursday: HP essentially preannounced last week that its earnings are going to beat on both the top line and bottom line growth metrics. So no surprises of being light on revenue like Cisco. Also, John Chambers mentioned HP at least three times in interviews about Cisco's results and inevitably HP was described as a competitor. This suggests HP is taking some serious market share from Cisco in certain categories, and this will become evident at next week's earnings call.
It seems likely that HP's board will authorize a large share buyback program as the price of the stock is cheap relative to a lot of financial metrics, and it's sitting at a 52 week low. The company has a lot of cash on the balance sheet, and it just makes a lot of business sense to buy back your company stock when it is undervalued relative to its recent historical price. Especially since the stock price drop is due to a surprise leadership change and nothing materially wrong with the underlying business mechanics. So an investor is free-rolling the earnings release, HP has already told you their basic numbers, and they may-- if anything-- surprise to the upside, blowing some of its financial metrics out of the water.
There are a lot of shorts who piled into HP like a proverbial shark into a tuna patch, and they all have to buy back their shares at some point, thus providing added fuel to any good news in the future.
HP is coming to market with its version of the tablet (Slate).
The new CEO will be announced probably in the next few weeks. With all the recent scrutiny regarding HP, my bet is that the board will likely leave no stone unturned leading to a choice that will make Wall Street forget all about the Mark Hurd saga. This is basically their only choice at this point, given the intense Monday Morning Quarterbacking that has already taken place regarding the board's original decision.
The climate for equities looks very favorable, especially with regard to the current monetary policy, the 10-year treasury yield of 2.67% just reinforces that from a yield standpoint alone the S&P 500 is well undervalued.
Tech as a sector always struggles during the summer, and excels during the second half of the year.
Tech is cheap right here from a valuation standpoint; many solid Tech firms like Microsoft (NASDAQ:MSFT), Intel (NASDAQ:INTC), Cisco and HP trading with relatively low forward P/E ratios that will be much higher by year end.
Many fund managers like Bob Doll at BlackRock recently indicated that he would look to add to their original position at this reduced price over the upcoming weeks as the recent uncertainty over the CEO change is resolved, and fund managers focus on the current valuation.
HP will be upgraded by analysts in the upcoming weeks on low valuation calls, watch for several right after earnings, as the current stock price is low relative to current and future earnings projections.
So what is fair value for HP over the next six months? This will depend upon a myriad of factors like the global economy, investors finally feeling comfortable enough with the economy and wanting more return being motivated to move out of bonds into equities, does the HP board absolutely nail the CEO choice, does the HP slate buzz inspire investors, etc. But a reasonable valuation applied to HP from the current forward looking P/E projections puts this stock at fair value given our current environment in the range of $48 - $55 a share by year end.
Disclosure: No Positions