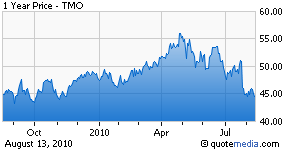 Thermo Fisher Scientific (NYSE:TMO) is a Life Science Tools and Scientific Instruments company with operations in the U.S., Canada, Europe, Asia and Australia. TMO offers high-end analytical instruments, software and related services for laboratory workflow integration under the Thermo Scientific brand, as well as a host of laboratory supplies and services through the Fisher Scientific product line, mostly utilized in health care, food safety and educational research markets. The company holds the #1 or #2 market share position in every business it operates in, except for biosciences (currently #3). However, TMO recently closed the acquisition for Finland-based Finnzymes to help boost the offerings for the bioscience market. With the recession mostly over, and government stimulus funding (in the U.S., China and Japan) contributing to increased demand, TMO is expected to show much better results for 2010 than it did during the global economic downturn experienced in 2009. Our model indicates that this company is currently trading at a discount to its intrinsic value.
Recent Events:
On April 19, TMO's board of directors authorized a one-year common stock repurchase program of up to $750 million. If all shares are repurchased before the expiration date of April 18, 2011, about 3.5% of the company's shares outstanding would be repurchased, using today's share price.
In Q1, TMO realized strong double-digit sales growth in both of its segments, beating the consensus estimates, and raised its 2010 guidance above analysts' expectations.
TMO maintains that acquisitions continue to be a key growth strategy, targeted toward tuck-in, complementary business purchases. So far this year, the company has announced about $520 million worth of acquisitions. The $637 million spent on acquisitions in 2009 is likely to be surpassed, now that TMO is more confident in its cash generation ability following the recovery in many of its end markets.
Disclosure: Long.