The U.S. stock market remains incredibly resilient. The S&P 500 Index (NYSEARCA:SPY) continues in a sustained uptrend despite an extended period of consolidation since the beginning of March and is currently just 1% below its all-time high. But despite this headline strength, all is not necessarily well with the stock market, as some disconcerting signs of weakness have emerged including notable declines in the Nasdaq (NASDAQ:QQQ), U.S. small caps (NYSEARCA:IWM) and biotechs (NASDAQ:IBB) in recent months. Perhaps even more importantly, one market segment in particular that resides near the very heart of the U.S. stock market is dealing with a mauling bear market that has already been unleashed.
Retail BOGO?
The retail sector within the U.S. stock market has been struggling notably over the last several months. After pushing admirably through the so-called "taper tantrum" last May and June, retail stocks as measured by the SPDR S&P Retail Index (NYSEARCA:XRT) advanced to new highs by the end of November 2013. But since that time, the XRT underwent a -14% correction that saw the index break below critical support at its 200-day moving average by early February 2014. In the months that have followed, the index has stabilized at least somewhat. It is currently +7% above its early 2014 lows, but it has set a series of lower highs and has fallen back below its flattening 200-day moving average. In short, the retail sector remains under pressure.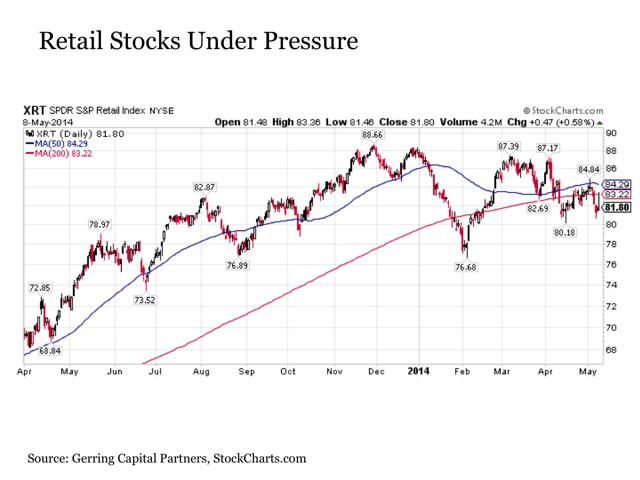 A closer look under the retail hood reveals even more troubling signs. When breaking down the S&P 500 Index, it is worth noting that seven of the ten worst-performing stocks year-to-date are all retail or discretionary consumer related. The following is a list of these worst performers including their year-to-date return (through Wednesday and including year to date ranking with "1." being worst).
1. Best Buy (NYSE:BBY) -36.27%
2. Whole Foods (NASDAQ:WFM) -32.38%
5. GameStop (NYSE:GME) -26.62%
6. Amazon.com (NASDAQ:AMZN) -26.60%
7. Coach (NYSE:COH) -24.63%
8. Bed Bath & Beyond (NASDAQ:BBBY) -24.03%
9. Avon Products (NYSE:AVP) -22.22%
These are all stocks that are currently embroiled in their own bear market year-to-date. It is worth noting that another major retailer in Staples (NASDAQ:SPLS) has also spent a fair amount of time in the bottom ten in its own bear market, but is currently ranked fourteenth following some recent price improvement.
14. Staples -19.01%
While the year-to-date 2014 numbers look bad enough, the peak to trough returns for these stocks is considerably worse. The returns for these selected stocks are shown below (also through Wednesday).
Best Buy -42.86%
Whole Foods -40.37%
GameStop -37.03%
Amazon.com -28.27%
Coach -44.81%
Bed Bath & Beyond -24.52%
Avon Products -59.12%
Staples -46.61%
Clearly, something is amiss in the retail and consumer discretionary sector. And these are not the only major stocks in the sector that are performing poorly. They just happen to be the worst among the group in the S&P 500.
One might look to explain the poor performance in part as the result of the inevitable demise of brick and mortar retailers with more purchase activity migrating online. Perhaps, but why then is Amazon.com, arguably the leading reason in the Internet space that might explain why so many traditional retailers are suffering, also on the list of bottom ten performers and in the midst of its own bear market. Maybe it is a response to the online retailer's still nosebleed valuation. Then again, maybe it is saying something more substantial in relation to the overall state of the U.S. consumer.
After all, it is not as though the economy has actually ever realized the long anticipated sustained recovery in the post-crisis period. And real median household income continues to show little signs of progress at levels that remain -8% below end of 2008 readings. Perhaps we have instead reached the juncture where the U.S. middle class, by far the country's most over lip serviced and arguably its most underserved voting constituency, is finally reaching their limits on additional discretionary spending. The stock market is a predictive mechanism, but it has become a wildly distorted barometer in recent years, so remains to be seen whether it is truly foreseeing greater challenges for the typical U.S. consumer in the coming months.
Stocks On Sale? Or A Value Trap?
Following the staggering decline in these worst-performing retail names in recent months, many are now sporting valuations that appear highly discounted on a relative basis. At present, the U.S. stock market as measured by the S&P 500 Index is trading with a price-to-earnings multiple of 18.0x on a trailing 12-month basis. In contrast, the following is a list of 12-month trailing P/E ratios for many of the worst-performing stocks listed above (Whole Foods and Amazon.com have been excluded because their valuations remain high both on an absolute and relative basis, while Avon Products has been operating at a net loss since 2012).
Best Buy 12.9x
GameStop 11.9x
Coach 12.8x
Bed Bath & Beyond 12.7x
Staples 11.8x
In more normal market times, these valuations would not seem all that notable, as they would reside still below but fairly close to the long-term market average. But in the current environment with the valuations of so many stocks floating at meaningful historical premiums, these multiples rank among the lowest in the U.S. large cap universe.
Does this suggest that favorable total return opportunities may exist among these heavily sold names? Perhaps, but it is worth noting that the price-to-earnings multiples for select retailers in the aftermath of the tech bubble such as Sears (NASDAQ:SHLD) fell as far as the mid single-digits before finally bottoming (the multiple for a number of retailers turned negative or became non meaningful data in the wake of the financial crisis due to the earnings denominator in the P/E ratio becoming either outright negative or just barely positive). Thus, depending on how much these retailers struggle with the still sluggish economy and a potentially fatiguing discretionary consumer, the possibility for further meaningful downside among these names continues to exist as a legitimate risk in the months ahead.
Implications For The Broader Market
Regardless of any opinion on these selected names, the fate of the U.S. consumer remains critical to the outlook for the economy and its capital markets. After all, the consumer makes up just under 70% of the U.S. economy as measured by gross domestic product, so if the recent decline among retail names is foreshadowing that the average American will be opening their wallets increasingly less for discretionary items in the months ahead, then sustained economic recovery in the second half of the year that we have been hearing about every year since 2010 but never materializes may prove elusive once again as we progress through the second half of 2014. If this is the case, the buoyant optimism that has been repeatedly priced into the stock market along the way may finally give way to some much needed skepticism in the process. It should be interesting to see how it all plays out.
Disclosure: This article is for information purposes only. There are risks involved with investing including loss of principal. Gerring Capital Partners makes no explicit or implicit guarantee with respect to performance or the outcome of any investment or projections made. There is no guarantee that the goals of the strategies discussed by Gerring Capital Partners will be met.
Disclosure: I have no positions in any stocks mentioned, and no plans to initiate any positions within the next 72 hours. I wrote this article myself, and it expresses my own opinions. I am not receiving compensation for it (other than from Seeking Alpha). I have no business relationship with any company whose stock is mentioned in this article.
Additional disclosure: I am long the stock market via the SPLV and XLU as well as selected individual names. I also hold a meaningful allocation to cash at the present time.