Bank of America (NYSE:BAC) just wrapped the company's annual shareholder meeting on Wednesday. You can review the presentation slides here. Several key factors discussed at the meeting underpin my thesis the bank is an excellent buying opportunity right now. Conversely, CLSA analyst Mike Mayo came out with a downgrade on the stock. I surmise the reasoning behind the downgrade as specious. In the following sections I will lay out my reasons as to why Mayo's downgrade makes no sense and lay out my bull case for the stock.
Deconstructing Mayo's downgrade
Well that did not take very long. Only one day after attending Bank of America's annual meeting, CLSA's Mike Mayo cut his fiscal year EPS estimate on Bank of America to $0.55 per share from $1 previously. His primary reason for the downgrade was based on the bank having just $2.4 billion on reserve for what could end up being a far larger MBS settlement with the DOJ. Other issues mayo noted were:
"Poor governance, including missing a compensation committee head, different time frames in financial charts, and a meeting that ended before all questions were taken, not to mention a chairman who seems to us like a figurehead." Mayo noted, "CEO Moynihan ran the entire meeting while Chairman Chad Holliday only gave a few mostly nonresponsive answers."
Even so, Mayo was not adverse to everything he observed. He listed three positives, the U.S. consumer banking arm, the investment bank, and wealth management. Mayo concluded his note by rating the stock a Sell with $15 price target.
I will address the issues Mayo detailed in his note one by one
The legal liability of a potential DOJ payout
Mayo concludes EPS will be cut in half due to the fact the bank has only $2.4 billion set aside for legal liabilities in the face of a potential $13 billion law suit rumored by the DOJ. Here are the problems with this assumption. First, this news is well known and priced into the stock already. Even by Mayo himself. He downgrades the stock, yet his price target is $15.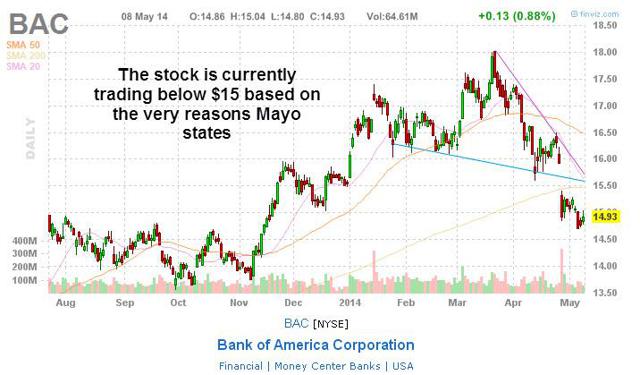 (Chart provided by Finviz.com)
The DOJ news has already done its damage as far as I can see. I posit Mayo's downgrade is actually a counterintuitive sign to buy rather than sell. Most downgrades and upgrades for that matter seem to come late. Further, it is not a done deal that Bank of America will settle or lose the impending legal dispute. On Thursday, news came out a lawsuit against JPMorgan (NYSE:JPM) has been dismissed.
Poor corporate governance
My first thought is - Really? Mayo is basing his assessment of poor corporate governance due to a few minor inconsistencies he perceived at the annual meeting and the fact Moynihan ran the majority of the meeting? This rational seems questionable. It seems Mayo is definitely reaching here for reasons to underpin his downgrade. Moynihan should have been running the meeting due to the fact he is the primary architect of the turnaround. Furthermore, his head is the one on the chopping block. If something goes awry, no doubt Moynihan will take the heat. I see this entire argument as specious.
As far as I can see, the positives Mayo listed far outweigh the negatives. Furthermore, his observations appear somewhat short sighted and shallow in nature. Mayo downgraded the stock based on a highly telegraphed potential near-term headwind related to a past acquisition. This seems like short-term thinking to me. Mayo is late to the party and the downgrade makes no sense at this point.
Several positive trends highlighted at the meeting far outweigh the negatives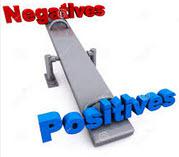 Global banking loan and deposit growth is up
Average loans and leases are up approximately 11% year-over-year. Moreover, Deposits are up nearly 16% year-over-year as well. The bank has achieved this growth by providing excellent customer service and focusing on the company's core strengths. The growth in loans, leases and deposits is a sure sign the bank is on the right track regarding organic growth.
Net income and EPS are up
Net income was up nearly two fold year-over-year. Furthermore, diluted EPS was up significantly year-over-year at 0.90. While revenues have mostly stabilized over the past year, the bank has done a bang up job cleaning house. When Moynihan took over, the bank was basically held together with duct tape. Fortunately, this left Moynihan with plenty of costs to cut and operations to streamline. The exponential increase in net income and EPS is proof positive the bank is on the right track.
Non-interest expenses are down
Over the past three years, Bank of America has reduced non-interest expense by approximately 11%. Bank of America has been laser focused on cost cutting. Moreover, the bank uncovered significant cost synergy savings. I expect this trend to continue for some time.
Revenue has stabilized
Revenue has stabilized at approximately $90 billion per year. Nevertheless, an uptick in revenue growth going forward must occur for the stock to move significantly higher. The financial engineering and cost cutting benefits will diminish at some point.
Potential Headwinds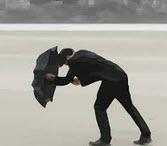 The one point Mayo makes that I do agree with is macroeconomic and geopolitical headwinds resulting in sluggish economy growth will weigh on the stock. The housing market appears to be at an inflection point and having a great comeback over the last few years. If the US housing market begins to fade, this could spell trouble for the bank.
Conclusion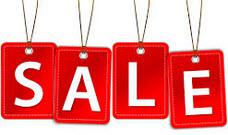 Bank of America has been hit by several major negative headlines as of late. Legal liability issues coupled with a major snag regarding the bank's capital return plan have taken their toll on the stock. I submit the major reasons behind Mayo's downgrade are already priced in to the stock at this point. Once market participants recover from recent headlines and focus on the fundamentals, I submit they will realize the bank is trading at a significant discount on both a historical and relative basis and buy the stock. I submit anyone who takes the time to do some serious due diligence will find the bank is extremely undervalued at current levels.
Final Thought
"Great investment opportunities come around when excellent companies are surrounded by unusual circumstances that cause the stock to be misappraised." ~ Warren Buffett
This is a lesser known quote from Buffett that I believe is quite apropos at the junction regarding Bank of America's current predicament. Furthermore, Buffett recently stated he remains bullish long-term on the bank and the current issues Bank of America faces don't bother him one iota. For what it is worth, I'll side with Buffett over Mayo every time regarding the future of a stock. Bank of America is a Buy in my book.
Disclosure: I have no positions in any stocks mentioned, but may initiate a long position in BAC over the next 72 hours. I wrote this article myself, and it expresses my own opinions. I am not receiving compensation for it (other than from Seeking Alpha). I have no business relationship with any company whose stock is mentioned in this article.