With the mobile phone market already saturated in the developed world (see my past post on S-Curves), operators and manufacturers alike have looked to the smartphone "trade up" market for growth. Just as there were winners and losers in the original race for mobile phone supremacy, there will be winners and losers in the smartphone race as well.
click to enlarge image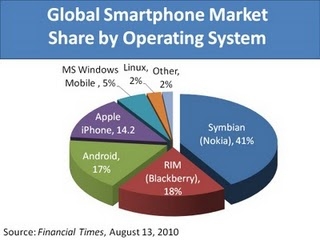 Nokia (NYSE: NOK), the Finnish company that emerged as the biggest seller of traditional phones, jumped out to an early lead in the smartphone market. But that lead is being chipped away at an alarming rate by upstarts like the Apple (Nasdaq: AAPL) iPhone and the various phones that use the Google (Nasdaq: GOOG) Android system.
While the iPhone gets most of the headlines, it's days in the sun might be limited. Android, almost overnight, has surged past Apple to become the number three global smartphone operating system and number one in the United States.
The parallels to the 1980s personal computer wars between Apple and IBM are obvious. Most techies agreed that Apple made a better product than IBM. But while Apple kept tight control over the manufacture and sale of computers that used its architecture and software, IBM opened its own to cloning. The result was an explosion in the IBM compatible "Wintel" standard and a long period of comparatively slower growth for Apple. This is why it is Bill Gates, not Steve Jobs, who was the richest man in the world for most of the 1990s and 2000s.
Is Apple making the same mistake again? It would appear so. Given the number of handset makers currently making phones to world with Android, its hard to see how Apple can maintain technological superiority at an affordable price. But it's not just Apple. Nokia too is being rather pigheaded by insisting on using its own Symbian system. Perhaps the company's management is too proud to discard a project that they have invested so much time and money developing. At any rate, as students of economic history, all of this will be fun to watch. In the world of mobile communications, we're watching the creative destruction process happen before our eyes. In the end, we'll all have better--and cheaper--phones to show for it.
The Best Bet for Investors? Surprisingly, Nokia
Standard mobile phones (i.e. non-"smart" phones) have now become a commodity and have lost their allure to investors. You can see this by looking at the valuations of cell phone makers like Nokia. The Finnish giant is trading at a forward P/E ratio of 10, a Price/Sales ratio of only 0.6 and a dividend yield of 4.5%.
The pessimism towards Nokia would appear to be a little overdone. Even if the continues to lose market share at the high end to Apple, Research in Motion, and the Android phones and margins are compressed further at the medium and low end (as would be expected in a commodity business), Nokia remains the biggest maker of mobile phones in the world and has a strong presence in many emerging markets.
It also has a rock-solid balance sheet with no net debt and it has $3.41 in cash per share -- not bad considering that the stock is currently trading at $8.90. Nearly 40% of the company's market cap is cash!
Nokia might have a couple more bad quarters, but the company is not at risk of true financial distress any time soon. Nokia is strong enough to tread water until its management team can get its act together.
At current prices, shares in the beleaguered Finish company might be a good contrarian bet. Given that the company is priced for destruction, any improvement could send shares soaring.