TransAlta Renewables (OTC:TRSWF) is a public spinoff of TransAlta (NYSE:TAC), which still owns approximately 80% of the shares. The company is the largest generator of wind power in Canada. Combined with their hydro assets, they have over 1100 MW of clean energy generating capacity. The company has many of the characteristics of an attractive spin-off investment, while also having the characteristics of an attractive dividend investment. The company is also traded in Canada under the symbol RNW, and all the figures in this article are in Canadian dollars.
Dividends
The company is currently paying a 6.7% dividend yield, which, when combined with their reasonable level of leverage and long term contracted revenues provide for a compelling investment thesis.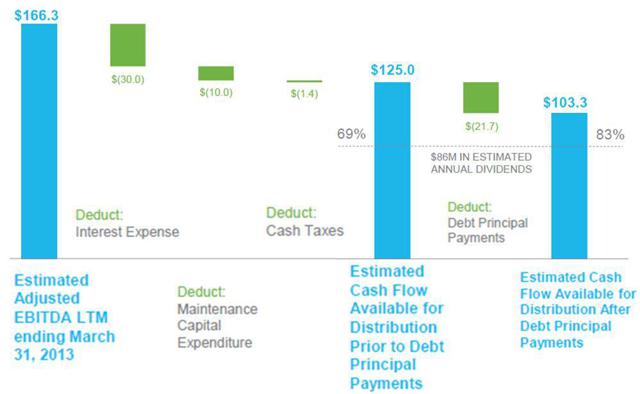 Source: Company Presentation
The company has a comfortable payout ratio as shown above, and debt is 3.5 times EBITDA, which is reasonable for a power producer with long-term contracts.
Stability of Cash Flow
These contracts have the additional benefit of being indexed to inflation, according to the prospectus from the recent IPO. The average term of these contracts is 17 years, which provides long-term certainty to the company's cash flow and justifies a higher multiple than would otherwise be the case. A breakdown of the credit rating of its counterparties appears below, showing their financial strength as all are investment grade.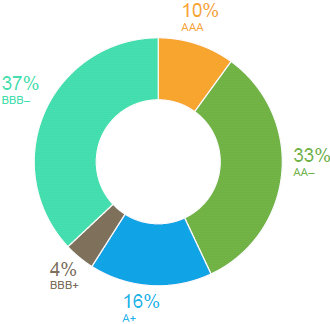 Source: Company Presentation
The financial strength offered by the company's counterparties reduces the risk to its earnings from default.
Other Risks
The amount of power produced by its generating stations is exposed to wind and hydroelectric availability risk. If there is below normal rainfall or wind in the area of its plants, its generating capacity (and hence its earnings) could be affected. However, the company has significant geographic diversification, which reduces its weather risk. It's highly likely that a low rainfall or wind year in one location would be at least partially offset by better conditions elsewhere.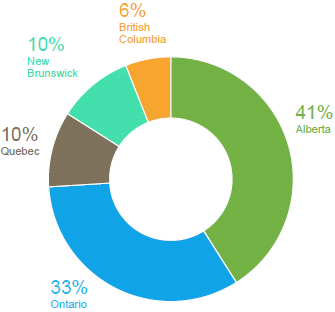 Source: Company Presentation
Additional risks to the company would come from changes in interest rates. As the company's pricing is largely fixed, higher interest rates would hurt them as they would have no ability to pass on higher interest costs to their customers. Also, higher interest rates would lower demand for their shares as investors would have more fixed income options. This risk is manageable, as the yield on the shares is significant. Spreads would likely compress in a rising interest rate scenario, and central bankers are expected to telegraph changes in rates well in advance.
Upside Potential
TransAlta Renewables also has significant upside potential from making additional acquisitions. The parent company owns 1100 additional MW of renewable generation that it may downstream to TRSWF.
In addition, TransAlta Renewables has already started making accretive acquisitions from third parties. In this acquisition of a wind farm in the Western USA, they have increased their future distributable cash flow by 2-3%. The company increased its dividend at that time, and would be expected to do the same as further accretive acquisitions are made.
This asset has a number of attractive financial characteristics, with a power purchase contract extending to 2028 with an investment grade counterparty. This combination of accretive acquisitions and downstreaming of parent assets for growth in income is analogous to a growth MLP. But TransAlta Renewables is a regular corporation, and there is no incentive distributions as with many MLPs. This more appropriately aligns the interests of the parent company with the interests of the investors in the subsidiary.
The parent company, TransAlta, is not trying to monetize their entire stake in TransAlta Renewables, they are attempting to receive credit for the long life renewable assets they own from the market, which views them as primarily a coal merchant generator. This is important to the thesis for investing in TransAlta Renewables, because it means TransAlta has an incentive to treat them fairly when downstreaming its remaining renewable assets. In fact, TransAlta allowed the renewable subsidiary to use its balance sheet for the recent acquisition mentioned above, allowing TransAlta Renewables time to raise the money in the most efficient manner, and not pay fees for a standby facility. Thus, TransAlta's interest in improving the TransAlta Renewables stock price protects the subsidiaries' shareholders.
This generous treatment by the parent is one example of spin-off dynamics at work. Because the parent wants the subsidiary to succeed, it has an incentive to provide support.
Valuation
The company generated $1.34 per share in cash available for distribution in 2013, which easily covers their distribution of $0.77. This indicates that the distribution of 6.7% is sustainable, as it is well covered by stable earnings. A stable high yield company with a well covered dividend has the potential to be attractive for income investors in the current interest rate environment. There is also the potential for a macro tailwind to the company for US investors, as the Canadian dollar has been weak over the last year. An investment denominated in Canadian dollars exposes US investors to the potential to make currency gains if the Canadian dollar recovers its recent losses.
Conclusion
In conclusion, TransAlta Renewables is a company with an extremely stable business. It has a well diversified base of long life, low maintenance generating assets with long term contracted revenues. The company has a well covered nearly-7% yield, and trades for less than 9x recent cash flow available for distribution. The company also trades in Canada on the Toronto Stock Exchange under the symbol RNW, which has better liquidity.
Disclosure: I have no positions in any stocks mentioned, but may initiate a long position in TRSWF over the next 72 hours. I wrote this article myself, and it expresses my own opinions. I am not receiving compensation for it (other than from Seeking Alpha). I have no business relationship with any company whose stock is mentioned in this article.