By Ryan Puplava
Thursday's European Central bank (ECB) meeting implied that the ECB may cut rates in June if economic data motivates them to weaken the euro. The biggest concern seems to be with the strengthening euro while low inflation persists. The recent mini spike in the annual Harmonized Indices of Consumer Prices (HICP) inflation to 0.7% in April is believed to have been a fluke due to a rise in services prices given the timing of Easter, so it sounds like the board of governors want to see the June projections and more data before acting on any immediate policy responses — citing how the board sees both upside and downside risks at this time.
Regarding credit flows and money supply, the ECB noted that data for March showed broad money (M3) growth had slowed to 1.1% in March from 1.3% in February. The board of governors noted that the increase in money supply has mainly been due to foreign investing in euro assets — probably in anticipation of potential QE like the Japanese did in 2013.
Before the ECB was concerned about inflation, or the lack thereof, from 2009 to 2012 the primary concern was about the broken financial system and bank lending. ECB Governor Mersch had said a month ago that 99.7% of job growth occurs among small and medium-sized enterprises. It is clear from the data, that banks are lending again and credit standards have eased to enterprises, but there's still a lot more room to go until we get into any credit bubble risk. Note from the charts below that requirements have softened while margins on loans have dropped since 2012 near the peak.
Changes in Terms and Conditions for Loans or Credit Lines to Enterprises
(net percentages of banks reporting tightening terms and conditions)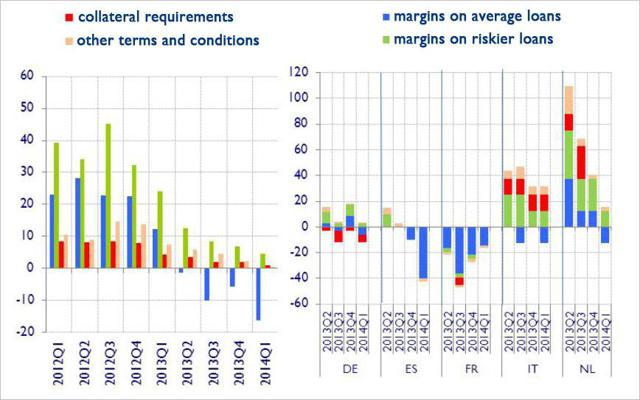 Source: ECB
Regarding asset purchases, the Governing Council is not resigned to having low inflation for too long of time. So having low inflation is one issue. How long it persists is another. As ECB President Mario Draghi has recently stated, he believes the drop in the annual inflation rate from 2.7% in the first quarter of 2012 to 0.7% currently is 80% due to lower energy and food prices — which he has called good disinflation because as we know, it puts more money into the consumer's pockets. As such, I believe the ECB will be very slow to act on asset purchases.
Based on current comments and economics for Europe, it is likely we may see a drop in interest rates at the June meeting if inflation drops again mainly to counter the rise in the euro. The rise in the euro has been caused by economic recovery and capital inflows. Capital inflows have resulted from yield-seekers over the past two years in bonds which were paying abnormally high rates due to risk premiums assigned to the European Sovereign Debt crisis from 2010-2012. Not only has money been seeking yield, but also, I believe, as a result of asset purchasing anticipation. It worked well, for example, if you invested in Japanese equities last year, which, like Europe currently, has cited a unanimous commitment to use "unconventional instruments."
Spanish Government Bonds Yields, 10-year Maturity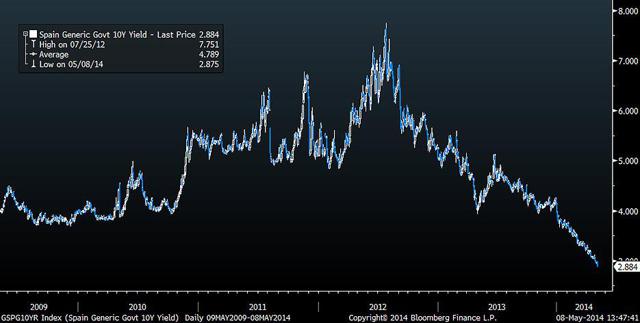 Source: Bloomberg
I hope that investors aren't disappointed at the June meeting because I would like to see European stocks continue to rally as a result of credit flowing again and the economies improving, yet I have to wonder at the difference between the credit quality of Spain and the credit quality of the U.S. that would suggest why Spanish yields are only 28 basis points away from each other. That seems too close to me and maybe Euro debt is a crowded trade. Food for thought.