I've always taken great interest in unconventional economic indicators. From the cardboard box index to the skinny tie indicator, some are useful while others are borderline laughable. The premise is simple; can a series of seemingly meaningless data points actually help measure economic health and predict market direction? I believe so.
By plotting the traffic trends at the Teterboro Airport it appears one can forecast the strength of the economy and perhaps even the market.
Origins of My Theory
As an East Coast-based corporate pilot, I spend much of my work life shuttling passengers to and from the airport in Teterboro, NJ. Teterboro Airport sits a mere eight miles from midtown Manhattan and is the premier feeder airport for corporate traffic to the New York metro area. What makes it useful as a gauge is that no scheduled service is authorized, meaning every operation is classified as 'General Aviation'. Though it's impossible to differentiate between pleasure and business travel, there is no denying that corporations everywhere flock to this airport as they visit the world's most powerful economic metropolitan area. Teterboro is also the home base of numerous corporate flight departments from AIG to Colgate-Palmolive (NYSE:CL) to Sony (NYSE:SNE) and Barnes & Noble (NYSE:BKS). On any given day you can spot dozens of corporate logos emblazoned on the tails of the hundreds of aircraft parked on the ramps.
Since 2002 here is how the traffic volume at Teterboro charts on a graph.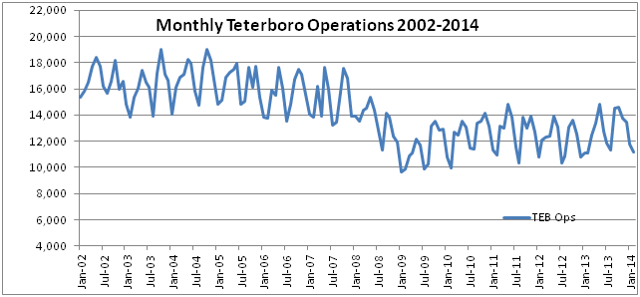 What immediately struck me when I first charted this data was the incremental decline in traffic starting in 2005 and continuing until the rapid drop during the 2008-2009 recession. How could there be such a decrease when everything else seemed like it was headed into bubble territory?
For the following chart I used historical data from the 50 state Coincident Economic Activity Index, published by the Philadelphia Federal Reserve.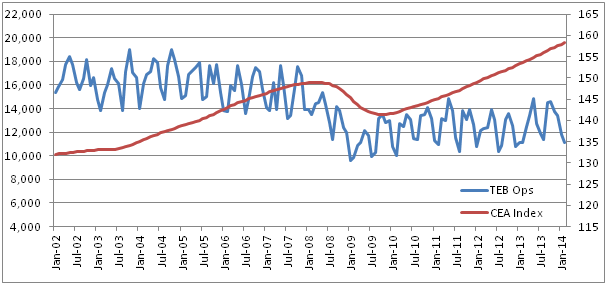 The divergence becomes more evident when plotting these two data strings together. What were the causes of the clear decrease in activity post-2004? Fuel prices were certainly a factor, as the average cost per gallon nearly doubled from 2003 to 2005. But that doesn't explain the whole story because fuel prices remained below the 2005 highs until early 2008.
For further analysis I plotted the Teterboro activity against the S&P 500 (NYSEARCA:SPY) due to its broad spectrum. The results were similar when plotted against the Dow Jones (NYSEARCA:DIA).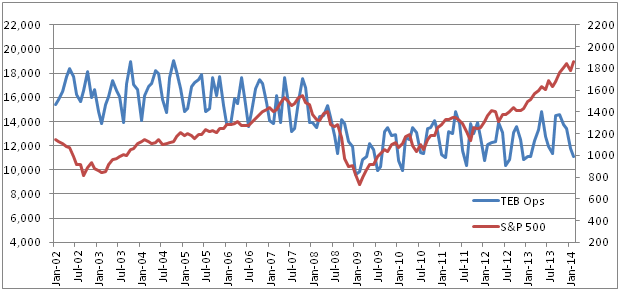 Plotting against the S&P 500 yields what appears to be a more accurate depiction of where and when the market moved compared to business aircraft usage. Notice that by the peak of the S&P in the fall of 2007, the Teterboro index had been decreasing for over two years. In October 2004 Teterboro had 19,036 operations, or 614 per day, which is incredible for an airport with no scheduled service or flight training. By July of 2007 operations at Teterboro hit a low they had not seen since September 2001, all while the market was reaching new highs.
Is This a Leading Indicator?
I don't think anyone can argue the productivity that is yielded from the use of business aircraft, which is why I've assumed that you as the reader agree to that point. If you thought every business aircraft was used only to whisk the CEO and his family to Aspen or St. Maarten you'd be incorrect. Therefore I would argue that in context the Teterboro Index can absolutely help paint a picture of where the market is headed. Shareholders place a value on a corporation by measuring current and future earnings potential. However, the events that precede a quarterly or annual report may already be three-months old by the time the shareholder has access to the information. And before Company XYZ announces that big acquisition they've likely traveled to the location a multitude of times on an aircraft. When business aircraft traffic decreases so do face-to-face meetings, job site visits and mergers and acquisitions. Today a growing economy appears to be very closely linked to the use of business aircraft, as witnessed in the massive growth of this type of travel in the BRIC nations.
What's harder to prove is whether a looming economic downturn is the cause or an effect of a decrease in this index. I think one could argue either point, but if a decrease can't be blamed on rising fuel costs, airport construction or disruptive weather than perhaps businesses are just traveling less. That could signal they're investing less on growth, not keeping track of their supply chains as closely, forgoing mergers or generally leaning their balance sheets to prepare for rocky times.
Where are we today?
Traffic levels are still down dramatically from ten years ago. Over the last decade many flight departments closed their doors and sold their aircraft, some for business reasons and others political. Operations today may also still be restrained by fuel and other costs. The lethargic growth rate surprises me though, and if the Dow, S&P and Nasdaq (NASDAQ:QQQ) keep surging forward without a corresponding increase in the 'Teterboro Index' I'd view this as a cause for concern. If the index does begin a clear upward turn I believe it could eventually approach the highs of 2004. I will continue to monitor the data as it's published, specifically looking for year-over-year growth during the months of March, April and May 2014.
Disclosure: I have no positions in any stocks mentioned, and no plans to initiate any positions within the next 72 hours. I wrote this article myself, and it expresses my own opinions. I am not receiving compensation for it (other than from Seeking Alpha). I have no business relationship with any company whose stock is mentioned in this article.