If you are a
Winn Dixie (NASDAQ:WINN)
shareholder, you probably feel like you are at the end of your rope. The stock is near historic lows of $8.25- the same level it was in March 2009, when the Dow was at a paltry 6500 and market panic was at its most feverish pitch . The regional supermarket chain is still making money and remodeling stores, but what good is that, if it never seems to translate into a higher share price?
Shareholders are getting impatient, so at least throw them a bone- such as a 20 cent annual cash dividend or a token stock repurchase plan , something to make the wait more bearable. I guess there is a bright side to the share price slide- the lower it drops, the more susceptible it becomes as a takeover play. Remember this is a stock ,that is selling at ½ book, has virtually no debt and $3.35 in cash per share, representing 39% of its current "give away" market cap!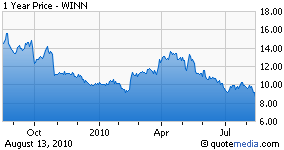 Restructuring efforts are step in the right direction: WINN announced they will close 30 underperforming stores, as well as eliminate 130 corporate positions. This course of action, albeit painful, will ultimately save about $15 million per year or roughly 27 cents per share, despite a onetime charge of $35 million to $50 million taken against its first quarter. If you add those savings to fiscal 2010's analyst estimates of 37 cents, you end up with 73 cents and a bargain forward multiple of 12!
Fundamentals are not that bad: Even though the company reported a 2.5% loss of sales in its latest quarter, it was still able to maintain its gross margin levels despite consumers going deeper into "bargain mode" mentality. WINN's gross profit margin was still a decent 28.4% versus 28.8% in the year earlier quarter, while its SG&A costs actually fell 2.1% from $468 million to $458 million. It could be worst, but there is no question, management has to do more.
Bottom line: the five analysts who provide WINN research coverage all have price targets above the Grocer's current share price, tallying to a one year median price target of $13. With this in mind, I wouldn't be surprised, if we see an upgrade transpire on valuation purposes alone. Although this stock has really thrown me for a loop, and in the process decimated my wallet, selling at this juncture, seems to go against every grain in my body. I guess I am a glutton for punishment!


Disclosure: Long WINN