Caterpillar (NYSE:CAT) announced that it is building an Excavator plant in Victoria, Texas which will triple its excavator capacity. The plant will employ 500 people and will be finished by 2012 according to the Wall Street Journal.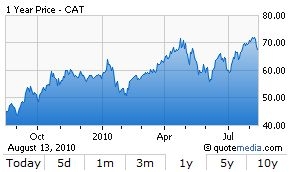 Not only is this a positive sign for the 500 people who will go to work once the plant is fully finished, it's a plus for the construction industry as a whole, as the plant will employ additional workers to help build it.
This is a positive sign for the Peoria, Ill. based company as it sees demand for its products surging, as emerging markets ramp up growth in their economies. "Based on our comprehensive review of possible locations, Victoria's proximity to our supply base, access to ports and other transportation, as well as the positive business climate in Texas, made this the ideal site for this project," Gary Stampanato, Caterpillar vice president for excavators, said in a statement.
The Victoria plant is Caterpillar's second major recent investment in business friendly Texas. Its engine-manufacturing operations were moved to a new plant near San Antonio early in the year.
I have liked Caterpillar as a long term investment based on surging demand for its products, cost cutting measures that improved its profitability, and sound management that knows when to expand. Investors may want to take a look at picking up shares of Caterpillar before its analysts day, which is set for August 19.
CAT has a rock solid balance sheet, a solid dividend yield at 2.6%, and is trading at a 13.4 forward P/E, which will start to move higher towards the start of next year.
Disclosure: No positions