Bonanza Creek (NYSE:BCEI) Reports In-Line Volumes; Bottom-Line Miss on One-Time Costs; Super Section Looking Good. Pre-Call Note: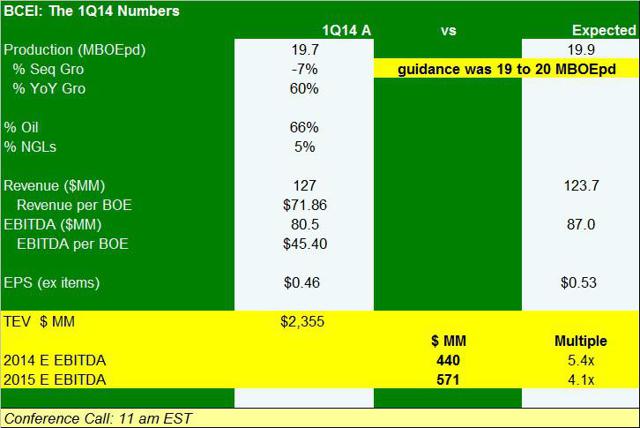 The 1Q14 Numbers: Volumes were in line (19.7 vs. a guidance range of 19 to 20 MBOEpd), while revenues scored a modest beat, but the bottom line missed due to a) LOE that was driven higher by winter and b) higher G&A due to severance for executive departures... both of these are one-time items, and we see costs falling back into line with guidance as volumes mount a resurgence in 2Q14. So it's an EBITDA/bottom line miss, but it's a pretty explicable/forgivable one.
Guidance: Reaffirmed YoY guidance equating to 50% on the mid.
Highlights:
Super Section 15-well pilot designed to test a number of spacing regimes from 3 pads using all standard length laterals (4,000'):
Pad 1 (east pad) (80-acre spaced Niobrara B with an offset Nio C and then 2-80 acre spaced Codells)
Average 30-day rate of 448 BOEpd (from the average of 3.66 of the 5 wells - one Codell well had a casing failure and one of the Nio B's could not be completely cleaned out, resulting in 6 stages not contributing to production),
Normally for 80 acre Nio B's, we expect 30-day rates of about 460 BOEpd; for Nio C's, it's a smaller sample set, but would look for a little over 420 BOEpd, and then we'd just expect a much wider variance of rates for Codells,
They did say they noted minimal communication between the Codell wells, which we take as a positive sign, but again, look to the call for color.
Pad 2 (middle pad) (40-acre spacing test with 3 Nio B and 2 Nio C wells)
Average 30-day rate of 374 BOEpd,
The subset of 40-acre spaced wells operated by BCEI to-date has been limited, but these rates would be just over 400 BOEpd (for Nio B wells) was for Nio B wells drilled as single wells. It could be the lower-rate Nio C's here (the Nio C should be thinner than the Nio B here) are bringing the pad average,
They had also previously drilled a pad of 4 wells at 40 acre spacing in the Nio B that had an average 30-day rate of 343 BOEpd, so these new wells would appear to be an improvement over those. Definitely want to see color on that.
Pad 3 (west pad) (80-acre spaced test of 3 Nio B and 2 Nio C wells)
Average 30-day rate for the 5 wells of 516 BOEpd,
Note that average 30-day rates in the Nio B and C have been 458 BOEpd and 422 BOEpd respectively, so all things being equal, this is an interesting upgrade to the average rates.
So all in all, pretty good rates, pretty much what you want to see as you look to formulate the early template prior to going into development mode. Look for comments on the call on pad drilling and batch completion savings over the normal $4.2 mm cost and efficiencies they see within the current program for this year in terms of shorter spud to TD times. Also look for them to talk about the possibility of the next text incorporating longer laterals.
Favorite quote watch:
"The Super-Section results increase confidence in our 3P inventory - establishing that, in areas where the Codell is prospective, 20 wells per section is a minimum for development and up to 36 wells per section is achievable."
Other Operations Items:
Upcoming catalysts:
Additional Long Laterals - the first Codell and Nio C extended laterals and the 4th Nio B (guessing we hear rates on those next call),
Nio A bench tests in the DJ Basin and in the North Park Basin (later this year, but look for timing on how much later on the call),
Look for them to test the thinner Codell this year with the underlying Carlisle as well, which could greatly increase their Codell location count as well.
Mid-Continent: Nothing really new to say this quarter.
Balance Sheet vs. Capex:
Balance sheet is in very good shape, with debt at 1.4x 2013 EBITDA and net debt to cap of 33%.
Budget of $600 mm on the mid vs. liquidity of $545 mm and EBITDA for this year of about $440 mm. We don't see them tapping the equity markets soon, unless they come across something they can't live without on the M&A front.
Nutshell: Solid quarter operationally, but one-time expense items will prompt some knee-jerk selling in the morning. Everything remains on track as far as annual production goes as they start to ramp up the completions after their normal, planned, winter lull. On the super section front, we see the results in the press release as largely encouraging, though further color will be needed on the call to give their thoughts on how the results translate across their acreage position and how that works towards a higher location count. Valuation remains inexpensive on current year and out-year EBITDA for the oily growth they are generating. We continue to own BCEI as a top-five position in the ZLT.

Disclosure: I am long BCEI. I wrote this article myself, and it expresses my own opinions. I am not receiving compensation for it (other than from Seeking Alpha). I have no business relationship with any company whose stock is mentioned in this article.