Chesapeake Energy Corp. (NYSE:CHK) is an oil and natural gas E&P company. It started out as a mostly natural gas E&P company. When the bottom fell out of natural gas prices, it was far over extended due to the "gambling" mentality of its then CEO Aubrey McClendon. CHK was forced to expand into oil and NGLs E&P with already huge debts. CHK managed to do this with a great strategy and good to great technical expertise. CHK is just now finally starting to emerge from its "debt hole." The new management team of Chairman Archie Dunham [from ConocoPhillips (NYSE:COP)] and CEO Doug Lawler [from Anadarko Petroleum (NYSE:APC)] has been making a lot of good management moves that are starting to add up.
CHK's adjusted EPS were $0.59 per share. This beat estimates of $0.48 per share handily; and it was almost double the year ago Q1 result of $0.30 per share. Some of this was due to the higher natural gas prices gleaned due to the colder than normal winter of 2014. Also in November 2013 CHK began delivering natural gas from its Northern Marcellus play into the Spectra pipeline. This receives pricing at the TETCO-M3 hub, and it accesses the Manhattan market. CHK was able to garner a premium to Nymex Henry Hub prices in excess of $5/Mcf during the 2013-2014 winter. CHK estimates that the firm transportation commitment on the Spectra pipeline enabled it to generate +$210 million of incremental operating cash flow. CHK also saw extra earnings from the early start-up of the ATEX NGLs pipeline.
CHK grew adjusted production by 11% year over year to 675,200 boe per day; and this was without the 7,600 Boe/d that were down due to weather concerns. Further CHK shrank its CapEx by 50% year over year in Q1 2014, although some of this was due to work that was put off due to weather.
CHK increased its FY2014 adjusted production growth from 8%-10% to 9%-12% (or by +1.5% using the range midpoints). CHK raised its FY2014 operating cash flow outlook from $5.1B-$5.3B to $5.8B-$6.0B (or by $700 million using the midpoints). Part of this is accounted for by the $210 million windfall from the cold winter Manhattan natural gas prices. CHK increased its oil field services net margin by $25 million for 2014. This reflects improving industry trends and an increased utilization by third parties of CHK's oil field services equipment. CHK's recent $3B debt refinancing reduced its weighted average interest cost from 5.9% to 5.1%; and it is projected to save $115 million per year in cash interest costs going forward. Approximately $92 million in cash flow increase is associated with the production guidance increase.
Unfortunately approximately $190 million of the operating cash flow increase is associated with a change in the accounting hedging presentation assumptions. In other words, without this hand waving the increase in cash flow would only be about $500 million. Also CHK raised its oil and gas price deck assumptions. They are now $95/Barrel for oil and $4.50/Mcf for Q2-Q4 2014. These price assumptions are up from $90/Barrel and $4/Mcf in the previous guidance. This accounts for about $340 million of the rise in cash flow guidance. This is good at first glance; but investors should be aware that this increase could fully or partially disappear just as quickly.
All told a lot of the new rise in guidance is hand waving or new price assumptions. However, the company is making big strides in conserving monies. It is controlling CapEx spending much better, without curtailing development. For example, CHK reduced its capital cost per well by about $100,000 per well in Q1 2014 over the average FY2013 well cost. With more than 1000 gross wells planned for FY2014, this will amount to a considerable savings.
Another good point in CHK's favor has been the quick development in its Eagle Ford field already in Q2 2014. As of May 7, 2014, CHK was already producing approximately 95,000 Boe/d from the Eagle Ford. This is up from an average of 88,000 Boe/d for all of Q1 2014. This virtually ensures that the average production from Eagle Ford field for Q2 will be higher than 95,000 Boe/d. This should be a nice bump for CHK's earnings, especially when you consider that the Eagle Ford production breakout for Q1 2014 was 64% oil, 15% NGLs, and 21% natural gas.
Another great point is twofold. First the US natural gas prices have gone up due to the cold winter; and many expect them to stay high at least through next winter. Many also expect US natural gas prices to rise further into the $5-$7/Mcf range as many new sources of natural gas demand appear or increase in the coming years. The article, "U.S. Natural Gas Stores Are Dangerously Low, That's Good For Pipeline And Storage Companies," gives a detailed account of factors that will lead to higher natural gas demand. With CHK's natural gas production at 2.9 Bcf/d in Q1 2014, natural gas prices are very important to CHK. This is especially true longer term as CHK will get the opportunity to acquire higher priced hedges.
Second the ATEX pipeline will allow CHK to ship more NGLs (natural gas liquids) production to higher priced markets for a relatively low cost. This is increasingly important to CHK with all of its Southern Marcellus and Utica production. It is especially important to CHK's Utica development efforts. Net production in the Utica averaged 50,000 Boe/d in Q1 2013; and this field is still a new one. Production is growing rapidly; and that production was 30% NGLs in Q1 2014. It is important that CHK can get that production to the higher priced markets cheaply. The ATEX pipeline has an initial capacity of 125,000 Bpd; but this is expected to expand to 265,000 Bpd. This should be very helpful to CHK as it expands its NGLs production. The ATEX runs 1,230 miles to the refinery centers in Texas. CHK's NGLs production was up 55% year over year in Q1 2014; and it seems likely to keep rising quickly.
All told a number of the reasons for the raise in guidance were due to price expectation increases, and hand waving accounting changes concerning derivatives treatment. However, CHK would have had some guidance raises regardless. Naysayers might point to the extra approximately $210 million gleaned due to high natural gas prices brought on by harsh winter weather. However, these millions were mostly taken into account in the previous guidance (released in February 2014). Therefore that $210 million accounts for very little of the current guidance increase. All told CHK is seeing great growth. The growth looks sustainable; and even in the base case the growth was significantly higher than previous guidance.
On top of all of the above CHK is selling assets to bring its debt down. It has already sold $925 million in assets so far in 2014. It may sell/spin off its Chesapeake Oilfield Services subsidiary for roughly another $2B or so. Plus I am sure it has a number of other deals lined up. For those interested, CHK plans to discuss projected asset sales for the remainder of 2014 in depth at its Analyst Day on May 16, 2014.
FY2014 is projected to be the first year in a long time that CHK's operating cash flow will exceed its planned CapEx. With operating cash flow exceeding CapEx, asset sales should really help CHK reduce its debt. The chart below shows clearly just how far CHK has come in bringing its costs in line with its expenditures.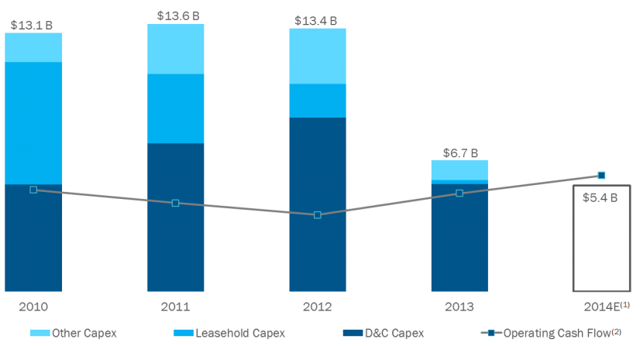 Click to enlarge
The bottom line is that recent performance and future plans are nothing short of excellent for a company that was already forecast to have a next five years' EPS growth per annum of 35.03%. Expenses no longer far exceed income; and income is growing quickly as expenses are falling. CHK is a buy.
The two year chart of CHK provides some technical direction for this trade.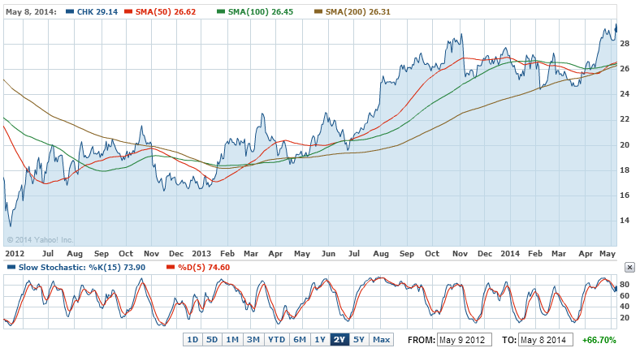 Click to enlarge
The slow stochastic sub chart shows that CHK is near overbought levels. The main chart shows that CHK is in a weak uptrend. The latest earnings report should help CHK to sustain that uptrend.
CHK pays a 1.2% dividend, which should increase as CHK's fortunes increase. CAPS gives CHK four stars (a buy). The mean analysts' recommendation is only 2.8 (a hold); but analysts often lag reality. I am sure CHK's history for being a "gambling" company under ex-CEO Aubrey McClendon played a part in the analysts' rating of CHK. However, activist investors, Icahn and Hawkins, are firmly behind CHK. It does still have roughly 12.8 million net acres of great development leaseholds. It is a great growth story. It is an improving fiscal story. It is a great execution story. It is a long-term buy. However, if you think the overall market is in for a severe pullback (as many do), then it might be best to average in.
NOTE: Some of the fundamental fiscal data above is from Yahoo Finance.
Good Luck Trading.
Disclosure: I have no positions in any stocks mentioned, but may initiate a long position in CHK over the next 72 hours. I wrote this article myself, and it expresses my own opinions. I am not receiving compensation for it (other than from Seeking Alpha). I have no business relationship with any company whose stock is mentioned in this article.