This Great Graphic, composed on Bloomberg shows that the euro is now testing a ten-month up trend that comes in near $1.3780 today. We suggested this target yesterday when we realized the euro was posting a key reversal.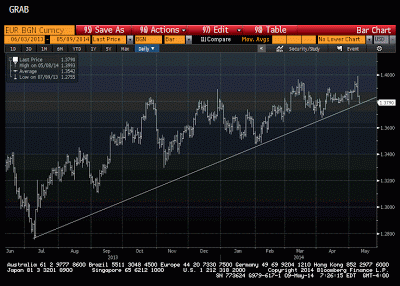 A break of there, and there is scope for another cent retreat (~$1.3675) as the late longs move to the sideline. The next immediate target, though may be the 100-day moving average near $1.3740.
We note that the 200-day average is near $1.3620. If the 10-month uptrend itself is going to be corrected, the 38.2% retracement comes in near $1.3520.
The key issue for traders is whether the uptrend has reversed or if this is a correction. It appears to be a correction at this juncture, even though the correction does not appear to be over.
Disclosure: I have no positions in any stocks mentioned, and no plans to initiate any positions within the next 72 hours. I wrote this article myself, and it expresses my own opinions. I am not receiving compensation for it. I have no business relationship with any company whose stock is mentioned in this article.