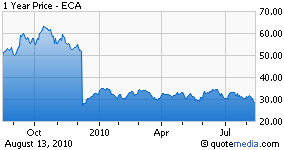 Buy-recommended Encana Corporation (NYSE:ECA) offers unlevered appreciation potential of 25% to a McDep Ratio of 1.0 where stock price would equal Net Present Value (NPV) of $42 a share. Second quarter results released today matched our estimate for unlevered cash flow (Ebitda) with increased volume offset by lower margin.
Acknowledging inflation in service costs, Chief Executive Randy Eresman believes that Encana's "gas factory" approach will reduce unit costs as ECA applies the technique more widely. He believes his company can find and develop natural gas supply while earning an acceptable return at a price of $4 a million btu. In contrast, he pegs the marginal cost for the industry as a whole at $6. That spread justifies the new corporate strategy to double natural gas production per share over the next five years. Not only has the company already identified the drilling locations to provide that growth, it is regularly uncovering new potential.
In the second quarter release, Encana announced the discovery of the Brent Miller field in Texas with a well that initially flowed at 30 million cubic feet daily, extending the Haynesville formation onto 45,000 acres leased by the company. Though there has been no big well yet, Encana disclosed a 250,000 acre position in the Collingwood Shale, a new play in Michigan. Seeking a reward from rapidly growing volume, Encana protects against the risk of low price by striving for low cost.
Originally published on July 21, 2010.