Introduction
Since I wrote my last article on CYS Investments Inc. (NYSE:CYS), the share price has appreciated by 14%, but in my opinion, CYS still has the best upside potential in the industry. The company has shifted the portfolio composition to better match the current environment. CYS continues to outperform everyone in the industry (not just the average). Plus, the company remains cheap relative to industry peers.
What Has Changed
Book value per share has declined from 10.10 to 9.68, but interest rate spread net of hedge, including drop income, has increased from 1.66% to 1.89%. Adjusted average cost of funds and hedge has decreased from 1.01% to 0.96%, and weighted average CPR has declined from 12.4% to 6.1%. All these variables led to an increase in core earnings from $.23 to $.28. The $.32 dividend the company paid in the first quarter is sustainable.
The company repurchased 5.2 million shares at an average price of $8.28 in the fourth quarter. No further repurchases were made in the first quarter. This makes sense, as the company is no longer trading at a significant discount to book value.
Although it's thought that CYS is more volatile than other companies in the industry, the leverage has been reduced to 6.32. The company has also significantly shifted the portfolio since my last article.
| | | | | | |
| --- | --- | --- | --- | --- | --- |
| | 31-Mar-14 | | | 30-Sep-13 | |
| | Fair Value ($ in billions) | % of Total | | Fair Value ($ in billions) | % of Total |
| 15-Year Fixed Rate | 6.4 | 48% | | 6.2 | 43% |
| 20-Year Fixed Rate | 0.1 | 1% | | 0.1 | 1% |
| 30-Year Fixed Rate | 3.3 | 24% | | 6 | 42% |
| Hybrid ARMs | 2 | 15% | | 2.1 | 14% |
| U.S. Treasury Securities | 1.5 | 12% | | - | -% |
| Total | 13.3 | 100% | | 13.9 | 100% |
The movement out of 30-Year Fixed Rate suggests that the company believes that interest rates are more likely to start increasing. In fact, listening to the conference call reinforces this.
I strongly suggest you listen to the conference call and look at the Q1 2014 supplemental earnings presentation, because there is some great information; especially the Q&A in the conference call. I really like the way the company has positioned itself. The company is significantly less vulnerable to an increase in interest rates than it was in previous quarters.
CYS vs. Industry
CYS Investments remains the highest dividend paying company in the industry; paying nearly 15% in dividends annually. At a time dividends are in question of dropping even further, CYS is confident in its ability to continue paying the current dividend.
| | | |
| --- | --- | --- |
| Ticker | Price | Yield |
| | $ 8.67 | 14.8% |
| ARMOUR (NYSE:ARR) | $ 4.23 | 14.2% |
| American Capital Agency (NASDAQ:AGNC) | $ 23.02 | 11.3% |
| Capstead Mortgage (NYSE:CMO) | $ 12.83 | 10.6% |
| Anworth Mortgage Asset (NYSE:ANH) | $ 5.33 | 10.5% |
| Annaly (NYSE:NLY) | $ 11.51 | 10.4% |
| Hatteras Financial (NYSE:HTS) | $ 19.55 | 10.2% |
| Average | | 11.72% |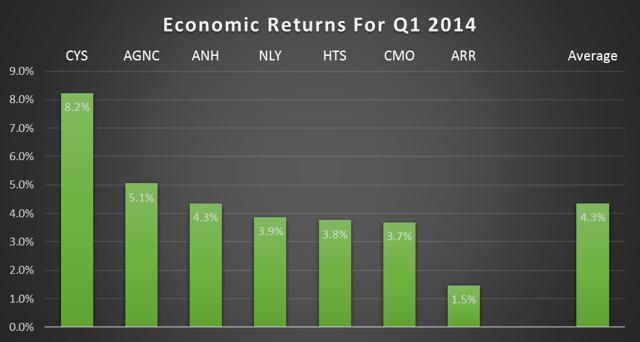 CYS was on another level in the first quarter, posting the best economic returns. The book value increased from $9.24 to $9.68, and it issued a $.32 dividend for an economic return of 8.2%. This occurred while the company shifted its portfolio composition and reduced leverage. Moving forward, I think the company will be able to keep its book value stable, unless there is a significant spike in interest rates over a short period of time.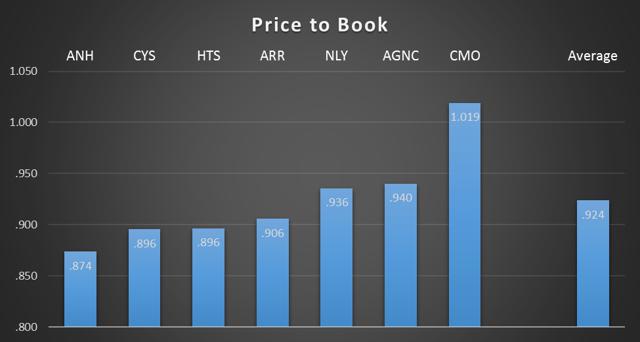 CYS remains undervalued, trading at 90% of book. The entire industry has traded closer and closer to book value, and I think most companies will trade at or above book value by the end of next quarter. This could be due to a decrease in book value or an increase in share price.
What I also find interesting is the discount that Anworth Mortgage Asset Corp. is trading for. The ongoing proxy battle is definitely impacting share price, but its performance has remained in line with the industry average over the last year.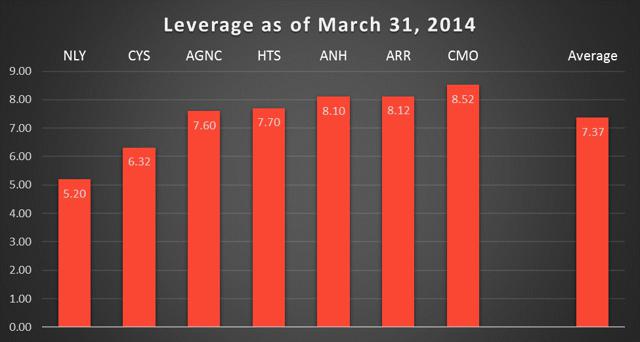 Annaly Capital Management, Inc. has significantly reduced leverage, and it is having an impact on the company's core earnings. CYS has followed suit, reducing leverage as well, but hasn't seen the shrinking earnings NLY is suffering from. Net interest rate spread was nearly 1% higher for CYS than NLY in the first quarter.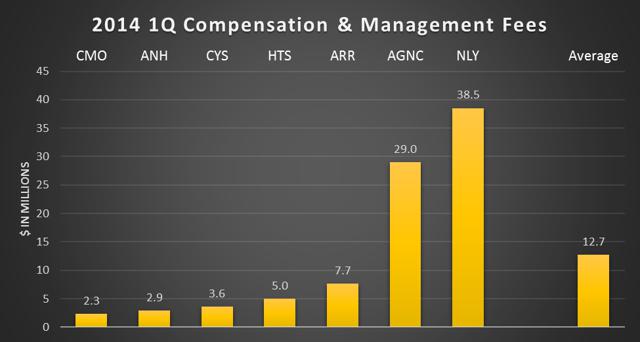 I think this is my favorite graph. Of course, NLY and American Capital Agency Corp. are much bigger than the rest of the industry, but still, the fact they are paid so much is crazy; especially at a time dividends are getting slashed. I wish their performance was tied more to performance instead of AUM. This would drastically change decisions made by the company.
Conclusion
Since my last article, CYS has performed better than I expected. It has also altered the portfolio composition and reduced leverage, putting it in a favorable position going forward. I am keeping my previous price target of $10 and am happy to collect the dividends while I wait. I think the entire industry will continue to trade closer to book value, but CYS will continue to outperform the rest of the industry.
Disclosure: I am long CYS, CMO. I wrote this article myself, and it expresses my own opinions. I am not receiving compensation for it (other than from Seeking Alpha). I have no business relationship with any company whose stock is mentioned in this article. Information in this article is my opinion only and shouldn't be construed as advice to buy or sell securities. Recommendations don't take into account individual readers' investment risk or return objectives and constraints. The article is for information purposes and you are encouraged to do your own research before making any investment decisions. All information here in this article is accurate to my knowledge.