There is a storm brewing in the REIT sector. With Fed tapering continuing at a steady pace, normalized rate policy seems to be well within reach. While we can continue to speculate when short-term rates will begin to tighten, equities will likely adjust prior to that seemingly heightened inevitability. And though credit markets have been bullish lately, I'm inclined to believe that recent action may represent a near-term filling of over-corrective activity. For the first time in many years, I think investors should start to think about what happens to their holdings in a higher rate environment.
Given that leverage is one of the prime ways a REIT is able to grow itself, increasing cost of capital is a big deal - eating into funds available for distribution to shareholders and potentially slowing down the rate at which a trust is effectively able to acquire property. Rising interest rates would also increase the demand for fixed rate securities, decreasing the relative allure for REITs and other assets with rising dividends.
But with higher interest rates perhaps signaling a more stable overall economic environment, and possibly a symmetrically strengthening real estate market, is it possible that REITs could benefit? That could be the case for some. For others, the sailing could be rather choppy. Due to the diversity of operating platforms, leverage profiles, and other industry variables, I'm not sure we can necessarily make a blanket statement about REIT sensitivity to a hypothetical higher rate environment.
For example, since triple net REIT operators like Realty Income (NYSE:O) and American Realty (ARCP) tend to lock into longer-term leases with their tenants than say storage facilities like Extra Space (NYSE:EXR) and Public Storage (NYSE:PSA), which can work on a month-to-month basis, the general economics are different. If over the course of the next few years, due to a more robust economy, REITs develop better pricing control and better property NOI, those that aren't locked into longer-term contracts will be in a better position to capitalize on incremental improvements.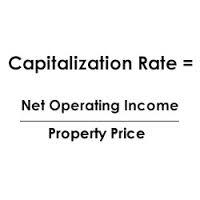 Of course more robust NOI could be a big if, and might not necessarily carry through to various sub sectors of the REIT universe. Further, each company has to compete with regional real estate nuances and general pricing trends, which will invariably affect cap rates as acquisition and disposition decisions are made. Different cap rate environments could develop depending on the direction of lease rates and property values.
Pessimistic Scenario
While it's impossible to say with certitude what happens in a rising rate environment, we can speculate on a variety of scenarios. The first, a more negative one, would revolve around a swift and/or prolonged uptick in rates both on the long- and short-end - similar to what we saw last year, sans a short-rate move. This could be accompanied by a relative lack of movement in cap rates, or worse yet, further compression thereof. REITs more skewed toward shorter-term borrowing or with higher rates of unsecured leverage would suffer the most as interest expense quickly ramps. In such a scenario, dividend growth rates would likely stagnate and prices would drop due to slack operating results and growing appetite for growing yields in fixed rate assets.
Optimistic Scenario
Speaking more positively, if rates rise on a slower, more incremental trajectory, and were to be accompanied by modest or more robust improvements to real estate fundamentals - particularly net operating income - the outlook would be far from daunting. Net operating income improvements from improving rents could certainly supersede higher, but less impacting, cost of capital.
As was mentioned earlier, however, investors should be cognizant of the subtle differences in REIT operating platforms and leverage profiles. Performance across the sector is not always congruous, with some operators more interest rate sensitive than others and some more levered to benefit in an improving economic scenario. Some REITs are afforded premiums due to performance consistency, efficiency, and/or better leverage profiles. Others are slapped with discounts due to management ineffectiveness, poor business models, or forward uncertainties.
The Most Likely Scenario
I won't make a prediction on when the Fed makes its first move to tighten short-term rates, although popular consensus thinks it will be early next year. Having said that, popular consensus seems to have been wrong for several years now. But as I mentioned earlier, with the taper in full swing, I personally am starting to see light at the end of the ZIRP tunnel.
In any case, if short-term rates do go up in 2015, I don't see how the economy would be able handle a significant tightening spree - which would eliminate our most pessimistic of scenarios and probably keep long rates from skyrocketing out of control. On the other hand, if the Fed were to initiate a slower round of tightening, I'm highly skeptical that leasing fundamentals, by and large, will be strong enough to significantly outweigh the higher cost of capital. That would eliminate our more optimistic case.
So, the truth probably falls somewhere in between. Ultimately, a slow, calculated increase in rates leading to a continued slow growth track for the sector as a whole.
A Continued ZIRP Scenario
Most established REITs are seeing mid- to upper-single-digit operational growth in the current market. Frankly, given the "most likely scenario" described above, I wouldn't expect to see much difference if ZIRP were to continue. With 1-2% rate escalators, moderate leverage, and tame real estate conditions, 5-10% total return would be a realistic number for investors to target, whether in a slow growth or ZIRP environment.
Strategy Session
Since many investors gravitate to REITs as a stable income investment, there may be little inclination to seek out sub sectors that will provide the best total return. For those types of investors, a diversified basket of 3-5 stocks providing dependable, elevated, well covered income would be most advised. Included in that group would be stocks like:
Stand alone commercial property owner Realty Income - current yield 5%
Diversified health care property owner HCP (NYSE:HCP) - current yield 5.1%
Northeast apartment property owner Home Properties (NYSE:HME) - current yield 4.6%
For total return investors, my favorite space right now is hotels. The yields are lower, but the forward growth prospects appear extremely positive. My favorite names there are LaSalle (NYSE:LHO) and Host (NYSE:HST). You could also look at companies that are selling at low FFO/AFFO valuations that could see multiples rise as they continue to improve their balance sheets. Lexington (NYSE:LXP) and American Realty Capital would be my two top choices in that class.
Near-term, however, with the relative rally we've seen in the group, I wouldn't recommend aggressive accumulation of REIT shares.
Speaking Of ARCP...
A company I've often pointed to - and one of my biggest disappointments - Nick Schorsch's outfit reported earnings on Thursday. And while there was nothing spectacular in the dissemination, it appears executives have been successful in integrating the slew of acquisitions from last year. The company reiterated AFFO guidance, which was encouraging.
ARCP also noted in the conference call, which I listened in on, that it is doing granular, investment grade deals in the 8% cap rate range, which appears much better than peers. Executives appear frustrated with the way the market is pricing the company, and pointed to the company's elevated debt levels as the major differentiator between it and its arch-rival Realty Income.
ARCP debt Profile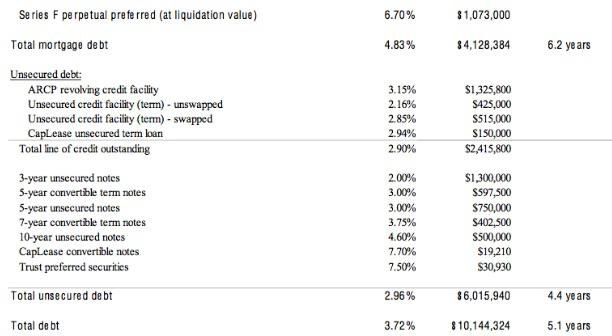 For comparative color this is taken directly from Realty Income's latest 10-Q:
Aggregate liquidation value (par value of $25 per share) of the Class E preferred stock of $220.0 million;
· Aggregate liquidation value (par value of $25 per share) of the Class F preferred stock of $408.8 million;
· Outstanding borrowings of $740.1 million on our credit facility;
· Outstanding mortgages payable of $822.3 million, which includes net mortgage premiums of $23.7 million;
· Outstanding borrowings of $70.0 million on our term loan; and
· Outstanding senior unsecured notes and bonds of $3.19 billion
All told, Realty Income has about 5.5B of indebtedness.
While the elevated debt issue is certainly an item to consider, ARCP is a company with investment grade debt ratings - a BBB- rating from S&P and Baa3 from Moody's. So we're not looking at a company that the credit agencies look at as a problem child insofar as debt service is concerned.
Seeing as though fundamentals really have not changed, I continue to stick by the company while the market seems unconvinced and others somewhat wishy-washy on its prospects. I'm certainly more bullish at $13 than when I started urging caution at $15. Although I've stated in the past that a valuation premium should certainly be given to Realty Income, I think the current spread borders on the preposterous. ARCP trades at an 11 multiple while O is now trading at a 17 multiple. Seems irrational. Hopefully patience is a virtue here.
Conclusion
The threat of higher interest rates seems to be moving from a far-fledged forecast to something that can finally be seen on the horizon. While I doubt this brewing storm will take a direct hit on the REIT space should it materialize, investors should nonetheless evaluate their exposure and specific holdings in an attempt to minimize potential gale force effects.
Disclosure: I am long ARCP, HME, LHO, LXP. I wrote this article myself, and it expresses my own opinions. I am not receiving compensation for it (other than from Seeking Alpha). I have no business relationship with any company whose stock is mentioned in this article.
Disclaimer: The above should not be considered or construed as individualized or specific investment advice. Do your own research and consult a professional, if necessary, before making investment decisions.