Yesterday, Gemstone Equity Research took a look at Chipotle (NYSE:CMG) and concluded investors should buy before it gets expensive. I found this to be an interesting read and more importantly, an interesting conclusion given Chipotle's share price expectations relative to earnings. Thus, I decided to take a deeper look into Chipotle's earnings expectations and price it out to see if Gemstone is right that it isn't yet expensive.
To do this, I'll use an earnings model you can read more about here. In essence, the model uses inputs such as earnings growth, dividends and a discount rate in order to compute the fair value of a company's future stream of earnings and dividends. For this analysis I used earnings estimates from Yahoo Finance and a perpetual growth rate of 3%. I assumed no dividends forever and for the discount rate I computed it using a 10-year Treasury rate of 2.6% as the risk free rate and an equity market premium of 6% times CMG's beta of 0.85. The results of this are below.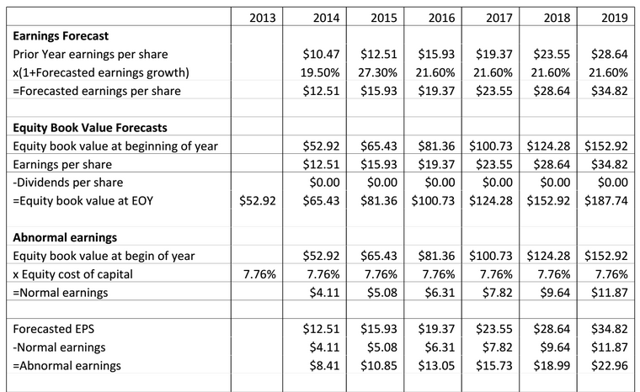 As we can see, CMG's fair value according to my model is just over $400 per share, slightly less than a 20% discount to the current share price of $500 as of this writing. That is a large difference so we'll take a look at why I think the model's price is valid as an analysis tool.
First, the price the model produces is a fair value and not necessarily a price target. According to the inputs I described above CMG's present value of its future earnings is currently $413 and with shares trading at $500, the model suggests they are quite overvalued. However, we all know that earnings don't necessarily matter to investors as much as a good story does (see Tesla (NASDAQ:TSLA), LinkedIn (NYSE:LNKD), Angie's List (NASDAQ:ANGI) and any other number of expensive stocks that make no money) and while Chipotle isn't in the same camp as those other names, the story has been a great one since it became public. Chipotle has consistently delivered outstanding results and as such the market has given it a premium valuation.
Speaking of a premium valuation, we are talking about 31 times next year's earnings with CMG. That is nosebleed territory for almost any stock but let's remember Chipotle has been a steady and rapid grower its whole life as a public company. I'm not suggesting 31 times earnings is necessarily expensive but what I am suggesting is that it is building in a lot of earnings growth, leading to the potential for disappointment and multiple contraction. Having a PE that high tends to skew the risk/reward equation the wrong way for longs and I think we're there with CMG.
The company reported a blowout first quarter, the latest in a string of terrific reports we've seen over the past few years. CMG is a great company with a proven model and management that knows exactly what they're doing. I won't rehash the quarter as its old news now but there were few negatives I saw. In short, there is absolutely nothing wrong with Chipotle's model or its management team, a key point when deciding to buy a stock.
However, there are some headwinds for Chipotle's future earnings that are out of its control. Chipotle is mulling over a price increase due to its commodity costs rising out of control. Margins were down slightly in the most recent quarter and while Chipotle is an expert operator, it has little control over what its ingredients cost. This is a big problem for CMG going forward and if margins begin to take hits in the 100-plus basis point range, I think we could see a big multiple contraction in the stock.
Then, there is the ongoing battle over minimum wage, yet another large input cost CMG has no control over. Any restaurant chain is going to be at the mercy of a minimum wage hike and CMG is no different. But with commodity input costs on the rise and the prospect of higher labor costs, something which CMG cannot simply cut as a result of its amazing traffic numbers, these headwinds are very strong indeed.
Given these headwinds for earnings and the idea that my model suggests that analyst expectations for 22% earnings growth for the foreseeable future doesn't justify the current price, what does? Consider that CMG, according to my model, could be earning a staggering $35 per share in 2019 and still not justify its current valuation; we are talking about earnings tripling between now and then and even at that point, shares are still expensive today. What are CMG shares pricing in today? It seems investors expect earnings to expand at 30%-plus for the foreseeable future and while CMG is quite the growth engine, its scale is simply too large at this point to allow for that kind of growth. CMG is a huge chain and opening 180 new restaurants a year only gets them part of the way to their robust growth target in earnings. I simply don't think CMG can possibly keep up the growth given its scale and margin headwinds; it is too late to buy this stock before it gets expensive.
Disclosure: I have no positions in any stocks mentioned, and no plans to initiate any positions within the next 72 hours. I wrote this article myself, and it expresses my own opinions. I am not receiving compensation for it (other than from Seeking Alpha). I have no business relationship with any company whose stock is mentioned in this article.