According to Lindsay Corporation's (NYSE:LNN) 2013 Annual Report, only 17 per cent of the world's land is irrigated - yet 40 per cent of the world's food supply comes from irrigated land. As the world's population grows larger, the need to devise solutions for food and water scarcity will only become more urgent, particularly in developing countries. It is predicted by the United Nations that the world's population will grow from the current level of 7.2 billion to over 9 billion in 2050. What's more - the U.N. Food and Agriculture Organisation (FAO) states that food production will have to rise by 70 per cent to sustain the ever growing population.
I believe that Lindsay Corporation is in an ideal position to develop and sustain a competitive advantage in this growing market. The firm has been successful in expanding its global footprint through the means of both organic growth and acquisition of various companies in water-related industries such as Claude Laval Corporation, IRZ and Watertronics. In addition, given the growing importance of irrigation in the emerging markets space, Lindsay Corporation has been successful in growing its irrigation business across a wide range of strategic locations.
Macroeconomic Environment
In this section, I propose two key macroeconomic factors that significantly influence the profitability of the agricultural business as a whole; 1) commodity prices and 2) population growth. In the agricultural business, demand for mechanized irrigation services is largely driven by food prices; i.e., the higher the price that agricultural producers can charge for their yields, the greater the subsequent demand for irrigation services to maximize such crop yields. This, in turn, will be driven by the projected increase in population growth which is expected to place upward pressure on food prices.
To start off with population growth, the United Nations projects that through to 2050, growth across Europe will decline by approximately 4.5%, with North America and Latin America both growing by approximately 25%. On a total population basis, Asia will continue to see vibrant population growth at 20%, while the largest increase by far will come from both Africa and Sub-Saharan Africa at 115% and 130%, respectively.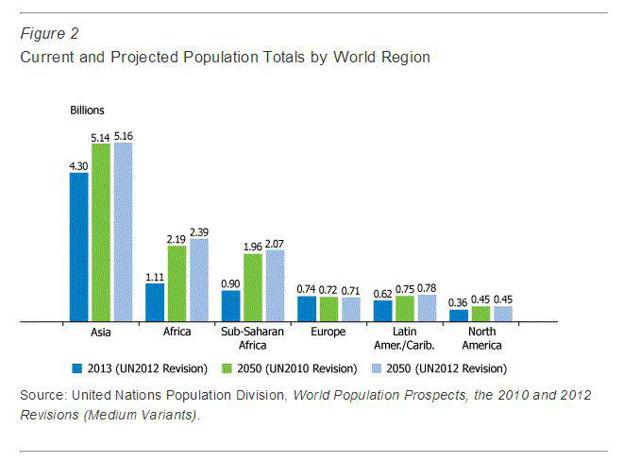 Source: United Nations Population Division.
An analysis of Lindsay's 2013 Annual Report would indicate that the firm already has the broad global presence necessary to capitalise on growth across these regions. According to the report, 38% of all current revenues originate from locations outside of the US, such as Australia, New Zealand, Canada, Central and Western Europe, Mexico, Middle East, Africa, China, Russia, and Central and South America. Note that this includes revenues from both the irrigation and infrastructure business - looking at irrigation specifically, the company has production operations in Brazil, China, France and South Africa with distribution facilities in Australia and New Zealand.
As previously mentioned, commodity prices have a significant bearing on the profitability of the irrigation business - higher prices means better opportunity for more profitable crop yields, which in turn increases demand for sophisticated irrigation systems. In 2014, we have seen commodity prices significantly affected by both global weather patterns and the ongoing Ukraine-Russia conflict. On 5 May, CNBC reported that wheat prices on July contracts had reached $7.24 per bushel which is an increase of 31 per cent from the low of $5.51 on 29 January. In January of this year, the World Bank predicted a lower commodity prices outlook for 2014 and 2015, citing that there is a low risk of trade sanctions having any impact on prices in the short term given Thailand's supply of rice on to world markets, and that the probability of weather conditions impacting food prices is very small. However, since January the opposite scenario seems to have transpired - threats of the ceasing wheat trade from the Black Sea in Ukraine, coupled with droughts in the US Southwestern Plains have both pushed wheat prices higher. Therefore, I must say that I disagree with the forecasts put forward by the World Bank in this particular instance. In addition, while emerging markets such as China seem to have ample food supplies to withstand the possibility of an El Niño event in 2014, and the associated risk of too much upward price pressure on food stocks - ample production supplies cannot last indefinitely and the right irrigation technologies will be necessary to maximize crop yields during favorable weather periods.
The price of metals also have a significant impact on the firm's cost base. Imports of metals by emerging market countries have the potential to lead to higher metal prices, which has the potential to offset profitability. For example, the World Bank illustrates that in 2013, Chinese imports of aluminum, zinc, copper and iron ore grew over 100 per cent in the three months leading up to November. Overall, metals prices are twice as high compared to the last decade, and restrictive trade policies may place upward pressure on metals prices. For instance, Indonesia's export ban on nickel has placed upward pressure on the commodity price, resulting in a 15.2 per cent increase in the month of April. If other classes of metal are similarly affected by such trade policies, then this is a key risk factor for the industry in terms of a rising cost base.
Business Prospects
The company benefits from a strong financial position and attractive valuation prospects. As discussed under the "Financial Ratio Analysis and Valuation" section, In addition, the company is trading at a significant discount relative to its historical P/E trends which provides the stock with more upside than its larger competitor Valmont Industries (NYSE:VMI) on this basis. In addition, while LNN and VMI perform similarly on most financial measures, LNN notably has no long-term debt on its balance sheet.
High technological capabilities in the irrigation industry. The firm owns the Zimmatic brand which offers yield enhancements of up to 70%, combined with over twenty years of machine life offering a 3-7 year payback period. The firm also has key advantages over its competitors in terms of technological innovation - it has pioneered services such as GPS pivot monitoring from as early as 2001 as well as offering soil moisture and weather sensing tools.
The firm has a wide geographic presence in key markets and a more concentrated expertise in providing irrigation services. For example, according to the International Food Policy Research Institute, China has historically accounted for the highest percentage share of the maize, wheat and rice markets when compared to Brazil and India. When comparing the firm's geographical presence to a larger competitor such as Valmont Industries, Valmont's main business in China involves the manufacturing of steel for services such as utility and wireless telecommunications. The firm does not specialize in irrigation as its core business and they do not appear to provide such services to the Chinese irrigation market specifically. Lindsay Corporation has better growth prospects in this important region given the company's already vibrant production facilities in China and the fact that local Chinese competitors are rather small in size and cannot provide the scale and technological sophistication in services as that of Lindsay Corporation.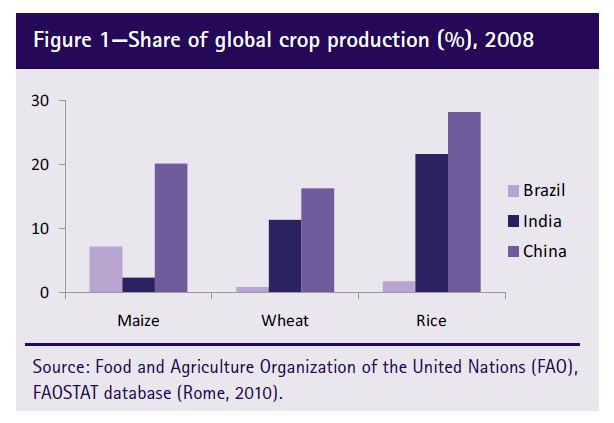 Source: Food and Agriculture Organization of the United Nations (FAO).
Risks
The firm is highly sensitive to commodities prices. As previously mentioned, if farm income weakens through a lowering of global food prices then demand for irrigation technologies will not be as strong. In addition, there is also the risk that the commodity markets will move in tandem, as in while food prices go higher, metals will also go higher which has the potential to increase the firm's cost base and offset any gains made from an increase in sales.
As a smaller company, the firm is highly dependent on sustained performance in the irrigation business to sustain its competitive advantage and has a limited ability to generate revenue through different product lines such as Valmont, which offers a more diverse range of products and services including mechanized irrigation equipment, utility support structures, engineered infrastructure products, and coatings, among others.
As 38 per cent of the company's sales are generated internationally, the company is subject to significant downside risk given potential political or economic instability in emerging market countries. In addition, macroeconomic risks such as potential trade barriers, foreign exchange fluctuations, etc., pose a threat to any company operating in emerging markets and such factors are typically out of the company's control.
Financial Ratio Analysis and Valuation
In the below financial ratio analysis, I compare the performance of Lindsay Corporation and Valmont Industries under the performance measures of profitability, liquidity, solvency and activity.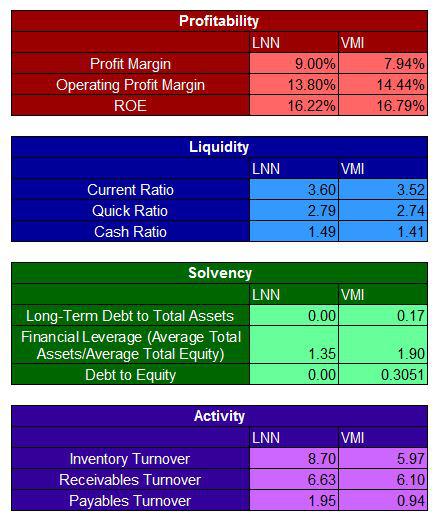 Sources: Yahoo Finance/Author's Calculations.
In terms of the above financial ratios, both companies appear to be similarly performing in most aspects; i.e. both companies have similar profit margins and return on equity. Both companies have a similar degree of inventory turnover. However, the major winning factor for LNN is the fact that the company has no long-term debt on its balance sheet. This effectively means that VMI has to take on a much greater degree of debt to fund its operations and maintain the same performance as LNN - however LNN is able to pull this off without taking on long-term debt. Based on this, LNN is deemed the more preferable of the two.
In comparing Lindsay and Valmont on a historical P/E basis, it is evident that there is more potential upside for Lindsay Corporation based on its current P/E multiple relative to its historical average. The company has a current P/E ratio of 18.16 at the time of writing - however its five-year average is 22.69. In contrast, Valmont Industries has a current P/E ratio of 15.6 in comparison to its 5-year average of 16.15. Based on this, assuming the average P/E ratio reflects fair value, Lindsay has a potential upside of 24.94%, whereas Valmont only has a potential upside of 3.53%. Therefore, fair value for Lindsay Corporation based on its average P/E ratio is estimated at $105, so investors considering initiating a position at this price would be doing so with a margin of safety of nearly 25%.




Source: YCharts.
Based on projected growth in dividends and earnings, I forecast a price target of $178 for the company in the year 2018. I use the dividend discount model to determine the present value of future cash flows through to the year 2018, and uses the current P/E ratio multiplied by the forecasted 2018 EPS as a measure of terminal value. In line with the traditionally accepted rate of return on the S&P 500, a 7% discount rate is used.
Sources: Marketwatch/Business Insider.

Source: Yahoo Finance.

Source: CNBC.

Source: Author's Calculations.
Conclusion
In conclusion, I believe that the global irrigation market is due to see significant growth in the next decade as the issues of food scarcity and changing geographic conditions demand newer and more sophisticated technologies to maximize crop yields. In this regard, Lindsay Corporation has a proven track record of innovation and a first-mover advantage in emerging markets where growth is set to be most vibrant in the future. These macroeconomic factors, coupled with Lindsay's strong business model and attractive financial attributes, makes me of the opinion that this company has the potential for great growth over the coming years.
Disclosure: I have no positions in any stocks mentioned, and no plans to initiate any positions within the next 72 hours. I wrote this article myself, and it expresses my own opinions. I am not receiving compensation for it (other than from Seeking Alpha). I have no business relationship with any company whose stock is mentioned in this article.
Disclaimer: Please note that the information offered in this article is strictly on an "as is" basis. I am not aware of your financial circumstances or investment profile, and therefore this article should not be considered investment advice or a recommendation to buy or sell. I am not a qualified investment advisor, and it is the reader's responsibility to seek professional advice before buying or selling securities. While I have made every effort to verify all facts contained in this article, investors are responsible for conducting their own due diligence.