Few companies have managed to raise dividends for several consecutive years in a row. For example there are fewer than 300 companies listed on US exchanges which have raised distributions for more than one decade. Of particular interest to many dividend investors are companies which are able to raise earnings, which fuels future dividend growth. As a result, investors in those companies have much better chances of generating an income stream which meets or exceeds the rate of inflation.

The most notable companies that raised dividends last week include:

Aflac Incorporated (NYSE:AFL), through its subsidiary, American Family Life Assurance Company of Columbus (Aflac), provides supplemental health and life insurance. The company raised its quarterly dividend by 7.10% to 30 cents/share. The company also announced its intent to resume share repurchase activities. This dividend aristocrat has raised dividends for 28 consecutive years. Yield: 2.50% (analysis)

Aflac is an example that a company does not need to raise dividends every year, in order for its annual dividend payment to increase. The quarterly dividend was last raised in the first quarter of 2009, and remained unchanged for the next seven quarters. The annual dividend still increased, mostly helped by the most recent dividend increase.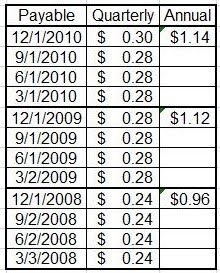 Questar Corporation (NYSE:STR), a natural gas-focused energy company, through its subsidiaries, engages in gas and oil exploration and production, midstream field services, energy marketing, interstate gas transportation, and retail gas distribution businesses. The company increased quarterly dividends by 7.70% to 14 cents/share. This was the 31st consecutive annual dividend increase for this dividend aristocrat. Yield: 3.30%

Parker-Hannifin Corporation (NYSE:PH) manufactures fluid power systems, electromechanical controls, and related components. The company raised quarterly dividend by 3.80% to 27 cents/share. This was the second dividend increase this year. This dividend champion has raised dividend for 54 years in a row. Yield: 1.70%

Connecticut Water Service, Inc. (NASDAQ:CTWS), through its subsidiaries, operates as a regulated water company in Connecticut. It operates in three segments: Water Activities, Real Estate Transactions, and Services and Rentals. The company raised its quarterly dividend by 2.20% to 23.25 cents/share. This dividend champion has increased dividend payments for each of the last 41 years. Yield: 4.30%

The Scotts Miracle-Gro Company (NYSE:SMG), together with its subsidiaries, manufactures, markets, and sells lawn and garden care products primarily in North America and the European Union. The company raised its quarterly dividend by 100% from $0.125 to $0.25/share. Yield: 2.10%
Textainer Group Holdings Limited (NYSE:TGH), through its subsidiaries, engages in the purchase, ownership, management, leasing, and disposal of intermodal containers worldwide. The company raised its quarterly dividend by 4.20% to 25 cents/share. This was the first dividend increase since 2008. Yield: 3.60%

Torchmark Corporation (NYSE:TMK), through its subsidiaries, provides individual life and supplemental health insurance products, and annuities to middle income households. The company raised its quarterly dividend by 6.70% to 16 cents/share. The company has raised dividends since 2005. The company, which was one of the original dividend aristocrats, was removed from the index in 1996. Yield: 1.30%

Disclosure: Long AFL