At the start of the show "Power Lunch" on Friday, Sue Herrera rhetorically asked "are we lost" as a tease for a discussion to be had later in the show (that I missed). She also noted the many headlines expressing concern that we could be in for a lost decade. This discussion is always worth having.
To understand what a lost decade might look like we have to go all the way back to the 2000s. On a price basis the S&P 500 was down 24% during the last decade and the ride to that loss was very bumpy. So whether or not this decade is a lost one we all have fresh experience with the outcome.
Before we knew the last decade was going to be lost I did a lot of writing about the need for foreign investing taking up an increasing portion of every US-based investor's portfolio. The idea was about the US becoming a less attractive destination, not a prediction of the financial crisis. Back in 2004 I think we were around 30% foreign and now we are close to 40% I'd say, in line with getting to 50% within the first couple of years of this decade which I've been talking about for quite a while as well. I would also note we are doing a lot more with foreign fixed income now than we were doing in 2004 when this site started.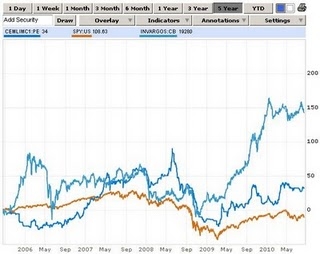 The chart at right (click to enlarge) captures the ordinary shares (on their local markets) of Cementos Lima (OTCPK:CEMTY) which is the big cement company of Peru and a new one to me compared to the ordinary shares of Cementos Argos from Colombia and the SPDR S&P 500 ETF (NYSEARCA:SPY). CMTOY is the one that is up 150%, CEMTY is up 40% and the brown line is SPY.
The chart is from the Businessweek site as it is the only site I know that charts these markets. The ADRs don't trade enough to make a useful chart. I've been interested in Peru, although haven't done much for clients with it, for quite a while and have not really had much interest in Colombia, which is too bad given how well it has done.
Both countries have attributes that I have written about many times before that make them interesting and good candidates for offering diversification to US based investors. Specifically they are not service based economies, have stuff that the world needs and because of this are becoming more globally relevant than they used to be.
Quite frankly, assessing these attributes is simple. As much as I'd like to be one of the great thinkers, I am not, this stuff is very easy to assess for anyone willing and able to spend the time. There is more work involved in the next step of selecting which countries to include and then the best way in to the countries selected but the first step is easy.
The second step should be a process of understanding more detail of what makes the country tick, the current economic stats and where those stats might head over the next six months, 18 months and further out to any time period you are concerned about. Of course this stuff then needs to be followed as well.
As far as picking the best way to access a country, that depends on how you construct your portfolio. At this point we are obviously willing to invest at the country level and there are ETFs for the above countries; Global X/InterBolsa FTSE Colombia 20 ETF (NYSEARCA:GXG) and the iShares Peru ETF (NYSEARCA:EPU) which a couple of clients own. In picking a stock I want what I think is the best proxy for the country while at the same time fitting in with the rest of the portfolio. I'm not sure that cement stocks are a proxy for either country they are just examples but CMTOY has a pretty large weight in GXG but CEMTY is pretty small in EPU. CMTOY stayed with GXG for a while before falling off some starting in May and CEMTY has tracked EPU very closely except for a couple of months in late 2009 where the stock dramatically outperformed the ETF.
In my opinion there were two ways people avoided a lost decade during the oughts: they either traded successfully or invested in foreign markets but avoided Western Europe and Japan in doing so; avoiding financials probably helped too. I'd say country picking is the easier of two and as I have been saying for months now success during this decade will also require country picking.
To the extent this is true there are ever more ETFs available like the ones mentioned above but I would encourage anyone who is not now comfortable with picking individual stocks to also take the time to learn (more) about stock selection. ETFs are very useful of course but by throwing a few stocks into the mix you have a chance of increasing the yield of the entire portfolio.

Disclosure: None